Perhaps you've seen amazing photos or videos of horses being extricated from a trailer wreck, led from burning barns, or even lifted in a sling out of a ravine.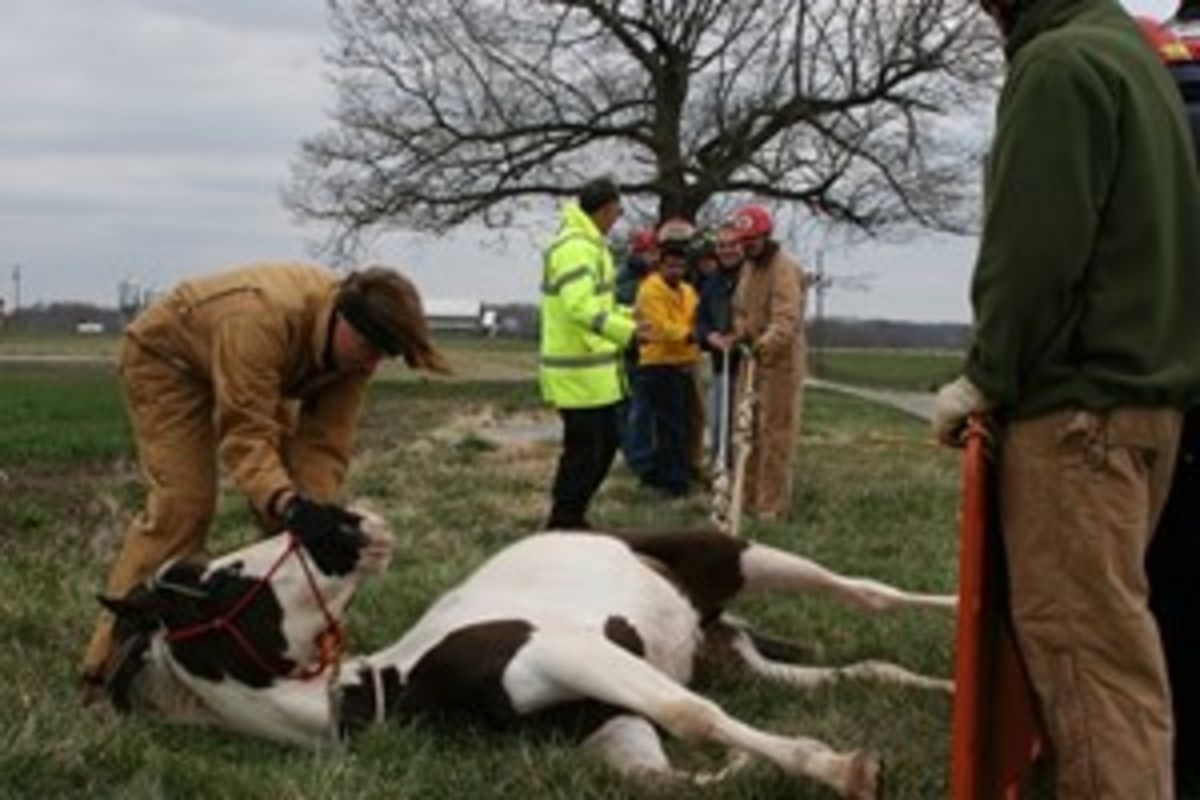 Horses can become trapped in overturned or wrecked trailers, culverts, wells, ditches, mud pits, fallen trees, barns, and farm equipment. From these incidents, large animal rescue training has evolved for emergency responders, veterinarians, and interested horsepeople.
The old way of just slapping a rope around a horse's neck and pulling him to safety has largely gone by the wayside over the last 25 years to more professional and safer methods of providing technical heavy rescue for these fractious animal victims.
Extrication of a victim that can weigh 2,000 pounds, doesn't understand spoken language, wields dangerous weapons, and tends to panic can be difficult and dangerous for everyone, especially the horse.
Did you ever wonder where the trained rescue personnel learned to respond correctly to those scary scenarios?
As an active instructor in Technical Large Animal Emergency Rescue, Inc., I've spent more than 20 years developing techniques, tactics, and procedures to improve the coordination and professional response to these types of incidents.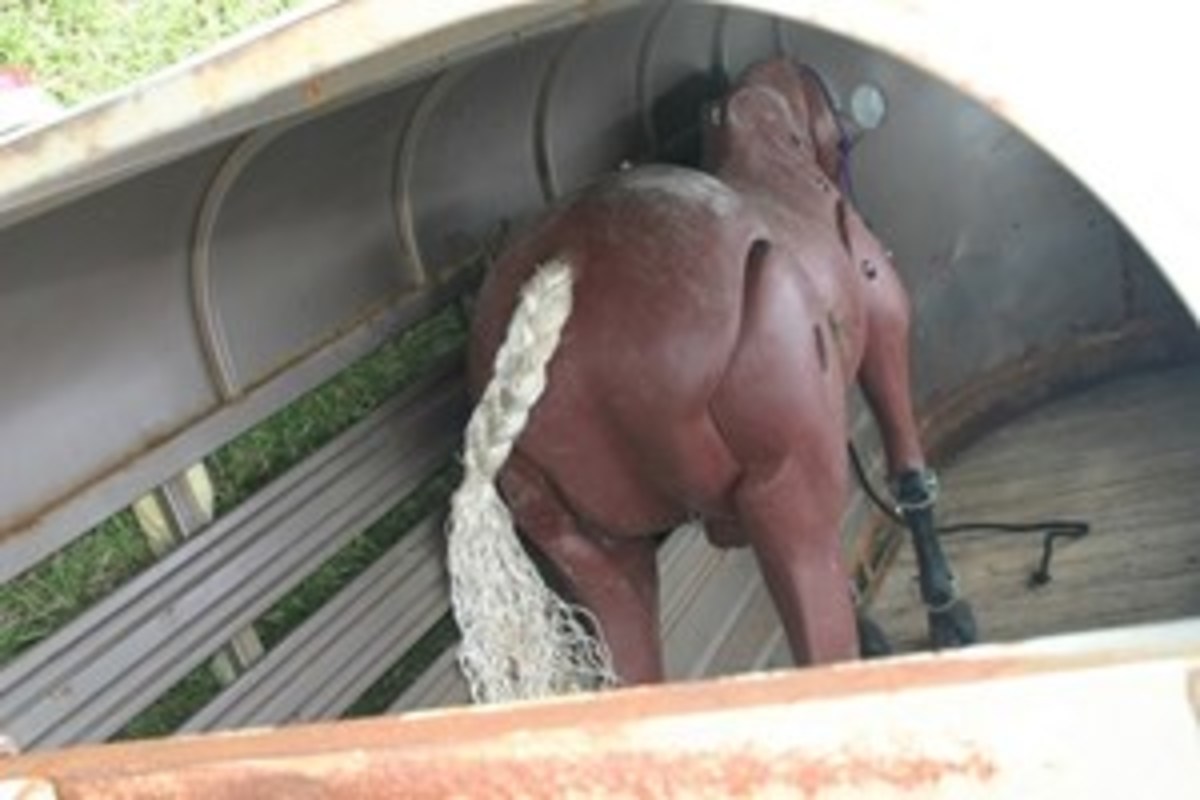 In my courses, I promote the understanding of containment, restraint, animal behavior, appropriate equipment, and personnel available. I emphasize the use of the Incident Command System used by firefighters and law enforcement.
Would a TLAER course benefit you and your horse?
As an equestrian traveler, you likely haul and ride to places where you have minimal access to assistance and poor cell-phone coverage. If you know what to do and have the right equipment at hand in the first few minutes of an emergency, you can potentially save your horse's life. You can also use your skills to help fellow horsepeople in crisis situations.
Plus, knowing how to "plug into" a response allows you and local responders to work together as a team to keep all on the scene safe, and form an organized plan for extrication, treatment, and transport of the equine victim.
Here, I'll explain a bit about TLAER courses, what you'll learn, and how to sign up. Then I'll present five real-life emergency-rescue anecdotes from TLAER course attendees.
TLAER Courses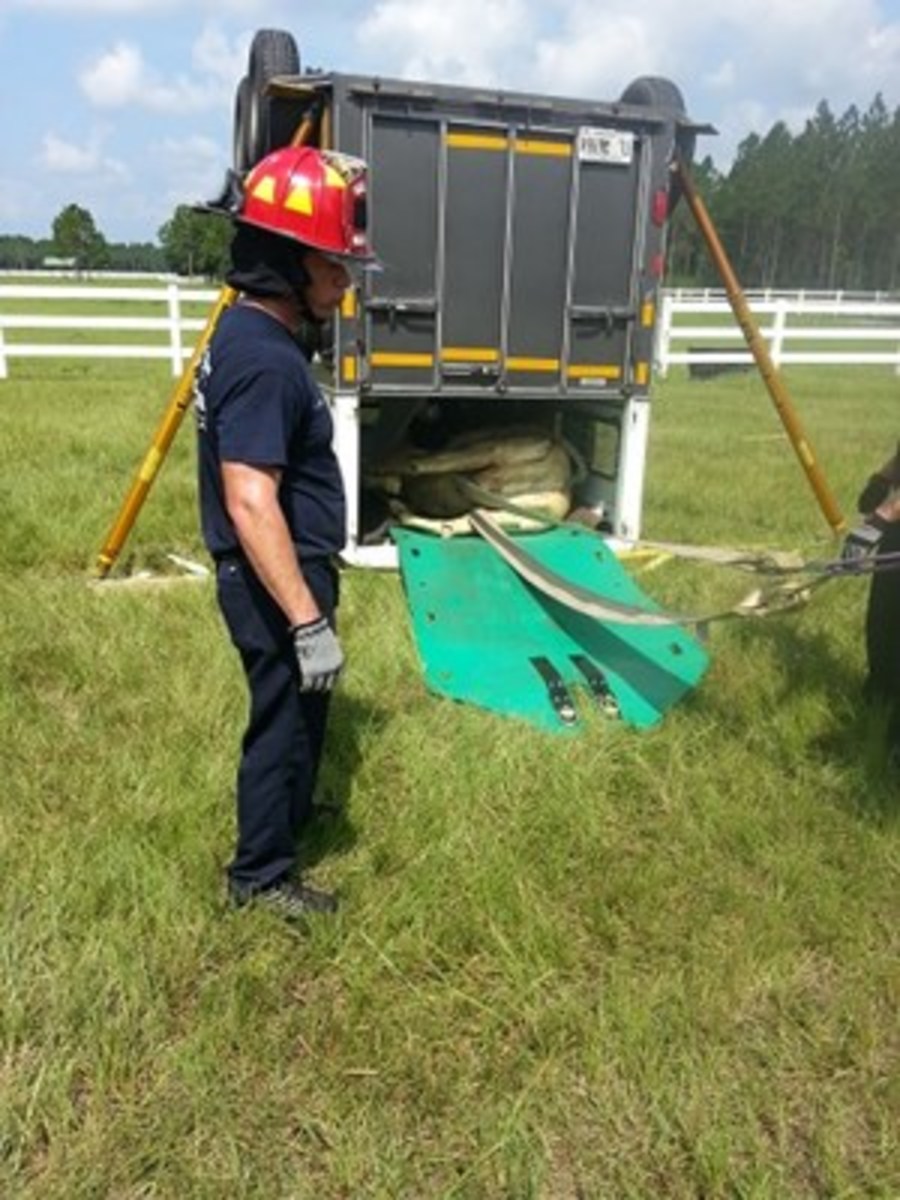 TLAER offers several course levels. Here's a rundown of each one.
-Awareness Level Course. This course is the most important one for most interested people, from owners, veterinarians, and firefighters to animal-control, humane and law enforcement officers.
-Operations Level Course. This course is intended for emergency responders who expect to be deployed to actual live scenes, and involves use of live animals, realistic mannequins, rope techniques, and heavy rescue operations. Individuals taking this course must have previously taken the Awareness Course, as well as Incident Command System training.
-Technician Level Course. This course is reserved for members of Urban Search and Rescue Teams, and other highly trained and specialized technical rescue teams.
TLAER courses often use Resquip Horse Rescue Mannequins: realistic, 500-pound rubber mannequins that closely simulate the size, weight, and flexibility of a live horse, but for training can be dropped into a trench or mud pit, or flipped over in a horse trailer, without fear of hurting a live animal.
What You'll Learn
TLAER Awareness Level Course participants achieve certification based on National Fire Protection Association Standards. Here's a sampling of what you'll learn.
-Roadside management. You'll learn how to plan for roadside management that puts personnel safety first in the event of a wreck or trailer/tow-vehicle failure, especially in poor road conditions, such as ice, snow, darkness, smoke, and flooding.
-Calm action steps. The course's "keep it simple" approach emphasizes controlling panic, calling 911 and a local large animal veterinarian, then forming a plan in coordination with resources at hand. You'll learn how to plan ahead for first-aid, containment, and follow-on transport to definitive veterinary care.
-Extrication. You'll learn how to work with emergency responders to safely cut a trailer and use manipulation methods to remove horses from actual overturned or destroyed trailers.
-Natural-disaster planning. You'll learn how to prepare for natural disasters and plan an evacuation route.
Within weeks of attending a course, my students often get called to assist local rescue efforts. They report being able to effectively work with firefighters, veterinarians, animal-control officers, and law enforcement on scene to control the animal, provide containment of loose animals, assist with an extrication plan, and even teach police officers how to properly provide field euthanasia.
How to Sign Up
TLAER courses are offered all over the Unites States and Canada, and occasionally in Europe and Australia. To sign up, go to www.tlaer.org, and check the schedule. Also, consider joining TLAER on Facebook, where thousands of professionals working in the emergency-response field post and discuss incidents from around the world.
Real-Life Anecdotes
Here are five real-life anecdotes and success stories from TLAER course attendees.
1. Trail-horse rescue. A horse being ridden on a trail far from cellphone coverage accidentally slips upside-down into a small stream. His body blocks the flow of the water and his head is trapped in the quickly forming dam. The owner panics and jumps into the creek to hold the horse's head out of the water, while other riders work together to formulate a rescue. They safely tie their horses to nearby trees and come up with a plan to get a short piece of webbing under the front of the horse's body in a sideways drag configuration. Working together, they're able to slip the horse's front end up the bank. The horse is then able to propel himself out of the creek with his hind legs. None the worse for wear, the riders saddle up and ride back out to the trailhead, very thankful for that short webbing in the saddlebags of the TLAER trained rider.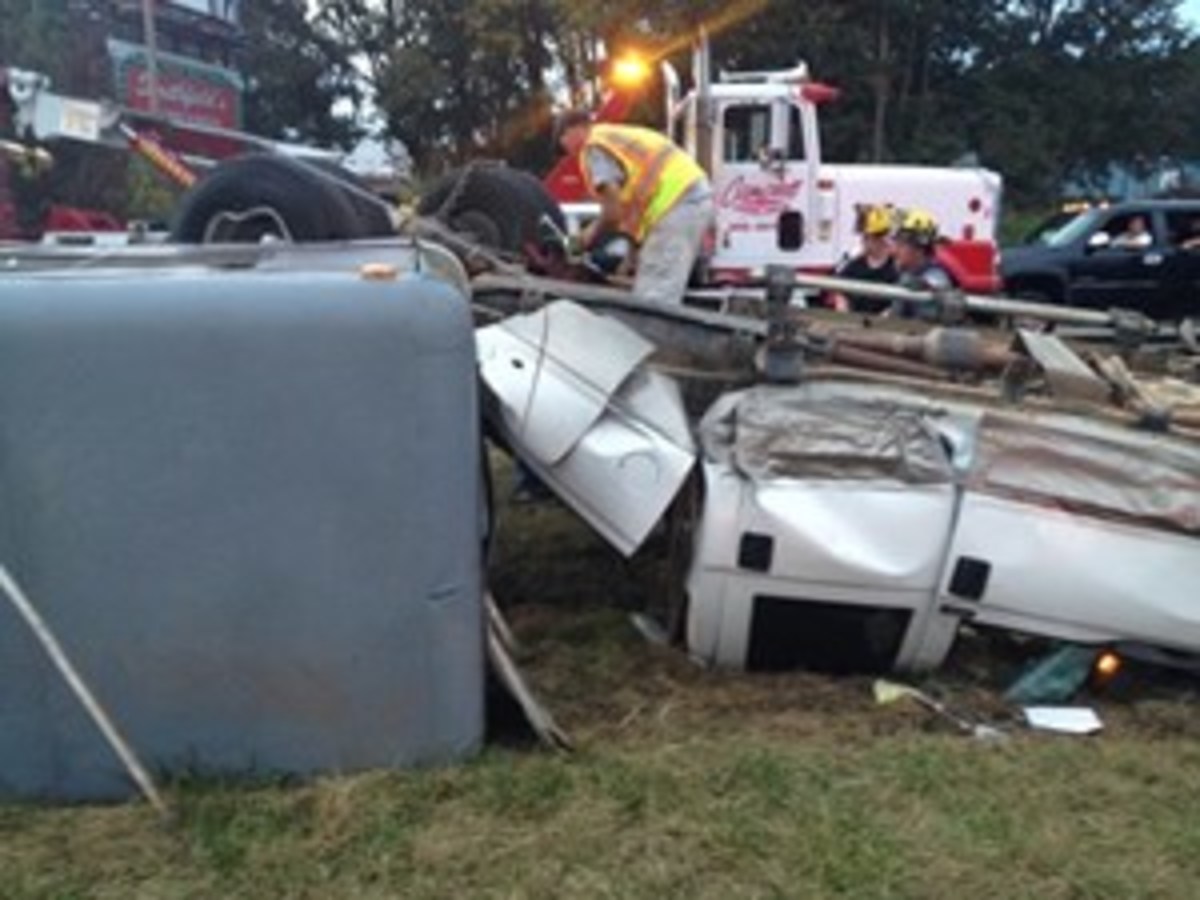 2.Stuck senior horse. A man contacts a local veterinarian for help. His arthritic older horse escaped from his pasture, ran down the field, and has been found struggling — stuck in mud up to his belly about 10 feet from solid ground. The vet calls the local rescue team at the fire department. The team responds to the location and is able to work together to get out to the horse using boards, then emplace a sideways drag webbing. When prepared to extricate, they use mud lances to break the suction effect on the horse's hooves and slide the horse to safety. The horse is provided immediate veterinary care on scene and walked back to the barn for observation.
3. Ice-pond emergency. A woman calls 911, because her two horses have gone out onto the ice of the pond at her farm and are now swimming frantically in the very center in a small hole about 10 feet wide. The local fire department, trained in the basics of how to approach horses in these scenarios, responds with its ice-rescue team, uses a chainsaw to cut a path to the horses, pushes the blocks of ice under the lip of the edges, and allows the horses to swim out to safety in less than 12 minutes from arrival on scene. The horses are put under immediate veterinary care for possible hypothermia and stress, and survive.
4. Trailer tragedy. A Canadian woman—who two weeks before graduated from a TLAER course in Georgia—gets a panicked call from a friend whose horse has catastrophically broken a leg in her horse trailer while kicking out at another horse. With the nearest veterinarian more than two hours away, the woman is able to talk a responding police officer over the phone through how to properly apply field euthanasia for the horse to prevent further suffering.
5. Polo pony nightmare. A stock trailer with 14 polo ponies swerves to avoid a vehicle then flips onto the left side on Interstate 75 in the rain. Within minutes, local horsemen driving past the accident start a call down of their saddle club asking for assistance, marshalling a veterinarian to the scene, as well as six horse trailers within 15 minutes of the incident occurring. While one horse is dead on arrival, rescuers are able to safely open the back of the trailer and cut or lead out the other 13 horses. The vet and her staff provide triage and immediate first-aid on the scene. Then the horses are loaded onto trailers and taken to her clinic for follow-up treatment. The scene is cleared and traffic is restored within 1 hour and 15 minutes.
Rebecca Gimenez, PhD (animal physiology), is president of and a primary instructor for Technical Large Animal Emergency Rescue (www.tlaer.org). A Major in the United States Army Reserve, she's a decorated Iraq War veteran and a past Logistics Officer for the American Veterinary Medical Association's Veterinary Medical Assistance Team, which serves as first responders to ensure high-quality care of animals during disasters and emergencies. She's an invited lecturer on animal-rescue topics around the world and is a noted equine journalist.