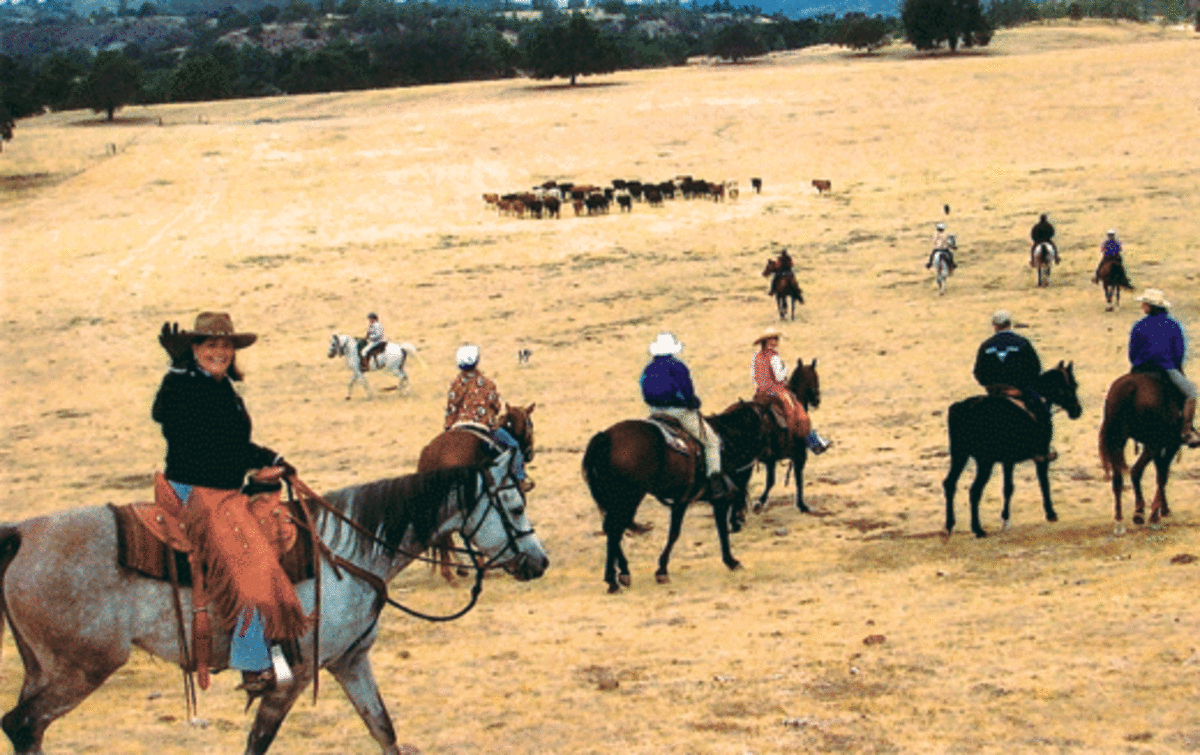 Conversation and chatter quieted and soon stopped. A few horses shifted their weight; you could hear their hooves on the soft earth below. One horse fluttered the last air of tension out his nostrils. The full moon above allowed only the brightest stars to shine in the clear night sky, but allowed us the view for miles across the rolling golden hills of central California.
Closing my eyes, I listened to the quiet. No airplanes, no cars, no people. Inhaling the sweet cool air, the last of my tension slipped away, as well.
We were here in this place at the invitation of our host, Jack Varian. During dinner, he'd asked the group, "How about a moonlight ride?"
I thought that was pretty sporty of him, seeing as how the 50 of us had just arrived at the V6 Ride in Parkfield, California. Most guests had trailered their own horses to camp. Jack's wife, Zee, had brought 13 of their ranch horses for visitors who couldn't bring their own.
Gathering in the shadows of the oak trees at 9:00 p.m., we'd ridden down the dry creek bed, then up to the top of a hill, where Jack had suggested we stop - and listen - to the quiet. I tell you, it was almost religious.
The ride was organized through the Arabian Horse Association. All sorts of horses and people had signed up. Show horses, endurance horses, and backyard horses - young and old, feisty and calm.
I'd been recruited a few days before to help out the family. At the V6 Ranch, you're not hustled around by a bunch of employees; it's all family run. They needed an extra hand, and I had a pretty strong hunch this would be good fun.
Riding & Roping
Thursday morning, we rode out en masse. As we climbed hills and crossed creeks, we got to know each other and enjoyed the warm day. Early in the ride, a few of the horses jumped around a bit, but soon settled in. I discovered that some of the horses - and riders, too - had never been up a hill or ridden out across country.
Back at the barn, we enjoyed a delicious lunch. In the afternoon, participants could either rest, take a short ride with Zee, or rope a fake calf "running" behind an ATV, its back legs loping exactly like a calf's would.
Just prior to the afternoon activities, Jack's cousin, Sheila Varian - the renowned Arabian Horse breeder, Cowgirl Museum and Hall of Fame inductee, and all-around great lady - presented the group with a clinic on opening a gate. This seemingly simple task, if done correctly, can teach you to master complete control and communication with your horse. There was total silence as we all focused on every word Sheila said. When the lesson was over, people worked silently on small precision moves.
Then the afternoon ride with Zee headed north, and a few of us opted for roping. We were all shown up by the 11-year-old Varian grandkid, Brennan. Dogs and kids and family milling about just outside the pen, much ado was made over catches and misses. Falling into the ribbing that a good family gives each other, we kept at it until the shadows grew long and it was time for our horses to eat their dinners.
Around the campfire that night, I heard a number of people talking about Zee's coaching ability. They might not have known that Zee is a true horsewoman and horse-show champion. She's trained most of the horses on the ranch, as well as a slew of award-winning kids.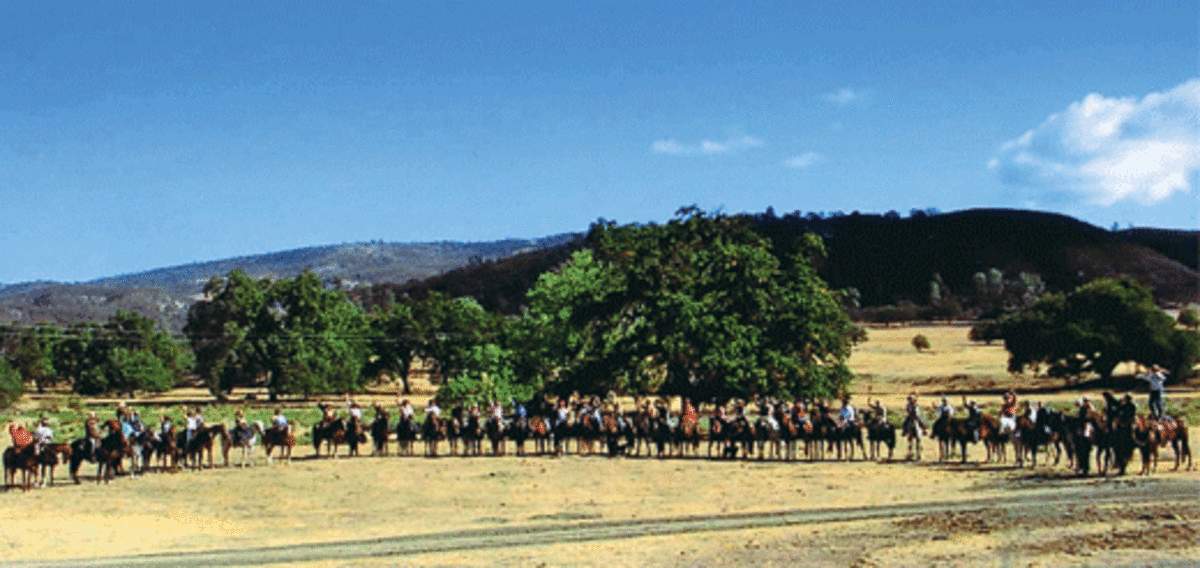 Ranching Traditions
Friday was our cattle drive. The morning was cool and the sky gray as we crossed the road and began our search. With coaching from Jack and Zee, their son John, and his kids, we bunched the cattle together and marched them to the big arena below their house.
Jack always brings his cattle dogs with him on these drives. I'm sure it's useful to him, but for me it's always entertaining as heck to watch the dogs as they follow his commands and circle the cattle around, stop them, and turn them to the left or right. One dog, Bob, became the star of the day.
While we ate our lunch, Sheila gave a talk about horsemanship, and the traditional methods and tack of the early California vaqueros. Her fine Arabian Horse, Jubilation, standing calmly behind her, she talked about spurs and bits, how to take a horse from a hackamore to a bosal to a bridle with two reins, and finally to a finished bridle horse.
One person asked Sheila why a horseman would want his horse "finished" that way. "The difference is like driving an old Jeep around or driving a nice Mercedes; I prefer the Mercedes," Sheila replied.
After dinner, Jack talked to us about his philosophy of life and ranching. He talked about sustainable agriculture and keeping the land open in perpetuity. He talked about family and making a living as a rancher. He said all you need in life are four things: a map, a tape measure, a timepiece, and a Leatherman multipurpose tool.
He introduced Zee, and most of their kids and grandchildren. What a family. I wondered if they'd ever consider adopting a 50-year-old.
Ridge Ride
Saturday was the long ride. A perfect day followed us as we climbed more than 2,000 feet to the skyline. From our lunch spot on the ridge top, we looked out toward the east. We could just barely make out the tops of the Sierra Nevada Mountains.
To the west, we saw the blue folds of Monterey County's coastal range. To the south, we looked down on the tiny town of Parkfield (population 18) nestled amid farm fields.
There's no nose-to-tail riding at the V6 Ranch; you can fan out and cover wide expanses of sloping hillsides. Trees, bushes, and rocks become your training aids, helping you learn to better maneuver your horse.
Sheila and I split off from the group and took a steeper route. Meeting up with the group at one spot, we waited for the group to catch up. We split off again and told ourselves we were bandits, and we were going to bushwhack the wagons and rob them. We looked and looked, but couldn't find our group. Finally, after 40 minutes or so, they came up over a hill behind us.
Knowing that there was one spot ahead that would be a challenge for some riders, we positioned ourselves at a good vantage spot. All came through safely, but we couldn't help but notice the ones who raced up the hill on the other side of the crossing. The horses took their riders to a spot of their choosing, rather than the riders controlling the horses.
Sheila began to turn sort of gray-green. Then the gray started to turn purple. I knew she wouldn't stand it much longer; she's a teacher in her soul. There are times when a teacher needs to take control of the classroom and get everyone's attention.
She did a fine job of doing just that.
Her lesson was on ranch etiquette. No matter what your discipline or sport is at home, there are rules of ranch riding that are as important as wearing a nice dress to high tea. The rules are simply mannerly conduct that focuses on not only controlling your own horse, but considering the minds of the horses near you, as well.
The last few minutes of the ride, I spoke to riders about their experience on the V6. Jeff told me that he thought he'd learned more about riding in four days than he'd learned with 10 years of lessons. Anne told me that all the things she'd been learning at the trainers now made sense. Another man told me it was a life-changing experience.
Dinner that night may've been the best steak dinner I've ever had. After dinner, we watched a slide show of our experiences. A cowboy from town came with his guitar and played around the campfire. He was still playing, with all singing along, while I took my hot shower. (Yes - a hot shower in a horse camp.) He kept playing till after my sleepy self snuggled into bed.
Breaking Camp
In the morning, we rode to breakfast. A couple of trailers pulled out early, probably the ones carrying the folks with the longest journeys home to responsibilities. Too bad, I thought to myself. They'll miss breakfast under the oaks. Beautiful quilts lay in the shade. Laid out were scrambled eggs, sausages, bacon, homemade muffins, fresh juice, and fruit.
We finally couldn't delay departure any longer, so we wrapped up the blankets, loaded up the car, and stepped up into our saddles for the ride back to break camp.