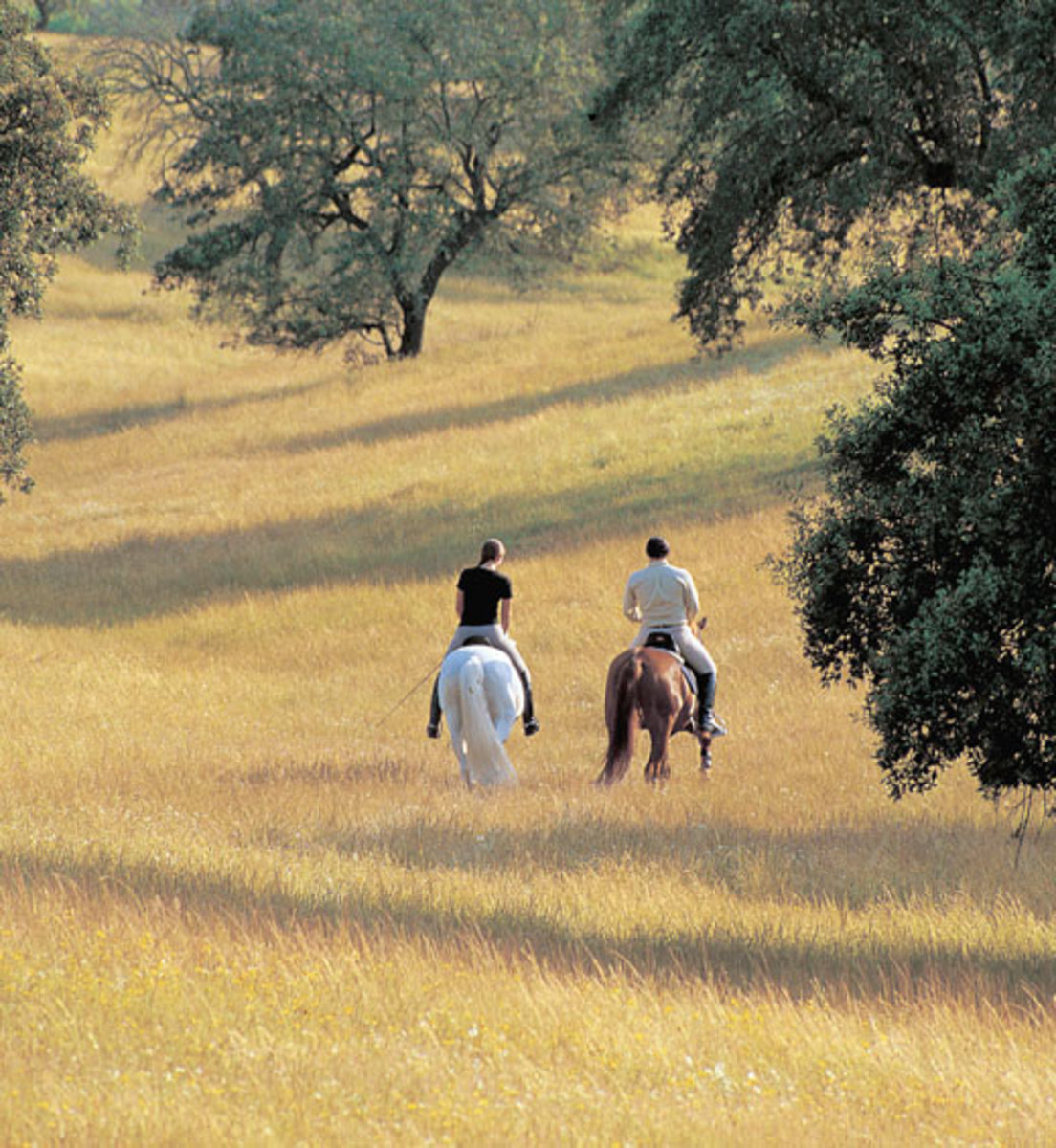 When was the last time you took an actual vacation-the kind where you go somewhere and stay for a weekend or a week or longer? Riders are often vacation-deprived. Some simply can't imagine going without their daily riding "fix"; others would gladly go off if they could take their horses with them. Don't worry, be happy-there's a wide variety of vacations designed for you.
Here, we'll give you the lowdown on bed & barns, riding vacations (here and overseas), and guest ranches. Along the way, we'll profile two bed & barns, plus give you travel-planning tips and explain a bit about the paperwork you'll need to cross state lines with your horse. We've also included a resource guide listing helpful books, newsletters, and websites.
Bed & Barns
Want to go on vacation with your trusted trail mount? Unless you're horse camping, packing, or going for a day ride, you'll want what's known as a "bed & barn"-that is, an overnight stabling facility that will welcome both you and your horse. Many such places are old houses or small private hotels; some are converted taverns, churches, or stables. Look for those with beautiful scenery and easy access to trails.
After you've narrowed down your list of possible B&Bs, here are some suggested questions to ask the proprietor:
• What are your equine-health requirements?
• What's the per night, per horse charge, and what does it include (feed, bedding, stall cleaning, etc.)?
• Do you have any package deals?
• Is there direct trail access or would I need to trailer to the trailhead/s?
• Will I be riding on private property or in a parkland/wilderness area?
• Are the trails well marked?
• Is there a variety of terrain?
• Do you allow dogs? If so, is there any extra charge?
• Are there RV/camping facilities on-site?
B&B Profile: Tennessee
Just off Highway 91 in northeast Tennessee, you'll find the Gentry Creek Victorian Inn & Stables in Laurel Bloomery (423/727-7080; www.bbonline.com/tn/gentrycreek). Innkeeper Marilyn Mitchell is justifiably proud of her beautiful 100-acre farm and her 1870s country Victorian house. From the house and barn, you can see white fencing outlining the green pastures on the gently rolling hills, and gorgeous views in every direction.
Families, couples, and single visitors are all welcome, and even family pets can be accommodated. But despite the large size of the house, you don't have to worry about getting lost in a crowd. "We have six guest rooms in the house itself," says Mitchell, "and if a group wants to stay together, there's a two-bedroom apartment over the barn that will accommodate up to six people."
Mitchell's modern barn has stalls for twelve visiting horses. "It's very comfortable," she says. "Stall mats, deep shavings-we provide comfort and luxury for all our guests, humans and horses!"
The farm is also a 501(c)(3) nonprofit horse rescue, rehabilitation, and retirement facility. "At any given time, you'll see between 8 and 15 horses grazing in our pastures," says Mitchell. "Some are retired here, some have been rescued, and some are ex-show horses being rehabilitated and trained for new careers."
You and your travel buddies can also enjoy stream and lake fishing, and hiking. Plus, golf, shopping, and a four-star restaurant are all within easy reach of Mitchell's property. But the best part about this B&B is the direct access to miles of trails. "Our guests can ride directly off our property and into Cherokee National Forest," says Mitchell. You can also trailer your horse to the Virginia Creeper Trail, Mount Rogers, and Moses Cone.
B&B Profile: Oklahoma
If staying in someone's home doesn't appeal to you, you prefer to make your own breakfast, and solitude is one of your vacation goals, look into a riding vacation that provides unlimited trails and complete independence.
One such destination is the Horse Heaven Ranch in Talihina, Oklahoma (800/514-6773; www.shopoklahoma.com/ranches.htm). It's larger and much less personal than a B&B, offering total independence to the visiting rider. There's no inn here, and no communal dining room-the owners provide a barn or paddock for your horse, and a guest cabin for you. You'll bring your own food and do your own cooking. If privacy and miles of mountain trails are your goals, you'll be a happy camper.
Under new management as of this year, Horse Heaven Ranch is now owned by Dudley Black of Killeen, Texas. He and resident manager Sharon Persak have been working hard to clean up, restore, remodel, and improve the well-known vacation site.
For you, Horse Heaven Ranch has six fully equipped luxury cabins; Black plans to add another extra-large luxury cabin, with three bedrooms and two baths. Each cabin has a covered stall and paddock, but if you'd rather keep your horse indoors, there's a luxury, six-stall barn in the main camp, with padded stall floors. Stallions are welcome, either in the corrals or in the barn.
Stall bedding is available at the local feed store, the local pharmacy carries horse supplies, and yes, there's a grocery store. And if you get tired of your own cooking, don't worry. "There are several really good restaurants nearby," says Persak. "The main focus of most guests, though, is the quick access to miles and miles of spectacular trails. "The trails are amazing," says Persak, who lived in Alaska for eight years and is no stranger to beautiful scenery. "It's wild and clean and beautiful here, and no need to take the same trail twice," she says. "There are over 100 miles of marked trails." The trails wind around and through the beautiful Ouachita Mountains of southeastern Oklahoma.
Riding Vacations
If you'd like to focus solely on riding, then a riding vacation-either in the United States or abroad-is for you. You'll typically ride with others at your own riding level, on a mount matched to your skills. You'll return to central overnight accommodations, or ride to a different place every night, ranging from cottages to castles.
Here in the United States, clinics and riding lessons by nationally known instructors are popular. Overseas, you can take classical dressage lessons in Portugal, ride inn-to-inn through France's Provence region, get a horseback view of volcanoes in Iceland or glaciers in Chile, or ride on the beach in Costa Rica or New Zealand.
If a riding vacation is your dream, you're in luck-the work is already done for you. All you need to do is contact the folks at Cross Country International (800/828-8768 www.equestrianvacations.com), and/or Equitours (800/545-0019; www.ridingtours.com).
The owners and staff at each of these reputable riding-tour companies personally check out each ride. "The first time we go, they don't know it's us," says Karen Lancaster, owner of Cross County International. Then, she says, they go the extra mile. "We might make some changes to a ride to make sure it'll be comfortable for American travelers. For instance, we make sure there's a private bath and food items that Americans are used to. A riding vacation should be comfortable and fun!"
Lancaster also encourages trail riders to research air and trip prices before ruling out an international ride based on budget. "You can fly Aero Mexico from the Midwest to Mexico City for as little as $299," she notes.
If you're an adventurer at heart, love wilderness camping, enjoy riding all day, and dream of exploring Asia on horseback, you can take a riding trip through Mongolia or Tibet. These wilderness trips are organized by Boojum Expeditions (800/287-0125; www.boojumx.com). For 21 years, this travel outfitter has been running highly successful trips for very small groups of dedicated modern-day explorers. If you don't mind roughing it without such modern conveniences as hot water and toilet facilities, these might be the ideal vacations for you. Boojum also offers a less "extreme" trip through Uruguay-you'll still spend your days in the saddle, but at night you'll stay in hotels and inns.
Contributors to The Trail Rider who went on overseas riding vacations also had great luck with Riding Holidays, (888) 299-5102; www.ridingholidays.com; and Highland Horseback; www.activity-scotland.org.uk/highland-horseback.htm.
Ranch Vacations
Some guest ranches allow you to bring your own horse, but most don't. However, this can be a plus: You'll be able to trail ride in places to which you wouldn't necessarily have the time or inclination to trailer your horse, freeing you to travel farther afield. You'll also be able to ride different types of horses. And, when you're finished riding for the day, a wrangler will do most of the horse work for you. Guest ranches are also ideal for families, especially when some family members prefer other activities to trail riding. Here's a rundown of types of ranches.
• Working ranch. A working ranch is, well, a working ranch. It's a ranch that takes guests, not a ranch designed for guests. Guests-usually just a few at a time-come to experience the nitty-gritty of life on a ranch, and the guest activities consist of participating in the day-to-day operations. Working ranches have an authentic, "down-home" atmosphere. You'll sleep in a bunkhouse, cabin, or lodge, take meals with the family, and enjoy good home-style cooking. If you want to get a feel for what ranch life is like, this is the place for you. If you prefer to trail ride outside the context of ranch work, this may not be the place for you.
• Dude ranch. A dude ranch is guest-oriented-that is, dependent on guests for most of its income, and is set up for their comfort and convenience. Dude ranches typically have many guests at one time, and offer horseback riding, guided trail rides, and a variety of other activities. Some have special programs for young children. If you want a vacation in Western surroundings with horseback riding, cookouts, and other activities that may appeal to the less horsey members of your family, this may be the place for you.
• Resort ranch. Some dude ranches go far beyond the traditional offerings of trail rides, riding lessons, cookouts, campfires, and sing-alongs. They offer gourmet cooking, pools, hot tubs, fitness centers, spa treatments, golfing, tennis, seminars, lectures, area tours, and planned evening entertainment-they're effectively resort ranches. If your ideal vacation location would be a luxury hotel and spa with horseback riding, a resort ranch may be the place for you.