Trail riding in Kentucky is accessible, family friendly, and can be easy on the wallet. There are currently 229 riding trails offering more than 1,913 miles throughout Kentucky.
I tested many of the trails myself, while filming "Great Trail Rides in Kentucky," a high-definition episode of Equitrekking, my Emmy-winning television series on PBS.
As a part of my job for Equitrekking, I ride horses with locals around the world. I found great horses and riders all over Kentucky, from state parks and recreation areas to farms and historic villages.
Here are just a few riding locations where you can bring your own horse or ride one of the outfitter's well-trained horses to explore Kentucky from the saddle.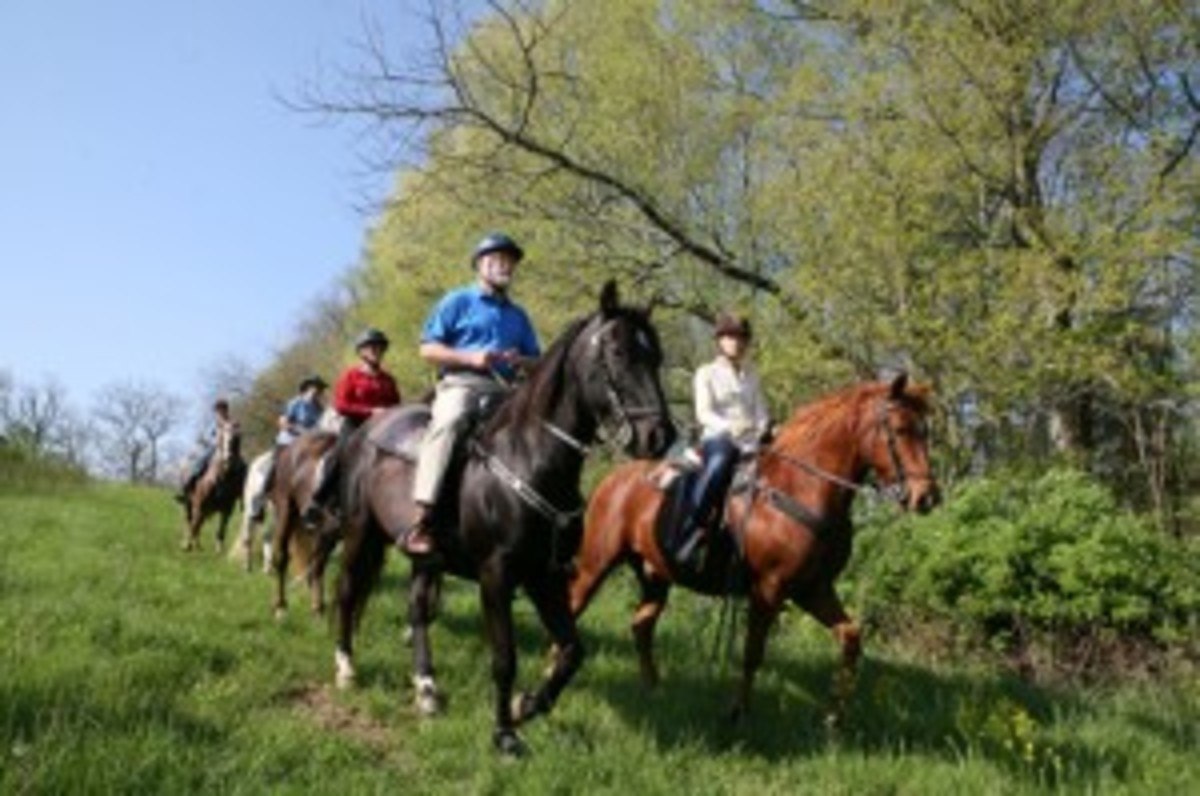 Shaker Village
Location: Harrodsburg.
Overview: You can bring your own horse and ride at Shaker Village, which has more than 3,000 acres of idyllic landscapes and historic sites with 33 miles of riding trails and 15 miles of carriage-friendly trails; it's less than 30 minutes from Lexington
Best sights: Waterfalls at the site of the Old Mill, historic stone fences, and open meadows.
Best for: All riding levels.
Budget: $7 per person "daily horseback riding/carriage fee" for bringing your own horse; $107 per person for a two-hour guided ride at Shaker Village with the Big Red Stables, using its horses.
Barren River Lake State Resort Park
Location: South Central Kentucky, close to Kentucky's famous cave area.
Overview: Kentucky State Parks offer more than 140 miles of riding trails. I rode through quiet, wooded trails amid redbuds, dogwoods, and a variety of wildflowers on the trails of Barren River State Resort Park, one of Kentucky's 17 state park resorts.
Best sights: Wildflowers, woodland, and the lake.
Best for: Families and riders over 6 years old. You can bring your own horse, or go on a guided ride. Forty-five minute guided trail rides depart every hour Memorial Day through Labor Day, weather permitting, and some weekends during spring and fall.
Budget: Approximately $18 per person for one-hour guided rides.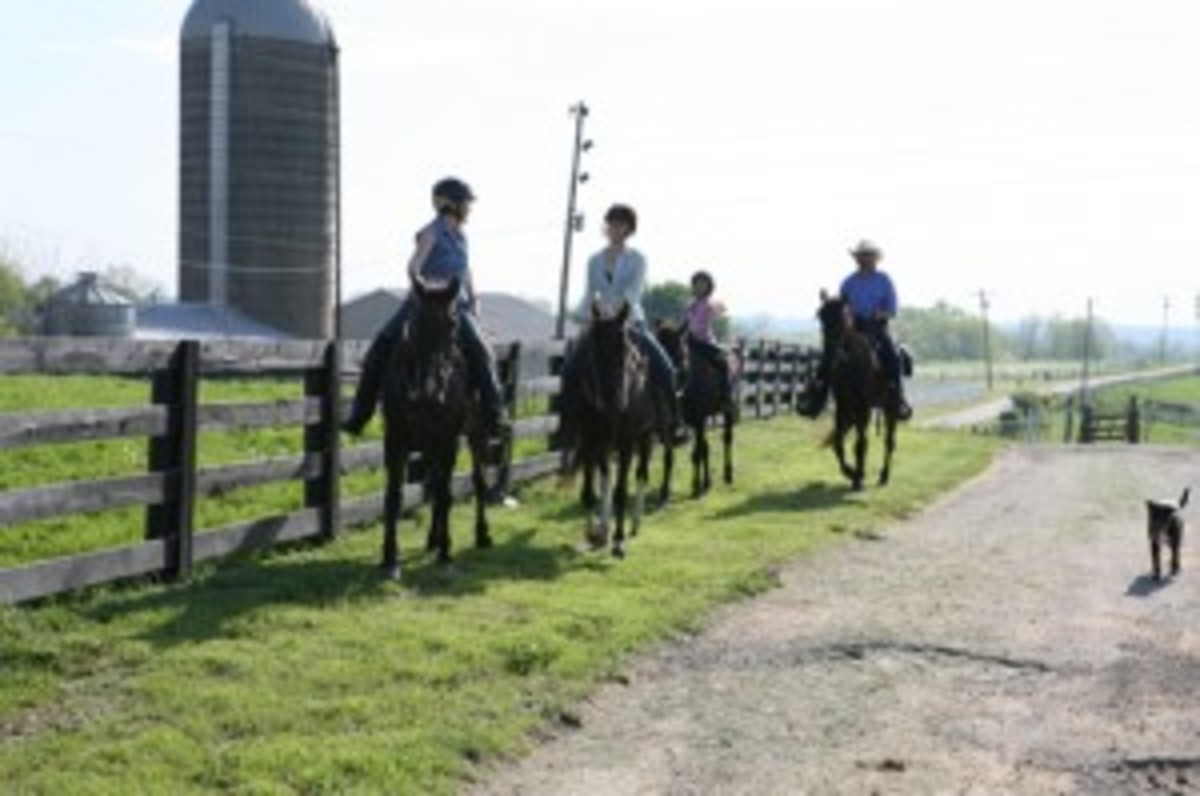 Darley Newman and Big Red Stables' owner, Emily Dennis, riding with her family at her farm. | Photo by Chip Ward
Big Red Stables
Location: Harrodsburg.
Overview: The Big Red Stables has been in Emily Dennis' family for generations. Located not too far from Shaker Village in an area of beautiful meadows, forests, and rolling hills, this family farm offers a personalized riding tour on smooth Tennessee Walking Horses. Riders of varying experience levels can enjoy a taste of life on a Kentucky family farm.
Best sights: Wide-open fields of beautiful bluegrass.
Best for: Advanced beginner to advanced Western riders over 12 years old.
Budget: $35 for one-hour guided rides; reserve in advance.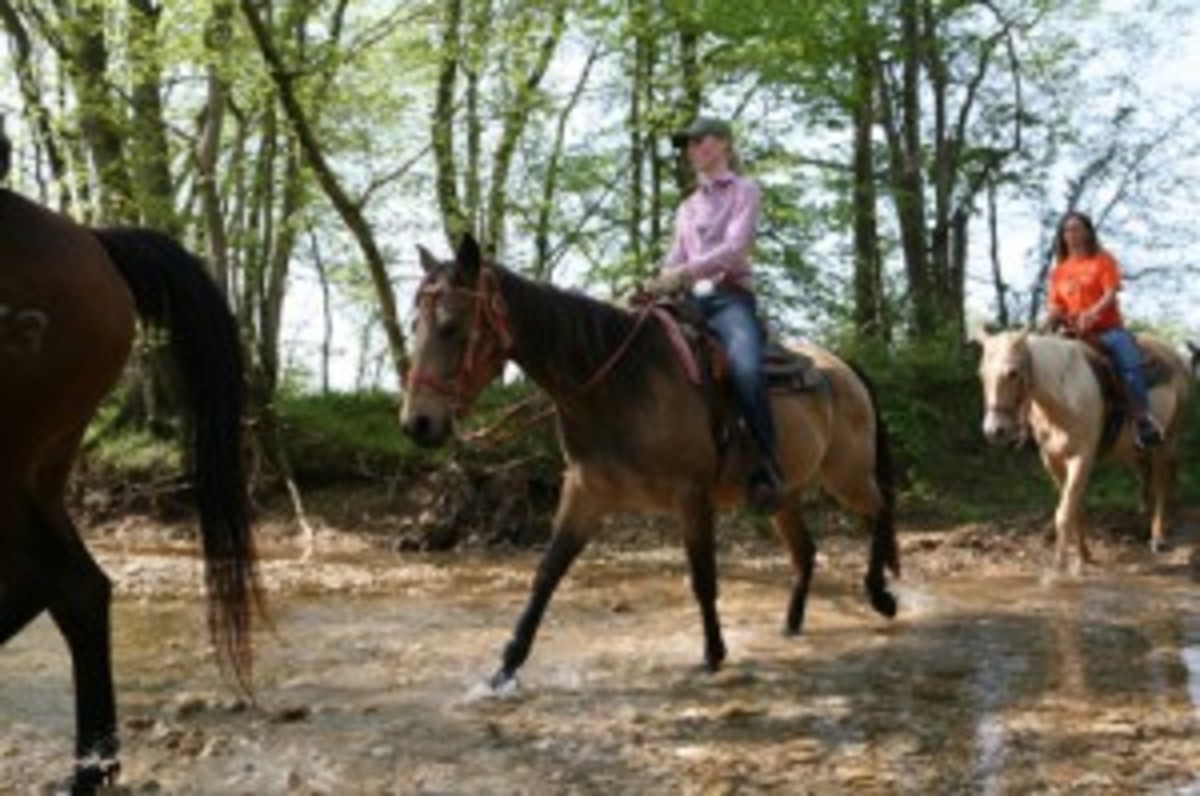 Darley Newman, Randall Mitchell, and riders from Equine Adventures at Wranglers Riding Stables at Land Between the Lakes National Recreation Area. | Photo by Chip Ward
Land Between the Lakes National Recreation Area
Location: South central Kentucky.
Overview: With more than 100 miles of diverse trails for horses and the well-equipped Wranglers Campground, many people travel to Land Between the Lakes to ride. You can bring your own horse or ride out with Equine Adventures, an outfitter that rents horses and leads travelers on guided rides from Wranglers Riding Stables. The riding trails bring travelers through rolling woodlands and alongside isolated shores.
Best sights: Waterfowl, and the lakes!
Best for: Families and riders over 7 years old who'd like to ride their own horse and have access to good camping facilities, or saddle up at the park's stables.
Budget: Approximately $15 per person for one-hour guided rides.
Darley Newman is the host and producer of the Emmy-winningEquitrekkingtelevision show on PBS, the author of the award-winning Equitrekking: Travel Adventures on Horseback book, and the founder ofEquitrekkingTravel.com, featuring exceptional equestrian vacations.