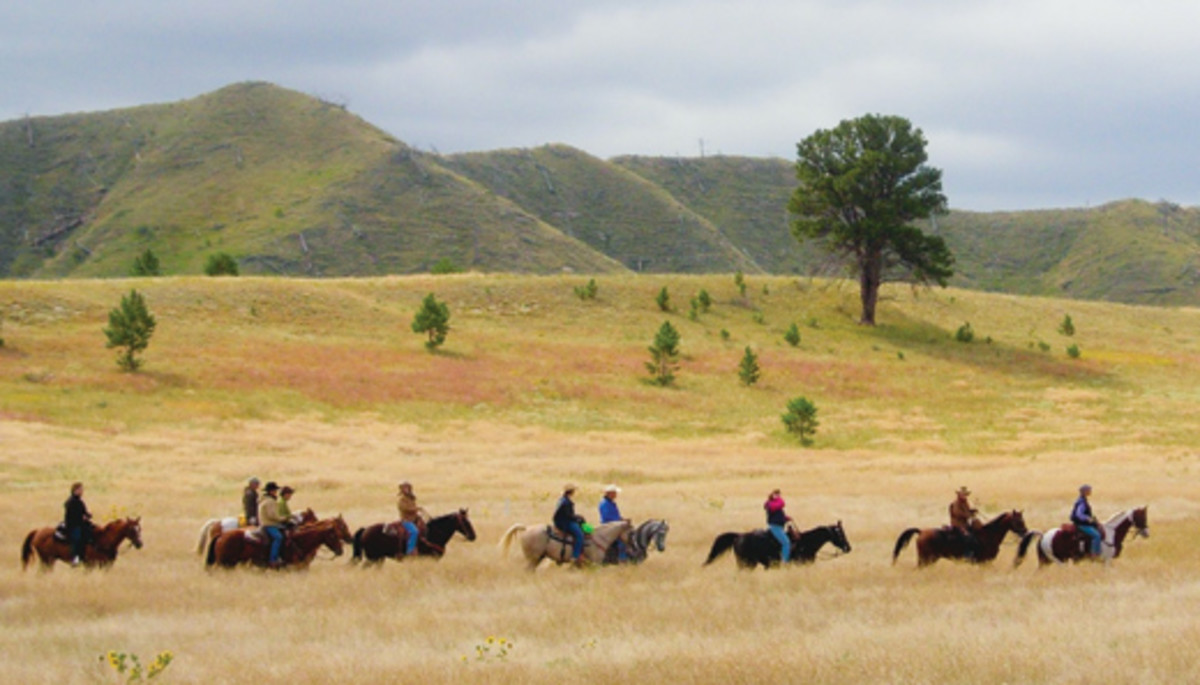 The 2008 Annual Arabian Horse Association Trail Ride started with a bang on a beautiful fall day in Fort Robinson, Nebraska. Everyone was glad to welcome back Tommy and Dawn Garland as our ride clinicians, and our venerable wranglers from the Fort Robinson staff.
Bumps, bruises, and sore muscles didn't slow the riders down, and our wranglers kept us from the worst of our mistakes as we rode up hills and down.
The creek crossing was interesting, as always. (For some reason Arabians just don't seem to appreciate the novelty of getting their feet wet.) There were a few "issues" and one certifiable bath in the cold water of the creek, but with Tommy Garland's help, everyone crossed the water, and we were on our way.
After several hours of hard riding, the excellent breakfast served by the accommodating and ever-cheerful staff at the fort's lodge had worn off and we were ready for lunch. Skinny was there with hot soup and sandwich fixin's. We all tethered our mounts and dug in.
One evening, Tommy Garland demonstrated his techniques in a clinic; he and Dawn were always ready with helpful advice. He gave one horse, Precious, a lesson in water crossing when her owner just couldn't get her through the creek. Much to everyone's delight, Precious succeeded in unhorsing him, but he never batted an eye. The next we knew, he was riding her calmly back and forth across the creek. Needless to say, Precious didn't have any more problems with the water!
The trails were easy (depending on your point of view I suppose), and the weather proved grand. We also had the opportunity to chase the fort's herd of registered longhorn cattle across the prairie as we moved a few stragglers to another pasture.
Sunday morning dawned bright and beautiful for our ride up the bluffs to breakfast. We were very sad to say goodbye to all of our friends. Once again, the Fort Robinson staff members outdid themselves with mouth-watering meals, great rides, and outstanding facilities.