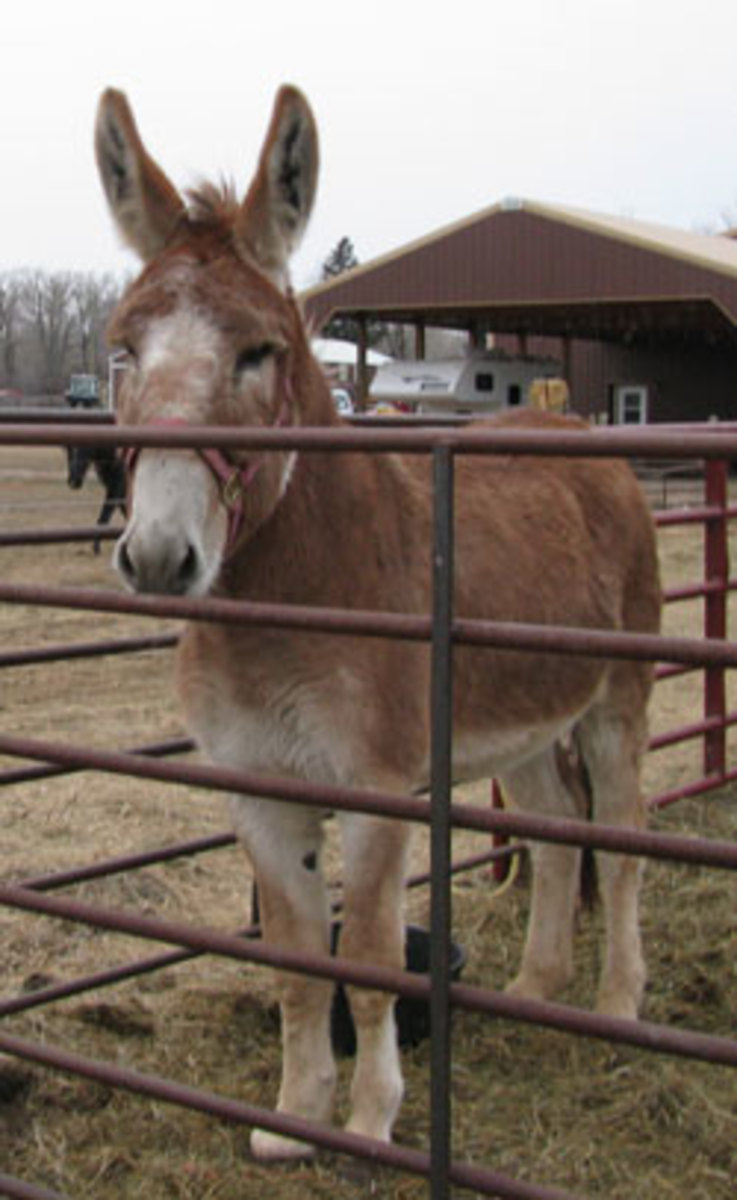 In the March '09 issue of The Trail Rider, I write about my ranch-bred gaited mules. Today, I watched an interesting sequence of events from my office window, which is located upstairs at our riding arena and affords a good view of the paddock where we keep young horses for training.
A neighbor had released 30 or so lively yearling heifers into the pasture to the north. Our horses are used to cattle, so it surprised me to see six young horses dashing to the far side of their paddock, turning around, and snorting. They were quite agitated, and the reason, unlikely as it sounds, was that among the Black Angus heifers were two Charolais, white cattle. Horses may not see color as we do, but any cowboy will tell you that if your horse is used to only black cattle, bright-colored ones can cause a reaction.
As I watched the spooky young horses, I could also see Bubba, our gaited jack, whose pen is located directly adjacent to the neighbor's fence. At the initial stampede of the horses, Bubba gave a couple of exuberant bucks, then turned around and marched to the side of his pen facing the neighbor's heifers. He didn't snort or bray. He simply stood like a rock, facing the heifers, studying them intently.
And that contrasting reaction encapsulates one of the major differences between donkeys and horses. Horses flee first and ask questions later. Donkeys may flee, but just as often they study, and in some cases, should the animal pose a threat, they attack.
Mule fanciers believe that their favorite animals, which are half donkey, are less likely to flee blindly from perceived danger than horses are. My mule experience is young, but Bubba's reactions to new stimuli around the ranch seem to bolster that opinion. Stay tuned!