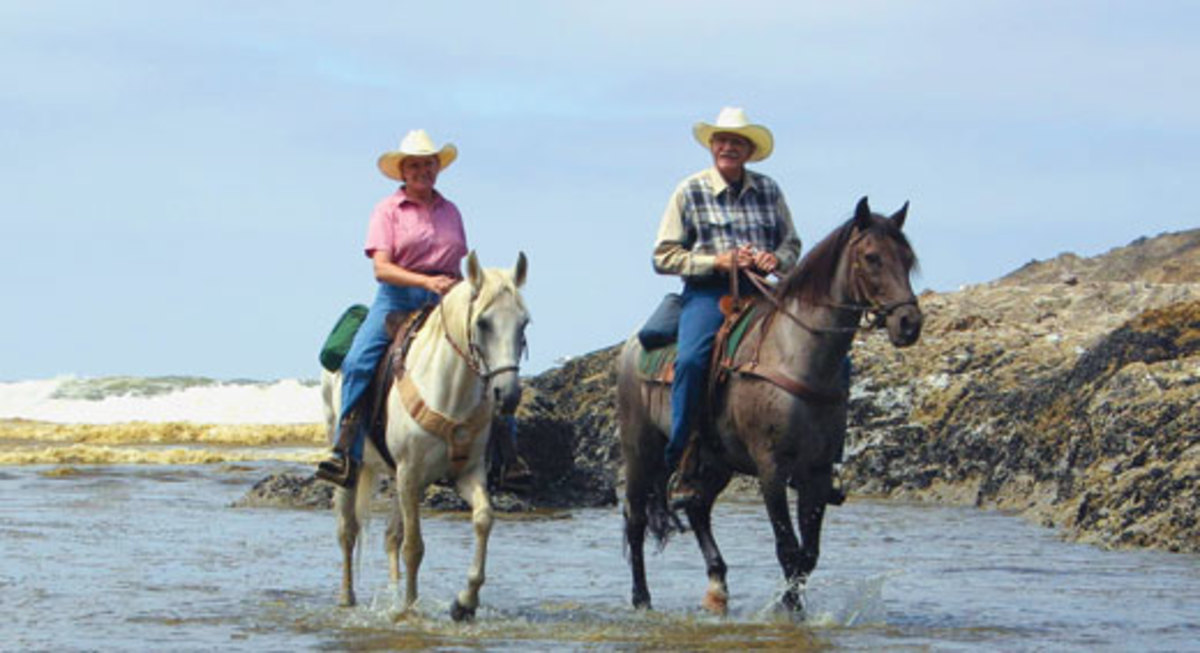 More than 155,000 miles…it's a staggering number of trail miles to cover horseback. Janine Wilder long ago gave up volunteering this accomplishment in conversation.
"People just react with disbelief when they hear it," she says.
Listeners' astonished responses are only compounded if Janine further discloses that she and her late husband, Jim, shared these miles on a single horse each: Janine on Max, and Jim on Smoke. (For more on these hardy Paso Fino geldings, in Janine's own words, see "Our Wonder Mounts," on page 18.)
According to The Long Riders' Guild (www.thelongridersguild.com) - an organization of which the Wilders were founding members - no other rider comes close to documenting Janine's trail miles. She's logged enough trail miles to circumnavigate the globe six times.
The LRG is an international association of equestrian adventurers, each of whom has completed a continuous horseback journey of 1,000 miles or more. Members hail from 38 countries around the globe.
The Wilders' accomplishments with Max and Smoke are unparalleled in recorded equestrian history. They're also proof positive of what care, courage, and consideration can accomplish with healthy horses. However, Janine is matter-of-fact about her trail-riding endeavors.
"If I can do it, anyone can do it," Janine says with complete certainty. This belief prompted her to dedicate much time in recent years to sharing her knowledge and experience with fellow riders.
Janine Wilder is a familiar name to many trail riders. She's the author of Trail Riding, A Comprehensive Guide to Enjoying Your Horse Outdoors (Western Horseman Books), has written extensively for magazines, and lectures at horse expos and other events around the country. (For more on her event schedule, and to order her book, visit her website, www.horsetravels.com.)
Retirement Passion
One might guess the Wilders started riding as young adults to log such an incredible number of trail miles. The truth is, they didn't hit the trail until after Jim's retirement. To top it off, during one of Janine's first riding experiences, she suffered a horrendous wreck that left her with numerous broken bones, a horseshoe imprint on her thigh that still appears 25 years later, and more than a little apprehension of horses.
But Janine faced her fear and forged ahead, buying Max as a 3-year-old soon after the accident. She continued to work toward her dream of spending as much time as possible on the trail with Jim and the horses. She began logging their distances on trails traveled once she and Max were partnered.
In the two decades that followed, the Wilders helped to pioneer the pastime of modern trail riding. When they first trailered out to find exciting places to ride, Janine admits she was surprised to find very few folks involved. Over the years, though, as they pursued their passion, horseback trekking became increasingly popular.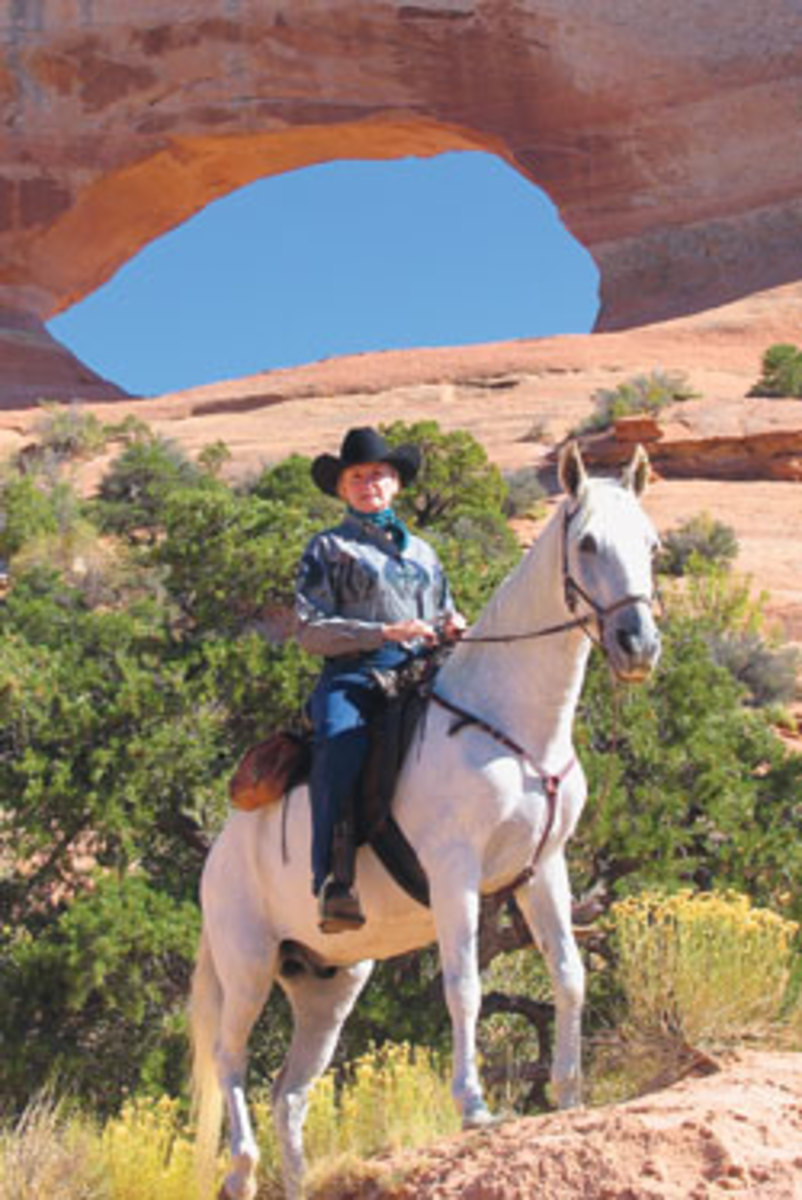 Modern-Day Nomads
During the heyday of the Wilders' high equestrian adventure, they became so taken with horseback travel that they truly cut the ties to their former sedentary lifestyle. They sold their home, bought a recreational vehicle and a horse trailer, and set out with their horses to bang around North America as genuine nomads for five straight years.
Ultimately, they rode in every conceivable environment and condition in the 48 contiguous states, as well as Hawaii and Mexico.
Full-time trail riders seemed to be quite rare, Janine recalls. In fact, she remembers encountering only three or four others, none married, who completely fled regular society, left their old lives behind, and went for broke to trail ride the country as a way of life for a time.
With practically all the continental United States experienced at the pace of a horse, the Wilders next set their sights on Canada and Alaska. Unfortunately, these plans were postponed when Jim became ill and was diagnosed with cancer. Jim passed away in 2008.
"The two of us did everything together," Janine shares. "That will always be special. I learned so much from Jim. I had a good teacher."
Janine endured this most steep and rocky trail in her life, but now plans to get back in the saddle and head north to ride the trails she and Jim had set their sights on.
Horsemanship the Wilder Way
Janine Wilder threw herself so completely into trail riding that the past quarter century of experience she draws from is much more intensive than the experience of typical horse enthusiasts.
Eight- to 12-hour days in the saddle were normal for her. Rides ranging into the hundreds of miles were typical, usually through open country rather than on the beaten paths.
These years weren't spent catching a weekend here and there. Janine served full time as a cowgirl of her own design, exploring for weeks and months on end America's backcountry.
Fascinated by the horse/human relationship in general, intrigued by her own hands-on experiences with Max, and being a tireless observer of other trail riders and their horses, Janine reached a few conclusions. Some of these ideas fly in the face of many more conventional horsemanship practices and concepts.
"Developing" is the term Janine likes to apply to the idea of getting a horse trail-proficient. She speaks of developing a trail horse while being on the trail. "Training," she believes, is an idea at odds with developing, and is brandished all too frequently, because people often believe they're teaching the horse how to do certain things.
According to Janine, we aren't teaching our horses anything they can't already do. We don't teach our horses to back, or canter, or stop. A horse at liberty in an open space makes these moves just fine without human intervention.
Instead of perpetuating the rather arrogant mind-set that people train horses to do various things, Janine thinks people should seek to develop the relationship between human and horse to combine their very different abilities into a single, improved being. To use an age-old but fitting image, Janine calls it becoming a "centaur."
Further, Janine believes horses possess abilities that we often stifle through training. With a humbler attitude - one in which we're in awe of and inspired by our horses' natures - we can develop their inherent sensitivities and talents. "We are so geared to 'training,' that we don't allow the horse to do his part," she says.
As riders, we're so inclined to micromanage every little move our horses make that they're left out of the decision-making process. This is a mistake, Janine says, because a horse can bring critically important information into the trail-riding experience that we're not physically capable of detecting.
Horses are capable of handling responsibility, notes Janine. Trail-horse development includes providing opportunities in which he's expected to take responsibility and actively participate in the experience. This conversation between horse and rider enhances many aspects of trail riding, not the least of which is safety.
Janine can spout off dozens of examples from her experience to articulate these points. She tells of lost riders finding the way out of the wilderness because their horses smelled the right trail home. The lesson: Let your horse sniff the trail once in awhile so he can familiarize himself with the scent, and consider following him instead of leading when you're the one who's lost.
"All of these latent instincts will come back," she insists. "I often let Max pick his way, because he knows the best way to go through tough places."
Get the Facts
Before you head off to an unfamiliar trail, do your homework, says Janine. For instance, find out which entity manages the public land on which you're planning to ride. Each type of public land (such as federal vs. state, and park vs. forest) has its own set of regulations.
"Get these regulations sorted out in your mind," Janine stresses. "If you know them, you'll know where to go. If people would just do their homework, there are so many places to ride. Just educate yourself. Just go and ride."
Janine also suggests taking chances. "Some people want reservations everywhere they go, but they're missing some of the best country this nation has to offer. Get out of your comfort zone. Jim and I found it exciting. We didn't need trails. Of all the thousands of places we've camped, we never had a bad experience."
"It's liberating!" Janine says of cutting the ties to the sedentary life and striking out without a permanent home base as she and Jim did. "Besides, we had our home with us on wheels. We had pack equipment, so we'd pack into places for days or weeks at a time. We've been on some wicked trails where you might only make five miles a day. I've been riding at 13,000 feet. You learn so much about yourself, and you learn that there's nothing scary out there."
A final bit of advice from the world's most traveled trail rider: "I'm so glad we set out when we did. It was a dream of ours, and we did it. You can, too. If I can do it, anyone can do it.
"It's just about following your dream, and by gosh, do it now!"