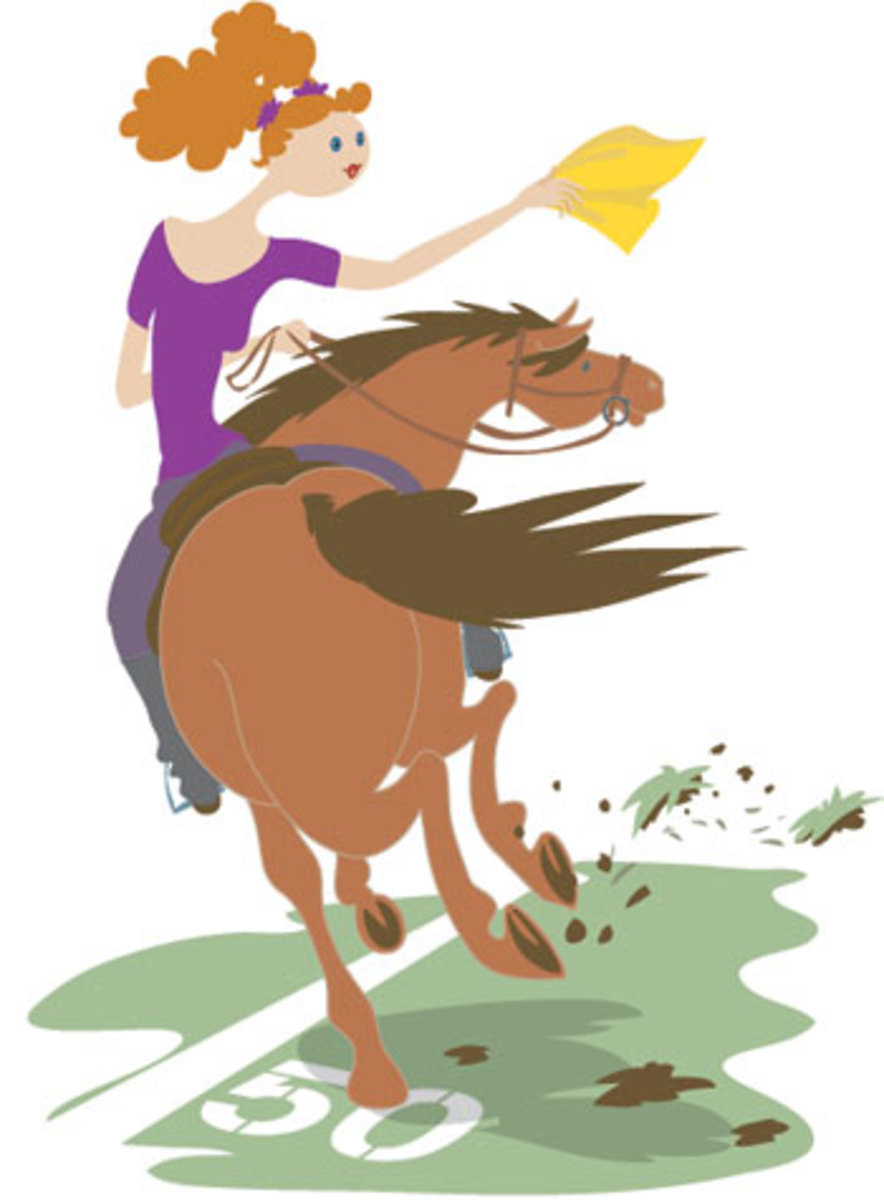 Along with cows, pigs, and chickens, the horse is generally regarded as a classic rural animal. A quick trip to the country will confirm this fact. Horses are everywhere out here. But like hillbillies and grassy knolls, horses occasionally appear in urban areas. When they do, it seems unnatural and exciting.
Sometimes, horses find themselves in built-up areas by virtue of the "grand-fathered" farm. When local governments rezone a district, they often exempt existing farms. This means that until the property is sold, the owners can keep big animals there. Often, this goes on for years.
Meanwhile, the surrounding area develops around the property. The horses watch as concrete and steel structures replace forests and fields, proving to them once again that the human race is hopelessly psychotic.
Holy Terrors
Most equestrians who live in the city know that they can't ride their horses anywhere they darn well please. That's because most equestrians are responsible citizens with good sense. However, there are some people who refuse to obey or even acknowledge municipal restrictions. These people are known as Urban Riders.
In these parts, the most famous Urban Riders are the anarchist rebel horsegirls, Andrea and Anna. This terrible twosome will ride anywhere they can create havoc and attract attention. In the past, they've attracted the attention of the police, the local prosecutor, angry motorists, countless dogs, and the manager of a fast-food restaurant. There have been no arrests.
The girls know of a few places inside city limits where it almost seems "okay" to bring a horse. One such spot is the municipal park in the middle of town. To get there, they have to dodge their way through the busiest part of the city, but by mingling with other pedestrians, they can make the trip without incident. Actually, theyarethe incident.
In the wild, horses generate excitement by stampeding around in groups and kicking up dust. In an urban park, they create excitement just by showing up. A real live horse is the most powerful girl magnet on the planet, surpassing even Jessie McCartney and the ice-cream truck.
In minutes, Andrea and Anna are surrounded by a mob of young girls asking absurd questions. "How fast can he go?" "Does he have babies?" "How fast can his babies go?" "Can I ride him?" High on their lofty perch, the Urban Riders hold court like royalty before an admiring rabble.
Girls Meet Boys
Rebel adolescent horsegirls love attention. Their preferred source of attention is, of course, adolescent urban boys. And where can you find the single largest concentration of adolescent boys after school? At football practice!
Ostensibly, Andrea and Anna crashed football practice to distract and annoy. To rebel horsegirls, the varsity team represents the heart and soul of male orthodoxy. To challenge it would be bold and fun. And maybe they'd get asked out on a date.
What Andrea and Anna didn't understand is the role that agony plays in football practice. Players running wind sprints care about one thing: their next breath. The boys were probably aware that there were horses trotting around their blocking sled and knocking over their tackling dummies and perhaps in the back of their minds they thought, "How odd, horses…." But their suffering kept them from either protesting or applauding. People in extreme pain often allow the most unusual things to pass by without comment.
While the boys didn't respond, an assistant coach with a ruddy face and a large belly wasn't about to let the girls and their horses spoil his practice session. With a wrath normally reserved for fumbles on the five, he assailed the girls with a litany of improbable threats and rough language. While no human being was physically capable of performing much of what he was suggesting, the irrationality of it only made him seem more threatening. The girls were compelled to end their raid and beat a hasty retreat lest they found themselves running wind sprints alongside the boys.
Clipboard in hand, the assistant coach stumbled after the girls. However, experienced Urban Riders always leave themselves an escape route. No overwieght cardiac candidate was going to catch this pair. Andrea and Anna would ride another day.