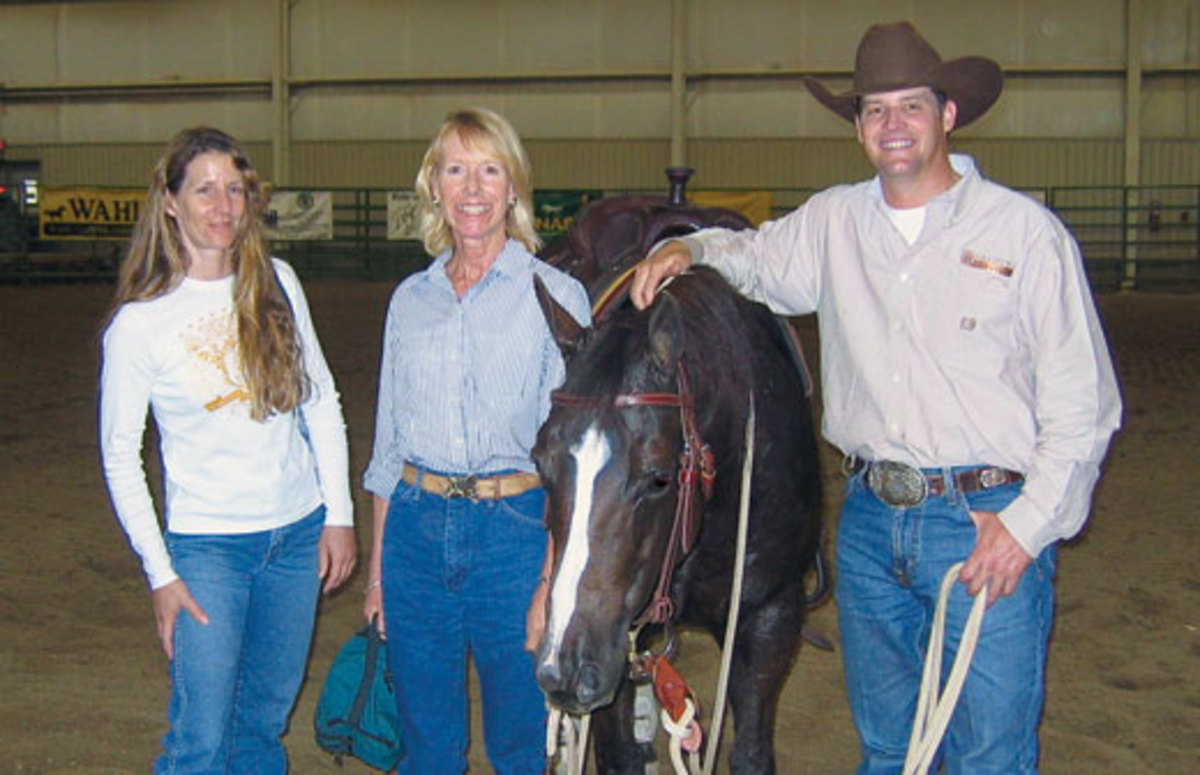 I'm a big fan of horse clinician Clinton Anderson and his practical methods of horse training, called Downunder Horsemanship (888/287-7432; www.clintonanderson.com).
There are many wonderful trainers, local and national. I find Clinton Anderson both entertaining and a great teacher. I've learned so much from seeing him in person and watching his videos. It's a matter of time and practice as I absorb all of the knowledge Clinton has to share.
In November 2007, I attended my second Clinton Anderson weekend demonstration in as many years. That one was held in Phoenix. Since I'd been captivated by the first one, I encouraged several riding friends in Tucson to join me. One was Amy Bourk, a local horse trainer who's helped me train my Paso Fino colt, Clementino.
When Clementino was 6 months old, I couldn't get him in a horse trailer. Amy loaded my colt in 15 minutes. She's also given Clementino and me lessons, helping us refine our ground work and ground-driving skills.
Wyoming Bound
Amy and I enjoyed the November 2007 demonstration so much, we left wanting more! I saw that Clinton would be in Casper, Wyoming, the first weekend of August 2008. I had credit-card airline miles I could use, so I persuaded Amy that we should take a "horse vacation" the following summer. We could get out of the Arizona heat and attend another Clinton Anderson demonstration.
Amy readily agreed. She was eager to attend another demonstration, plus, she'd never been to Wyoming. Right then, we started planning our summer getaway.
When the big weekend arrived, we flew from Arizona to Billings, Montana, then drove down to Casper. Coming from the desert, the grass-covered hills and faraway mountains were a feast for our eyes.
We stopped on the Crow Indian Reservation to tour the Little Bighorn Battlefield National Monument where Custer's Last Stand occurred. In Casper, we walked the park lands behind our motel, and followed ruts made by the wagons of pioneers who traveled the Oregon Trail.
If Amy and I were to do the trip again, we'd schedule an extra day or two just to visit the historic sites in Casper, Billings, and in-between.
No Worries
Casper proved to be a great location to see Clinton Anderson. The demonstration was held in a comfortable indoor arena at the Central Wyoming Fairgrounds. There was a crowd of people, but not the thousands who regularly turn out to see him in Phoenix.
It was thrilling watching Clinton break a horse to ride and fix the problems of horses belonging to riders who lived in the area. It was also fun having our photograph taken with Clinton Anderson and his horse, Mindy. We weren't Clinton's only "groupie" fans; all weekend, kids and adults waited in line to have their picture taken or ask him a question.
After the demonstration concluded, Amy and I enjoyed talking to Clinton's apprentices. These young women were enthusiastic about the years they've lived at Clinton's ranch, working horses and finessing their training techniques, despite the long hours.
The apprentices encouraged me to enroll in Clinton Anderson's "No Worries Club," whereby you get training CDs and a magazine with training articles on a periodic basis. I joined, and now look forward to each new CD and magazine issue.
It would be fun to get a group of Tucson people interested in training to all chip in to have an apprentice lead a clinic here. Then my friends and I could attend with our own horses.
But I enjoyed going to Wyoming, too. You can't beat a fun, four-day summer getaway, chockfull of American history, taking away new training methods, and getting a break from the intense summer heat of Arizona.