Your hardworking trail horse deserves the very best, from tip-to-toe. These nine quality items can help enhance horse health, comfort, and well-being. Our special section features a moisture-wicking saddle pad, hoof boots, hoof treatments, equine supplements, and more. 
Soft-RideTM Gel Comfort Boots 
The health of a horse's feet and legs is vital to his overall well-being, as every good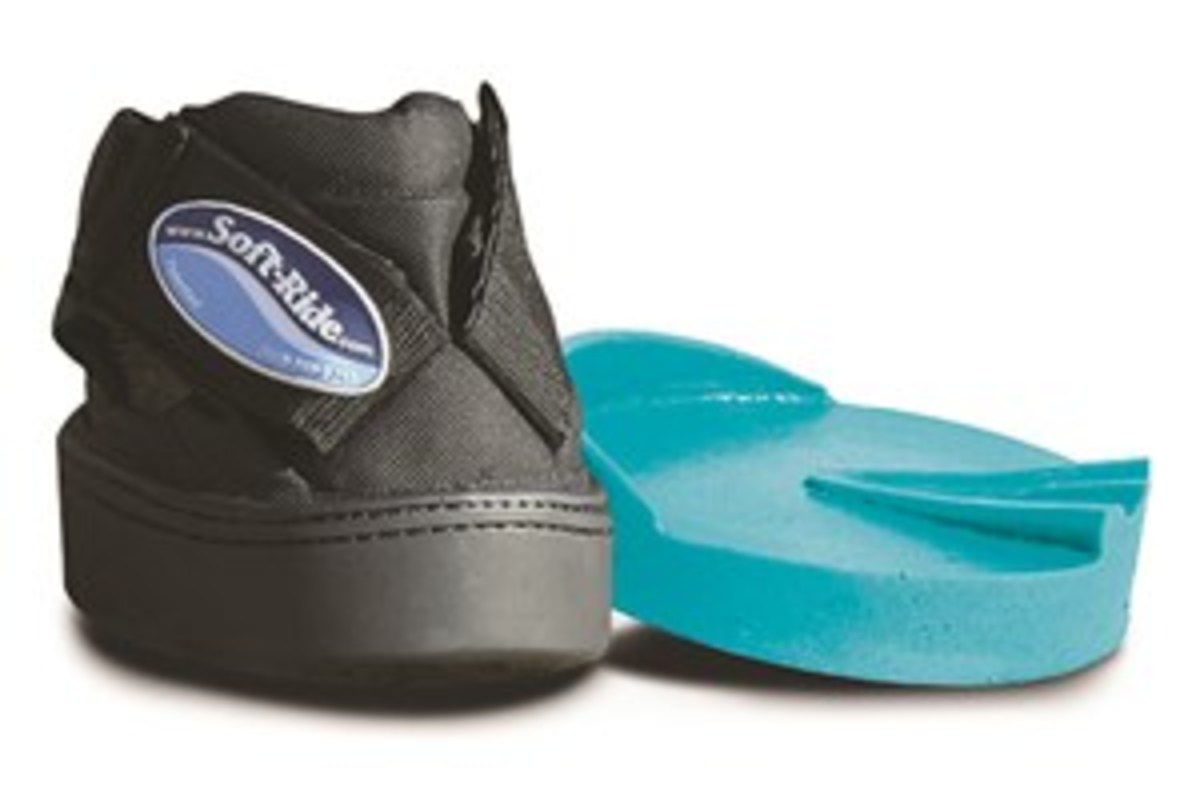 horseman knows. Standing tied in a stall, or especially in a moving trailer, can lead to
fatigue and soreness, draining energy that would have been better spent with you in
the saddle. Soft-RideTM Gel Comfort Boots decrease fatigue and help your horse recover
faster by providing traction, support, stability, shock absorption, and comfort, so you can
get back on the trail.
Soft-RideTM boots include exclusive Deep Gel patented orthotics and are the only
comfort boots that can be used with or without shoes. The gel insert improves circulation
in the hoof and provides relief of static tension to the deep flexor tendon. Soft-RideTM Gel
Comfort Boots come in 18 sizes with options designed specifically for horses with medical
conditions, so you're sure to find a great fit to invigorate and relieve your horse.
The Soft-RideTM Ice Spa is great for pre/post workout or competition, as well as for the 72-hour continual submersion laminitis icing protocol. The portable Ice Spa, when combined with the Sea Salt minerals, naturally and safely provides rapid recovery from inflammation. More information is available on the Soft-RideTM website.
http://www.softrideboots.com/;(885) 763-8743
5 Star Equine
The 5 Star Equine All Around 30" x 30" Saddle Pad for horses and mules is made
from 100% pure virgin wool, using an all-natural fiber that is soft, flexible, resilient, and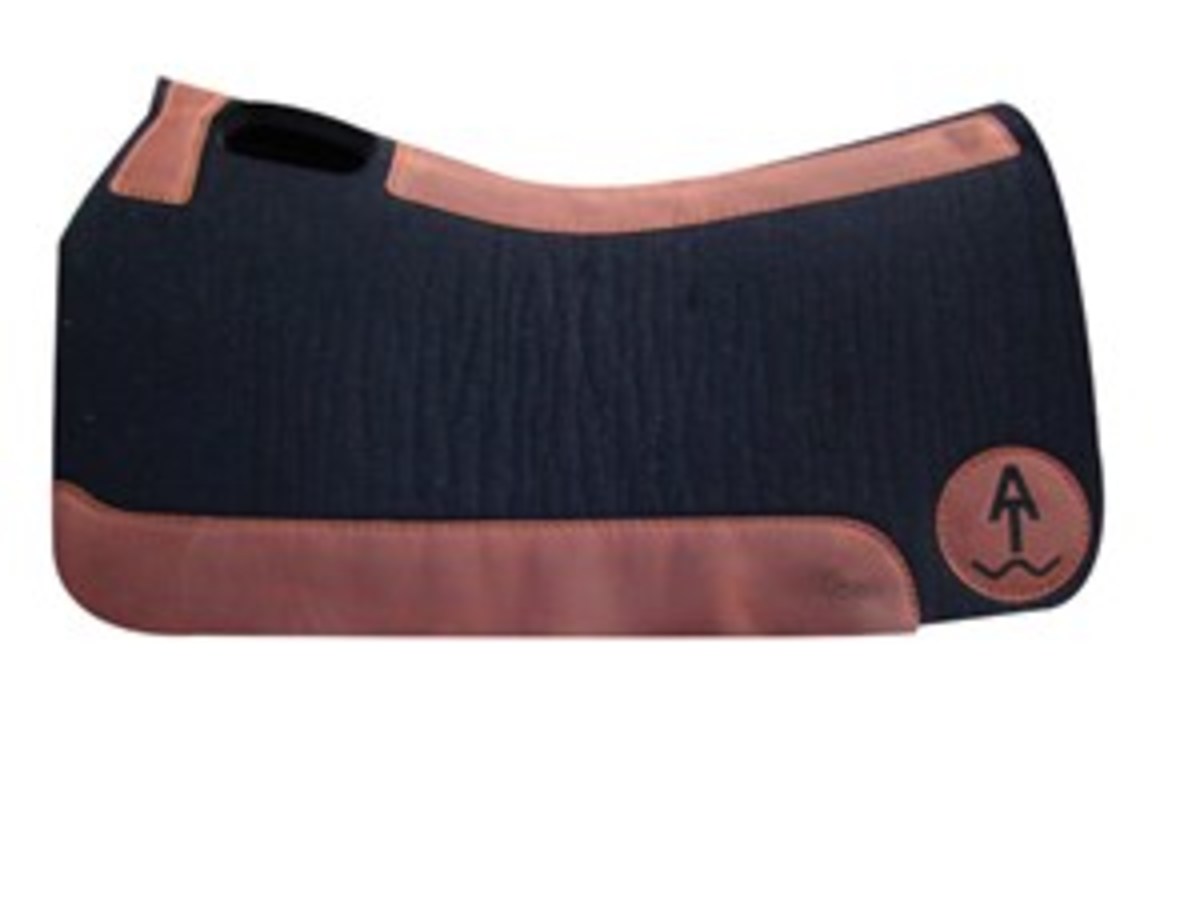 moisture-wicking. It has better overall performance than any other pad, with superior fit
and comfort. This pad keeps backs drier and cooler, allowing your horse or mule to perform
to the best of his ability while eliminating problems, such as sore backs. The 5 Star
pad also stands the test of time, standing up to more than 2,000-plus hours of riding.
The 5 Star Saddle Pad eliminates the need for additional padding, creating stable
saddle placement with no slippage or discomfort for your mount that can occur with a
double-padding system.
The French Curve design follows the horse's back contour with special attention to
wither height, back line variance, and hip placement, unlike square cut pads. This makes
it an optimal fit for every horse and saddle, eliminating break-in time — plus less cinching
may be possible.
The new model features stylish, cowboy-tooled, full-length wear leathers, as well as
breastcollar protector wear leathers. See the 5 Star Saddle Pad and the full 5 Star line by visiting the website today.
; (870) 389-6328
LubriSynHA
LubriSynHA's latest formulation, Lubri-SynHA+ with MSM, has a natural, synergistic, anti-inflammatory effect on horses and pets. MSM (methylsulfonylmethane) contains several valuable properties, including sulphur, which is necessary for the production of collagen, glucosamine, and chondroitin — all the elements that make up cartilage and connective tissues.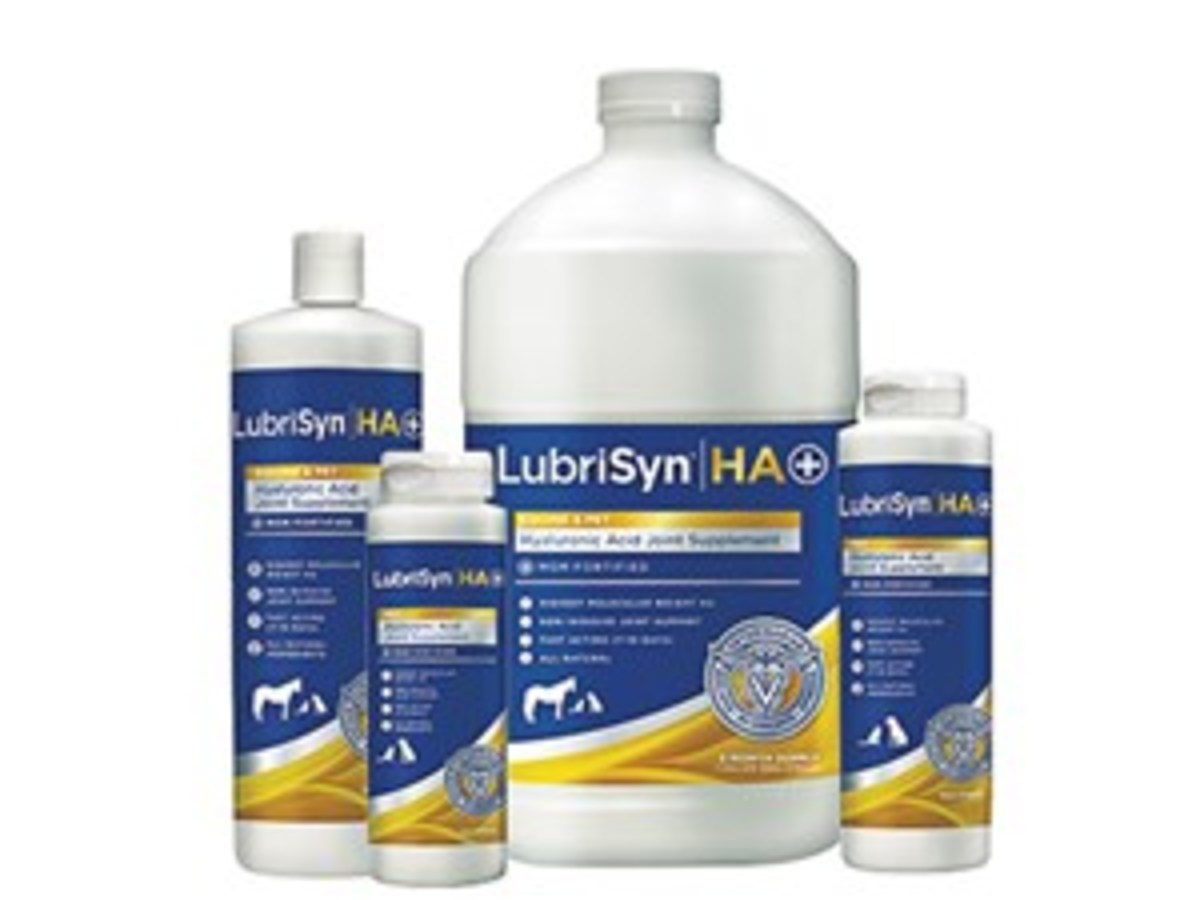 MSM also works as a natural antioxidant and has been shown to relieve symptoms associated with osteoarthritis. So, while MSM addresses the connective tissue, and hyaluronic acid builds and protects the synovial fluid within the joint, LubriSynHA+ with MSM is the best all-in-one supplement on the market to satisfy
all your joint-care needs. A comfortable horse is a better-performing horse!
LubrisynHA is used and endorsed by the best horsemen and horsewomen in all disciplines, as well as some of the top show dogs in the country. There is even a human version to cut down on the bone-on-bone friction and inflammation that can keep you from enjoying your time in the saddle.
LubrisynHA was developed by world-renowned equine veterinarian Dr. Steven Allday, so you can have confidence you are giving your animals a product that is veterinarian developed, recommended, and approved. Visit the website to learn more about LubriSynHA+ with MSM. 
www.lubrisyn.com; (800) 901-8498
Pennwoods Equine Products, Inc.
Pennwoods Equine Products manufactures and sells equine supplements. It is a family business with a combined hands-on experience in horses of 110 years. All Pennwoods supplements are made at the family facility in Centre Hall, Pennsylvania. The company's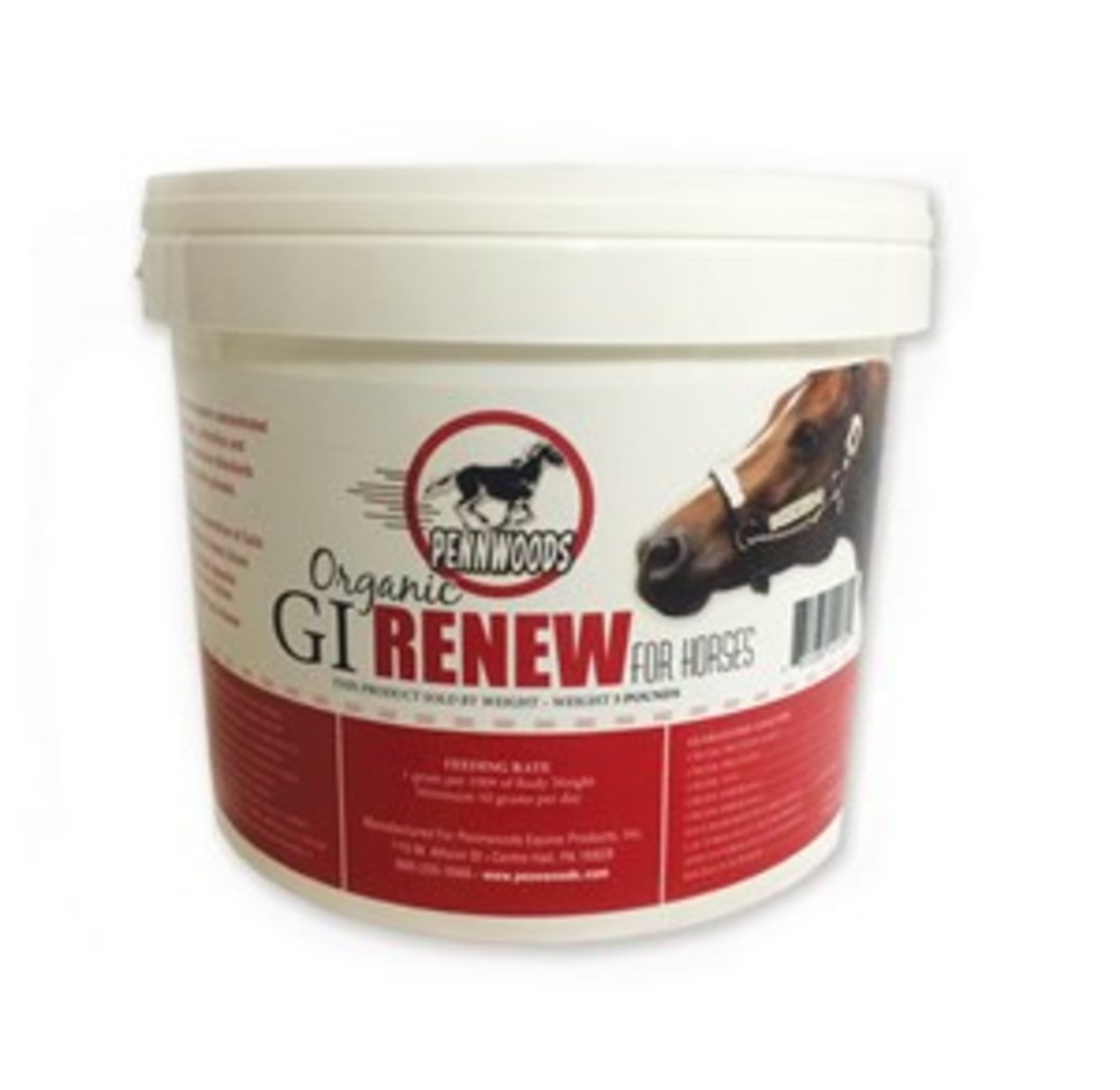 goal is to supply you with the very best equine nutritional products.
Adhering to the most stringent standards, Pennwoods uses only the finest ingredients in its products, such as organic selenium, whey protein and whey protein isolate, organic micro-elements, locally grown and processed soybeans, and human-grade vegetable oils.
Pennwoods Equine's newest product, Pennwoods Organic GI Renew, is a daily feed made up of 50% organic probiotic, prebiotic, and enzymes with FOS and MOS, and 50% immune stimulants, featuring beta glucans. This product has the ability to soothe and heal ulcers, greatly reduce the incidence of colic, improve feed efficiency, and lessen the effects of Lyme disease treatments and post-Lyme-disease side effects.
Pennwoods Organic GI Renew can be used for all types of animals and will enhance the performance of any feeding program. It is priced to be
fed daily to all of your horses. Be sure to visit their website and learn about what other products the company produces! www.pennwoods.com
The Fiebing Company, Inc.
The name Fiebing's has meant quality leather and hoof care for more than 120 years. Fiebing's Hoof Dressing is a go-to for treating quarter cracks, corns, split hooves, and brittleness, but it is not just for damaged feet. When hooves are regularly treated with Fiebing's, they are in better condition and have a healthy sheen. And this is where tradition and innovation meet for effectiveness and ease of use: The formula has been in use since 1895, but now a hoof pick is included in the brush-top packaging to get the hoof clean before application.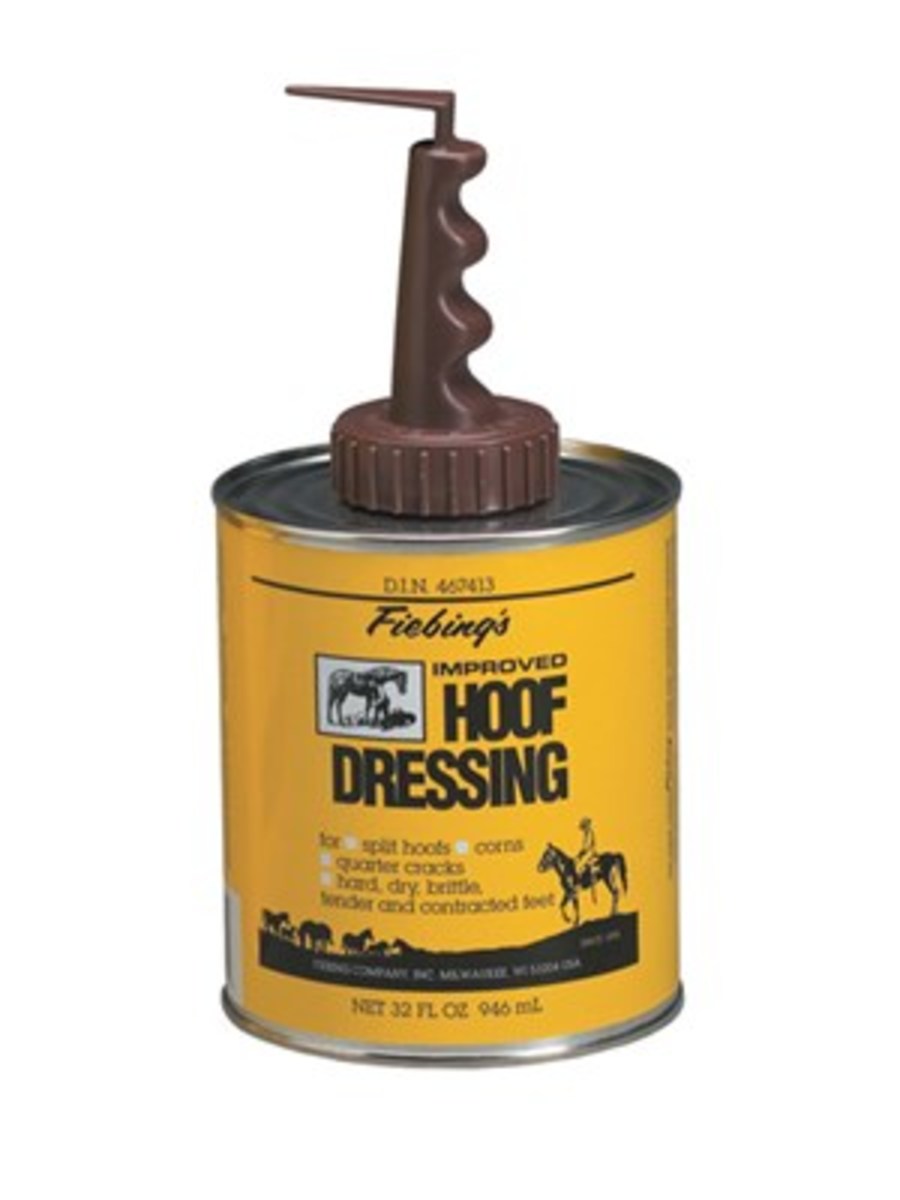 The Research & Development team at Fiebing is continually developing new products and improving existing ones. The Fiebing line includes a wide range of leather care products, as well as equine grooming products, such as soaps, oils, shampoos, and fly spray. Visit the website to see all of their offerings. www.fiebing.com; (800) 558-1033
EasyCare Inc
The Easyboot by EasyCare Inc. is a tried-and-true alternative to traditional metal horseshoes, and it has been growing in popularity for more than 40 years as more and more horse owners become interested in barefoot trimming and natural hoof care.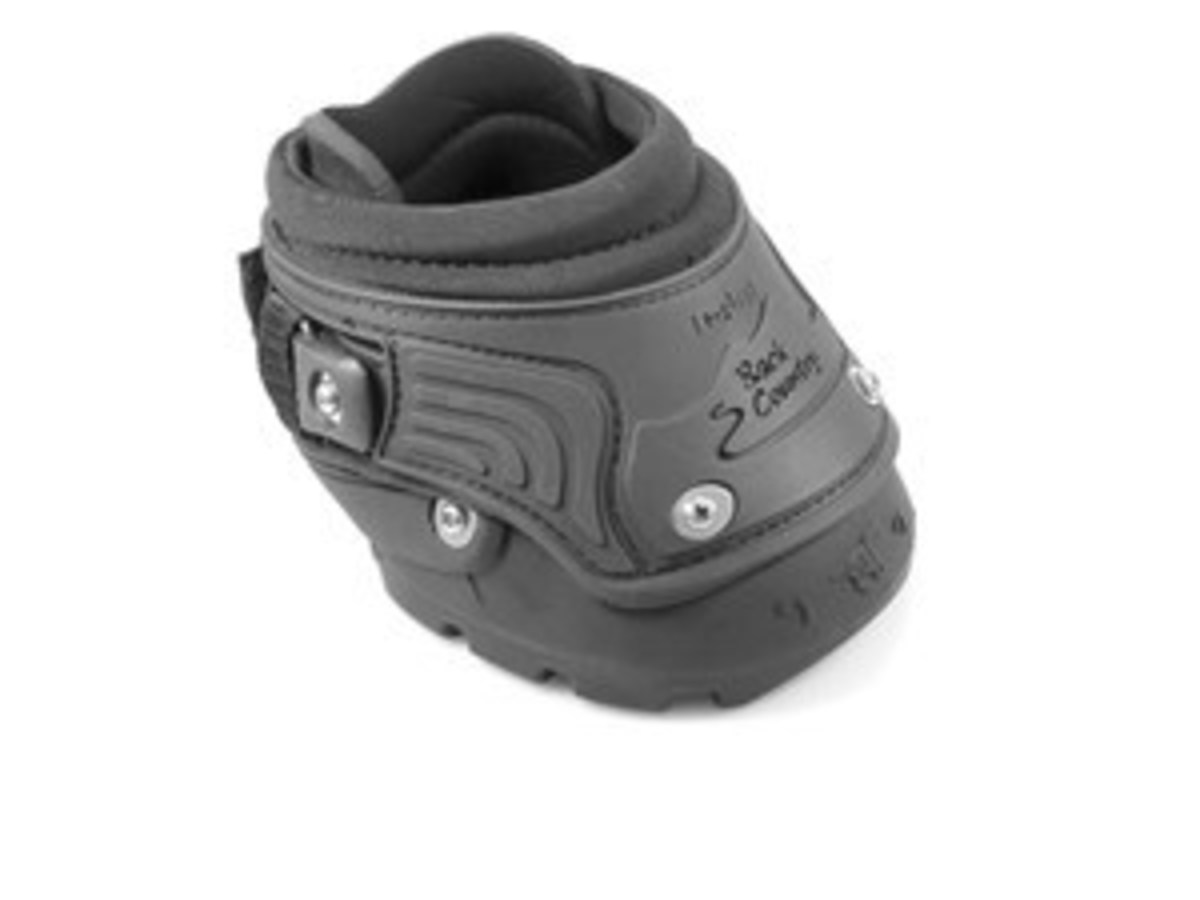 EasyCare operates with a spirit of innovation, as evidenced by the revolutionary new EasyShoe, available in four models: EasyShoe Compete, Sport, Performance, and Performance N/G. EasyShoe is available in sizes 0 through 4, with more planned in the future, and the unique keyhole design of the EasyShoe Performance and Performance N/G lets the shoe expand to fit most hoof shapes. EasyShoe Performance N/G is a wide-webbed shoe with toe clips that keep the shoe in place without extending break-over. The built-in frog plate supports the bony column of the leg and allows the natural shock absorber to function.
The EasyShoe design allows for vertical and horizontal heel movement not available in any other urethane shoe. The shoes can be glued or nailed and left on for the entire trimming cycle, yet it allows for unlimited heel expansion for natural and comfortable hoof growth. Visit the website for more information. www.easycareinc.com; (800) 447-8836
Razerhorse 
Propad, a shock-absorbing hoof pad by Razerhorse, is the only hoof pad with an independent frog support to promote ground contact, aiding in load sharing and increasing blood flow. These dual-purpose polyurethane hoof pads provide shock absorption and frog support by filling in the void between the frog and the ground, giving the function and feeling of being barefoot while wearing a shoe.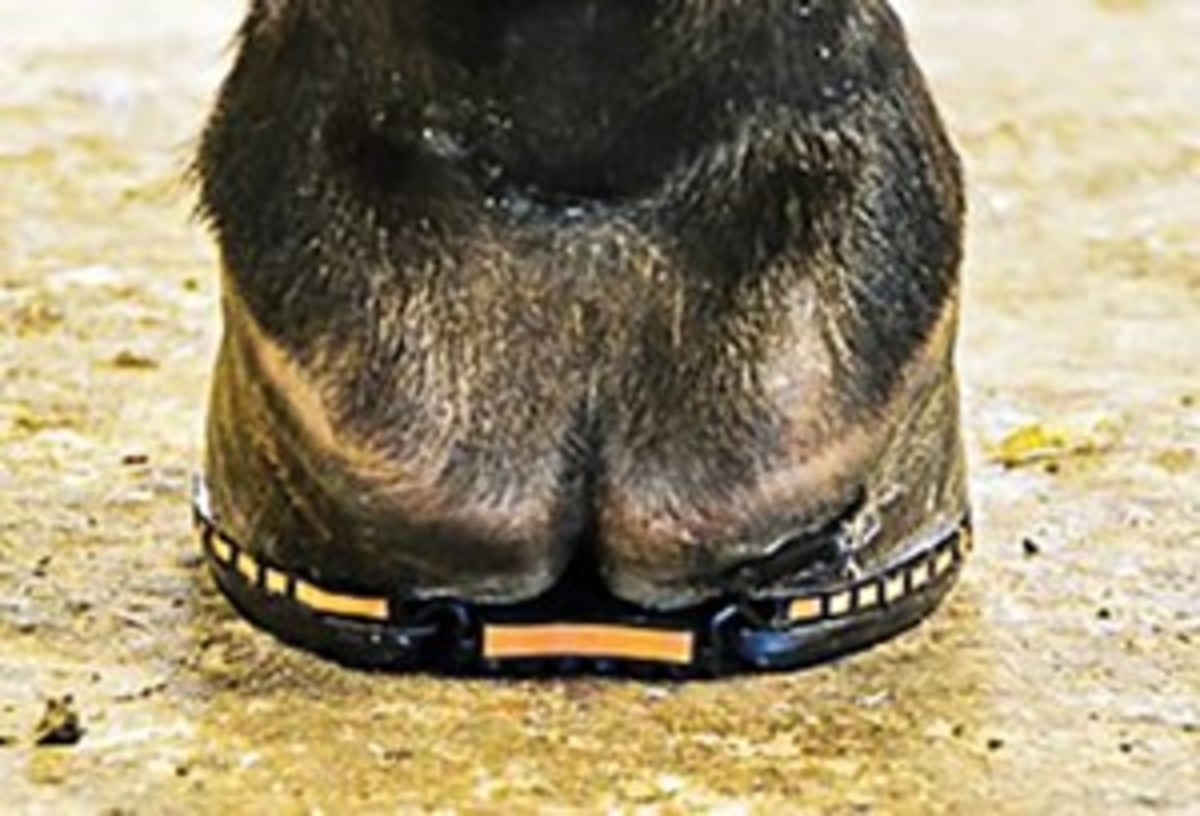 The patented, accordion-like frog support featured in Propads allows the frog — normally deactivated by shoes — to regain proper function and ground contact. The horse's weight is then appropriately distributed across the entire foot, and the frog acts as a pump, promoting healthy blood flow and hoof growth. The extremely versatile Propad can be used with any open-heel shoe, making it ideal for all disciplines and
breeds. 
Established in 2003, Razerhorse combines science and technology to enhance the well-being of the horse. Using intensive research and gait analysis software, it created a line of flexible steel horseshoes and polyurethane hoof pads that mimic the natural functionof the hoof, while accommodating the needs of today's performance and pleasure horses. Visit the website below for information, application tips, and videos. www.razerhorse.com; (855) 95-RAZER
SmartPak
SmartPak has been using its innovation to power healthy horses and happy riders since 1999. Feeding supplements can be time consuming, messy, and confusing when someone else is taking care of your horse. SmarkPak solves these problems with a convenient, easy-to-feed system. Simply pull out a SmarkPak filled with the pre-measured supplements you selected, rip off the top, and pour.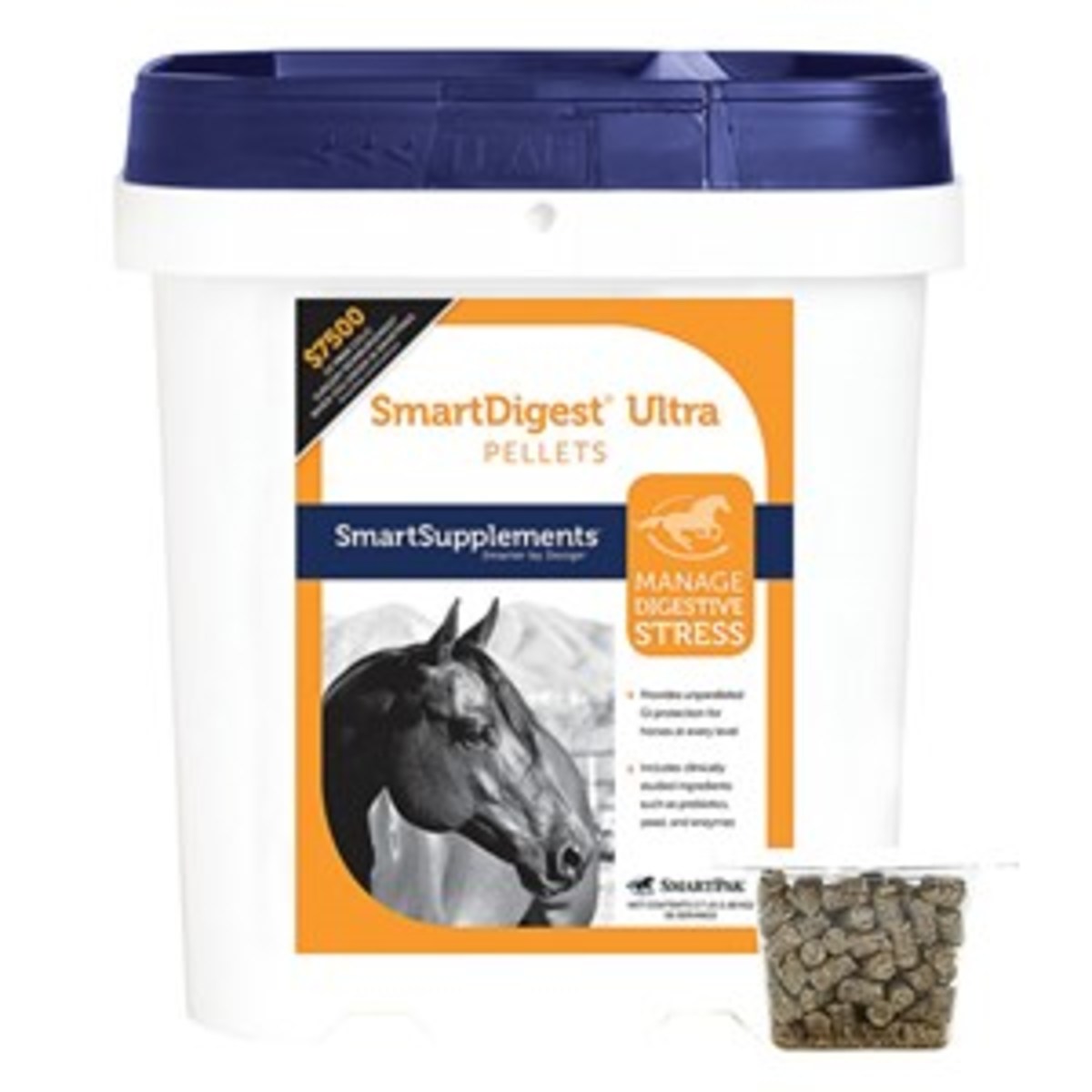 Choose from a wide range of products and brands to help keep your horse in optimum health. 
From SmartPak's exclusive line of SmartSupplements, SmartDigest Ultra Pellets are specially designed to help your horse manage digestive stress caused by hay fluctuations, training, travel, and more. This product provides clinically studied ingredients, including prebiotics, probiotics, yeast, and enzymes to provide unparalleled hindgut support for every horse and help maintain digestive balance. As an added bonus, when ordered in SmartPaks, SmartDigest Ultra Pellets are eligible for Coli-Care, a free $7,500 colic surgery reimbursement program.
SmarkPak isn't just about supplements. It has grown to be the largest online tack store in the United States and a top Google-rated source for equestrian supplies — and it has products for your canine friends, as well. SmarkPak makes shopping easy with free shipping every day on orders over $75, free return shipping on all sized items, and a 100% Happiness Guarantee. www.smarkpak.com; (800) 461-8898
Vettec
Thrush, when left unchecked, can not only cause bleeding, pain, and lameness, but it can take weeks to correct if the hoof is compromised. It can be difficult to treat in muddy conditions, and thrush medications are messy. Equi-Pak CS, used as a pad or packing material, is infused with copper sulfate to effectively manage mild and moderate cases of thrush. Because it seals the sole of the hoof from wetness, it can even prevent thrush from occurring in the first place. Applied by your farrier, Equi-Pak CS adheres to the sole so there is no need for daily application of liquids or powders. You won't even have to pick out those muddy feet! This product provides uniform support for faster, thicker hoof wall and sole growth.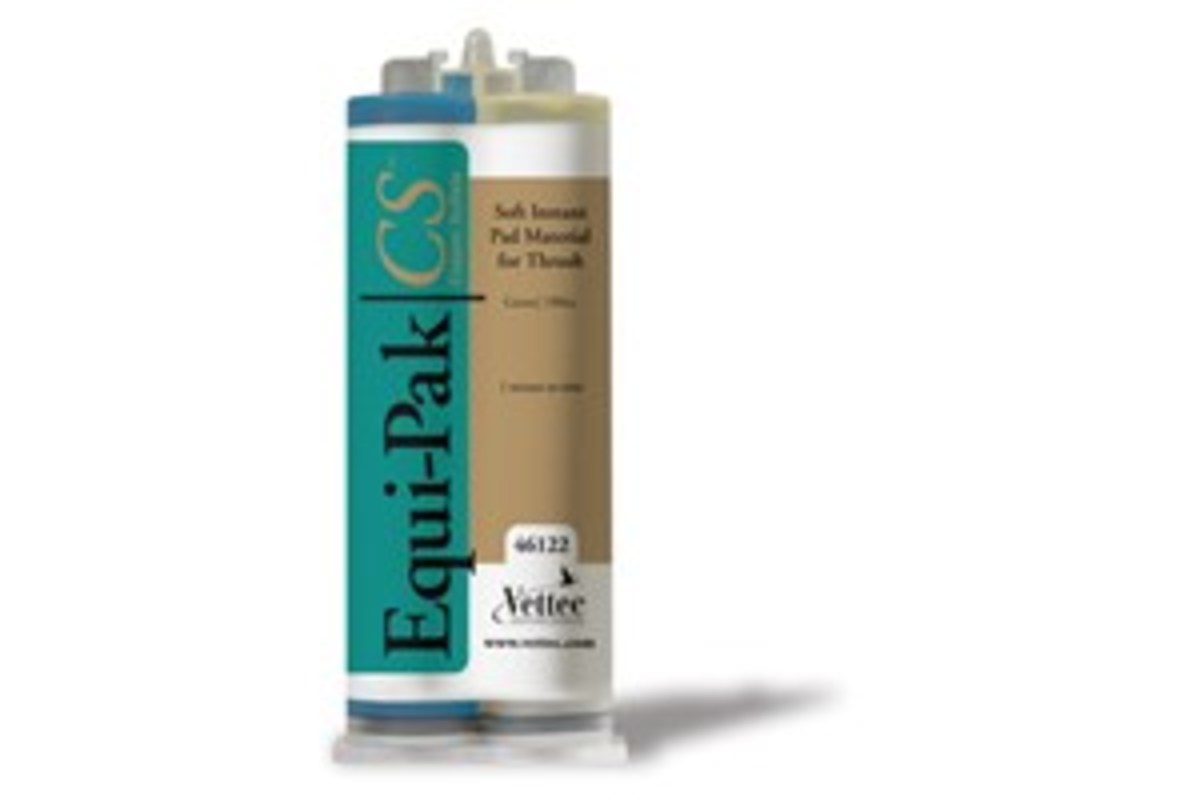 Vettec is the leader in hoof-care manufacturing and has been producing high-quality products for 20 years. Sales reps are experts in hoof care, and together, they bring 73 years of experience to the industry. Vettec's extensive line of hoof-related materials allow your hoof-care professional to select the right formula to protect or repair your horse's hooves. Visit the website for more information, application instructions, and videos. www.vettec.com; (800) 483-8832
For more information on all products click here.