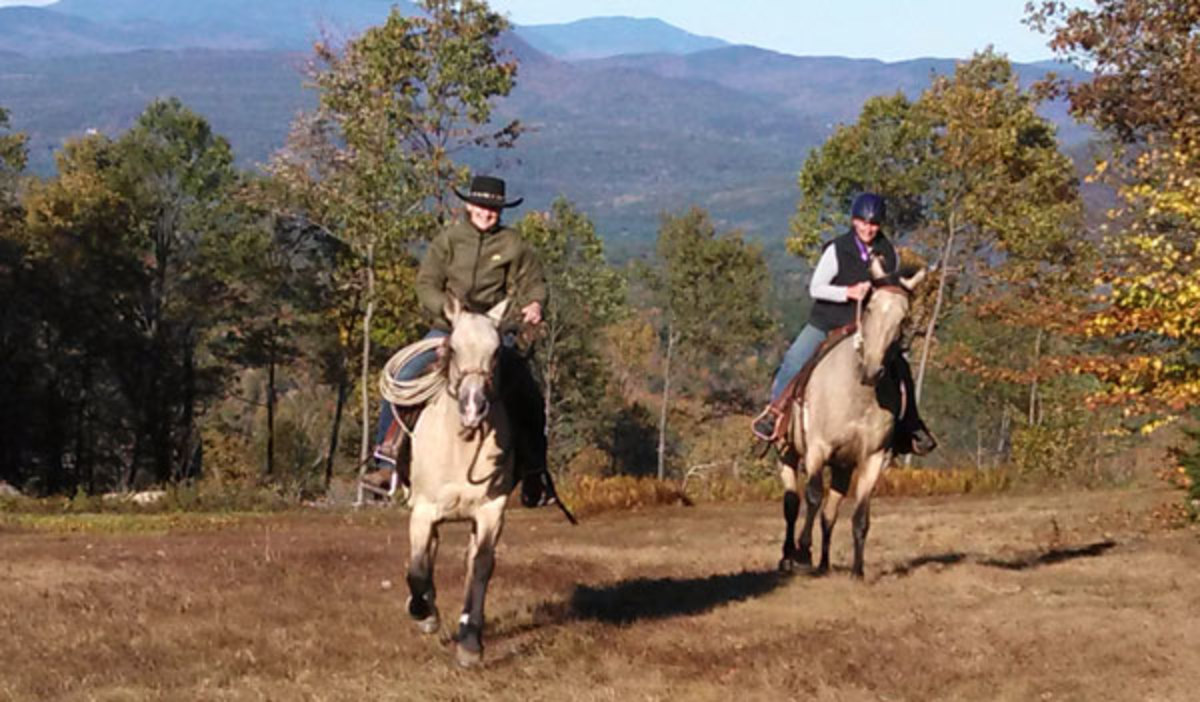 You know that dismounting, picking up scattered road apples, packing them up, and remounting on the trail can prove to be a challenging, if not downright dangerous, feat. 
But making this effort can help to keep trails open to riders.
In many areas, trail clubs and organizations or trail managing agencies will schedule manure pickup days. This approach can help to soothe the concerns of disgruntled, lower-to-the-ground users.
The non-horse-owning public is generally uninformed about the attributes of equine manure and likewise ambivalent about the whole pile of goods. And, they can be very vocal about their trail "findings." 
Unfortunately, comments usually end up going beyond expressions of opinion to demands for action in the form of trail and parkland restrictions. 
Communities across the nation have grappled with the issue of manure disposal, either in response to public complaints or due to concerns about environmental quality. 
Ordinances are proposed, discussed, implemented, ignored, challenged, repealed, and proposed again. 
New Hampshire recently raised the bar when it comes to a state effort to legislate the largesse of leavings on trails. 
A proposed change to state rules that govern equestrian access to trails (SB 251) would've placed undue restrictions on equestrian trail riders, especially in regard to manure removal.
Trail riders from coast-to-coast can learn from what happened next.
Motivated to Action
Enter Patricia Morris, Esq., a New Hampshire attorney, horse owner, trail rider, and advocate for improving laws and rules for equestrian use of the state's trails. 
The proposed rule change to restrict trail-riding access motivated Morris to take action.
According to Morris, existing New Hampshire law considers horseback riding a primary use of the state's multiuse trails. The state isn't supposed to interfere with that use to any great extent. (Carriage driving isn't considered a primary use, but isn't specifically prohibited). 
Access rules in force since 2006 prohibit horses on public trails, except in specific areas, such as on road-width "blazed" trails. 
The 2013 rule proposal increased trail restrictions for riders, including a mandate to immediately remove manure from all horse and multiuse trails. Needless to say, hundreds of equestrians spoke up at public hearings held by the New Hampshire Department of Resources and Economic Development. DRED manages 300 miles of the state's rail trails and more than 220,000 acres of parks, where the multiuse trail system is located. 

Victory! 
With the help of Morris and two state senators, this tenacious group of equestrians succeeded in producing new legislation that, if passed, will turn the rules around. 
The final proposed version of SB 251's rules will go to the Joint Legislative Committee on Administrative Rules for approval this year.
The new rules permit horses on all trails, other than a few high human-use areas, such as picnic areas and athletic fields. It also removed restrictions on carriage driving, now allowed without a special permit on portions of the trail where posted.
The mandate for manure removal was much softened; riders can scatter manure off the trails when it's safe to do so. Understandably, riders must remove manure in the public traffic areas and above the high-tide mark at Hampton Beach.
How will the horse community safeguard this change?
Members of New Hampshire equestrian and carriage-driving groups have come together to form the New Hampshire Equine Trails Coalition, which now works with state agencies and DRED to ensure continued equine access to the state's parks and trails.

The Big Picture
Ultimately, this is a story about maintaining equine access to public lands and trails. Neither land managers nor horsemen can be complacent about the specific issues, such as manure pickup, water quality, trail design and location, and the laws and rules that govern trail and land use.
Our country's population is growing, and competition for recreational space by user groups is intensifying. There are economic ramifications attached to the loss of equine trail use. 
Educating the public and being vigilant about advocacy will help the equine community to maintain, and perhaps expand, our access to our public trails. TTR
To find out how you can help make a difference in conserving equestrian lands and trails in your own community, call the Equine Land Conservation Resource at (859) 455-8383, or visit www.elcr.org.