Wrangler description: Wrangler's 47MAC Premium Performance Advanced Comfort Cowboy Cut® Jeans for Men's 14-ounce denim fabric consists of 70 percent cotton, 28 percent polyester, and 2 percent spandex — a departure from the 100 percent cotton seen in many men's jeans — to combine comfort with ruggedness and durability.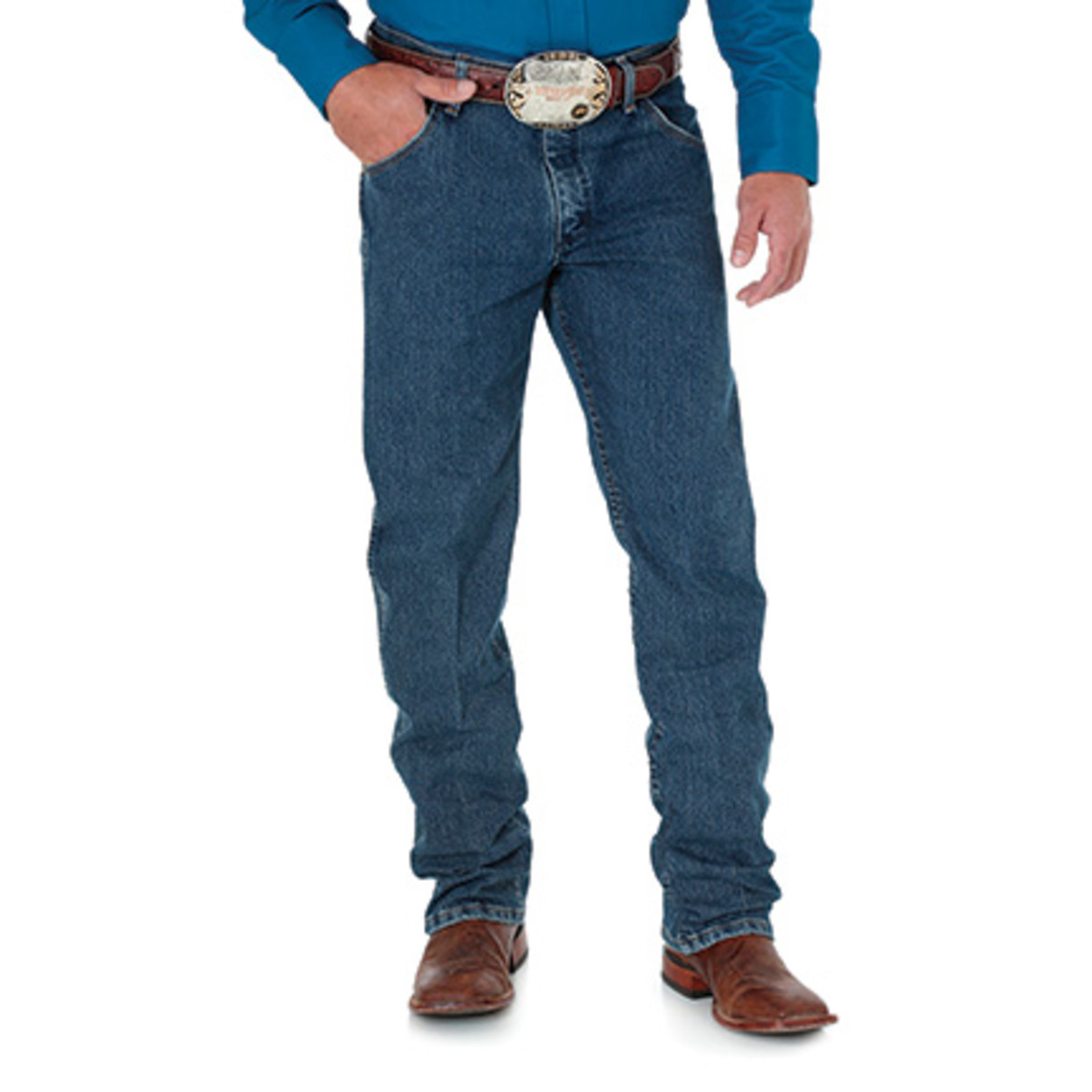 The resulting jean is designed to stand up to hard use while providing the wearer with flexibility and range of motion. The jean has five-pocket styling, with deep front pockets and a functional watch pocket; the boot cut allows for an easy fit over even tall boots. 
Available in three washes (mid-tint, mid-stone, and stone bleach), and in waist sizes 29 to 42, and lengths up to 38 inches. Big and tall sizes run from 30 to 46. 
ProRyders description: The ProRyders Rocky Mountains Riding Jeans for women feature a boot-cut, five-pocket style with no inner seams. A full bi-elastic synthetic leather seat that provides chafe protection and saddle grip, while belt loops and ornamental stitching on both front and hind pockets add a decorative accent. The modern rise sits an inch below the belly button for most women. 
Made from high-quality Italian jeans fabric (98 percent cotton, 2 percent elastic), these lightweight, breathable riding jeans are designed to retain their shape and remain comfortable even during summer riding. Available in dark blue, in sizes 6-18, with long lengths available in sizes 8-16. 
Note: Sizes differ from those of most stateside manufacturers; to determine your correct size, measure your waist and hips and follow the sizing chart on the company's website. 
The testers: Jared Melocco (Wrangler) and Pam Federer (ProRyders), as reported to The Trail Rider contributor Heidi Melocco. 
Wrangler jeans test results: "Jeans are a part my daily attire at work and around my wife's and my horse property," said Jared. "I expect jeans to hold up and be rugged enough to move with me during laborious tasks.
"When I first heard these Wrangler jeans had stretch, I wasn't too sure," said Jared. "I thought of stretchy jeans as women's jeans. But I noticed right away that these jeans have a traditional look, and the denim looks like traditional cotton — it's only when you put them on that I noticed the stretch. 
"The stretch fabric did make a difference," noted Jared. "I've stretched and tested all different work and riding maneuvers, and the jeans make it easy to move to the get the job done. What's more, they're durable. "I would suggest ordering a size smaller than you'd usually take in 100 percent cotton Wranglers," advised Jared. "Even after washing — and they washed well —the jeans were a little looser than those made of traditional cotton. I usually wear and ride in a relaxed-fit style. Although these say regular cut on the tag, there's room to spare.
"Overall, I really liked these jeans," Jared concluded. "I went out to get a second pair right after I tried these on." 
Cost: $49.99. 
Contact: Wrangler div. of V.F. Corp., (888) 784-8571
ProRyder jeans test results: "I was eager to find riding pants that I could wear to the barn — and feel comfortable stopping to run a few errands along the way," said Federer.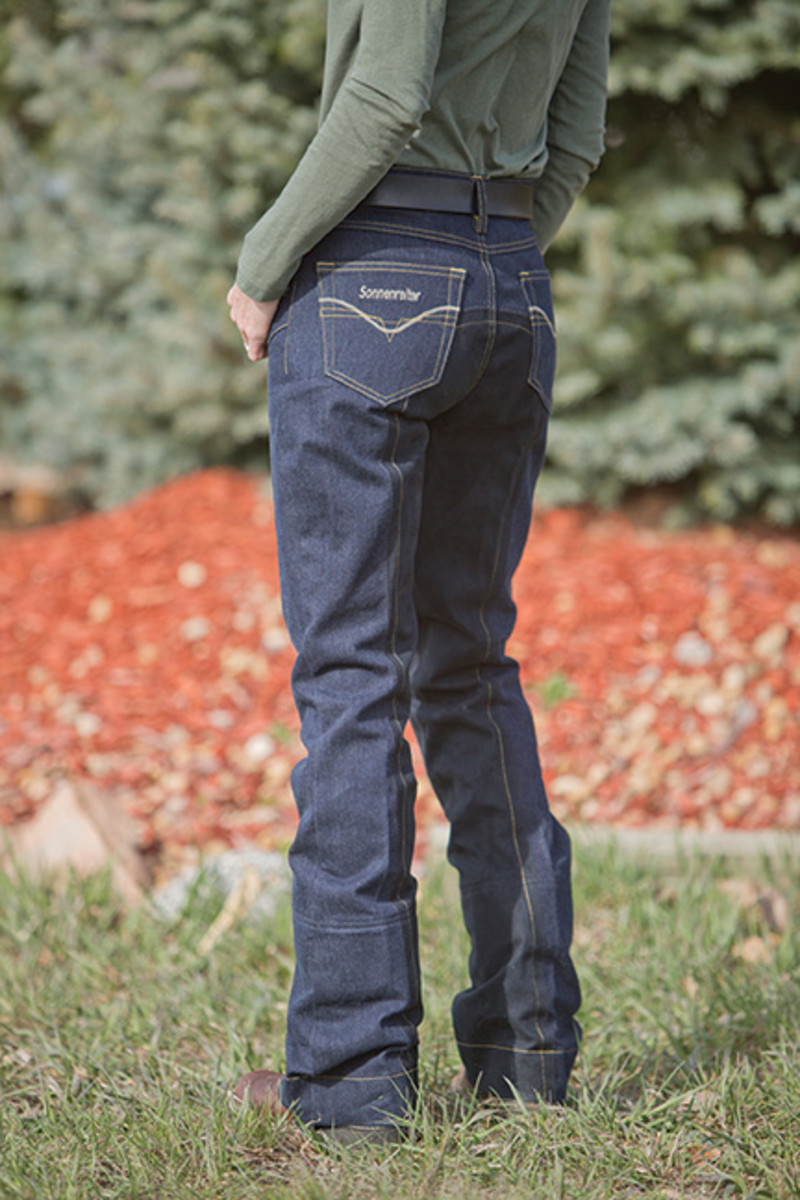 "I took my measurements as recommended
on the company website and ordered the Rocky Mountains riding jeans accordingly. I put them on straight out of the package when they arrived. They felt great, but were a bit baggy.
"After a wash, the jeans fit well and didn't shrink at the hem. The waist was high enough to make me feel 'covered' and modest and I didn't feel like I had to keep tucking in my shirt as I rode. I did add a belt to make sure the back didn't gap at all. 
"My horse, Red, is tall, but when I would mount up, the pants moved with me and made stepping into the saddle easy," said Federer. "They were easy to get on with the stretch — unlike other stiff or ultra-skinny riding breeches I've tried. The underfoot strap kept the jeans in place so they looked nice while riding. 
"The seam on my knee rubbed slightly, but I noticed this only when posting the trot," said Federer. "The gripping inner leg fabric worked well and overall felt good. This replaced the need for half chaps. "Make sure to order the jeans a little longer than you would usually wear so that the jeans stay long in the saddle and the elastic doesn't pull the jeans down," suggested Pam.
Cost: $249.
Contact: ProRyders, (650) 726-4234;
www.proryders.com