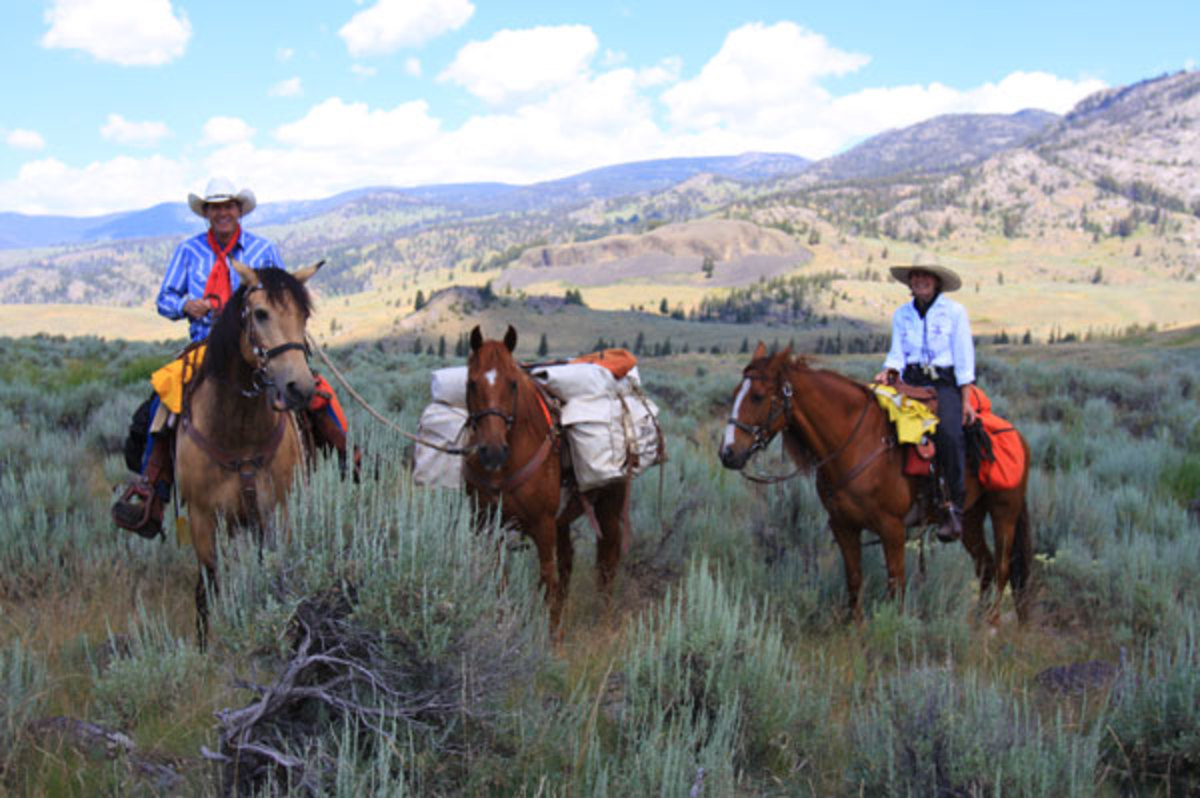 Some of our most memorable life moments have occurred with horses during pack trips. It's almost a spiritual experience to travel through wilderness with your equine partners. 
Frosty mornings, crackling campfires, vast vistas, horse nuzzlings on your neck, a feisty trout on a fly line, crossing that next divide — all are brought to you via pack trips. 
We've packed throughout the western United States and the Canadian Rockies. We've ventured twice to the most remote place in the Continental United States just outside of the southeast corner of Yellowstone National Park. On one trip in the Canadian Rockies, we rode in a river valley that hadn't been explored or mapped by modern man until the 1920s. 
We typically travel alone with our two saddle horses and one pack horse. To travel safely, we need seasoned trail horses and proper tack for packing in. 
Over the years, we've purchased several versions of the same items before figuring out what works best when traveling with one pack horse. Here, we share the tack and packing gear with which we've had the most success. 
Saddles & Packing Gear
All gear and tack for you and your horse should be comfortable, practical, durable, and as light weight as possible, particularly for your pack horse. 
Riding saddles. For our Missouri Fox Trotters, Cowboy and Nate, we use Tennessean saddles (available from National Bridle Shop). We like these saddles because they're lightweight and are designed for gaited horses. They fit our horses perfectly. 
Saddle pads. We use standard saddle pads. Beneath each pad, we place a one-half-inch-thick wool felt pad. The wool pads wick sweat from our horses' backs, keep the upper pads clean, and are easily washed or replaced. 
Saddlebags. We have large, weekend-style saddlebags on our saddle horses. We use these bags for bulky, lightweight items. Be careful not to load too much weight on your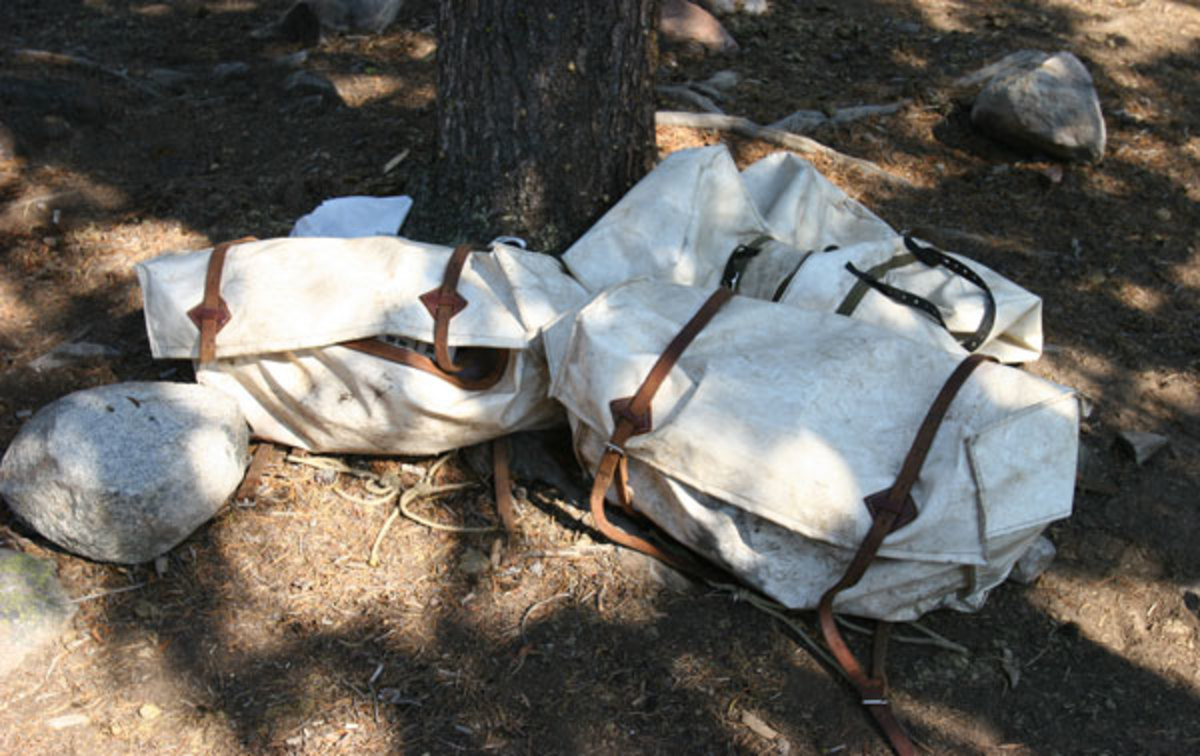 horse's back and kidneys. Our lightweight, backpacker-type sleeping bags fit into Cordura nylon tubes that loop over each saddle horse's neck. This saves the weight of two sleeping bags on the pack horse. 
Packsaddle. Our packsaddle is a Decker. We believe this type of packsaddle is far superior to the old-fashioned sawbuck packsaddles. Deckers have wooden bars that can be cut and shaped to more comfortably fit the pack horse's back. Some Deckers have adjustable plastic bars that swivel.
Deckers generally come with britching that fits around the horse's hindquarters and a breastcollar for the front. Take care to fit all parts of the pack gear to your horse's frame. We use a packer's pad on top, then a smaller fleece pad, and a half-inch-thick wool pad directly on the horse's back. 
Panniers. Panniers are containers carried by the pack horse. There are various types of panniers: hard-sided pack boxes; mantied packs; and over-the-saddle pack bags. Many hard-sided panniers fold together to form a table. We've had good luck with our heavy-duty, rubberized-vinyl panniers. They're waterproof and flexible for odd-shaped items. 
Top pack. On top of the panniers, we place an H-style top pack to store lightweight items. All of this buckles down together, thus saving the need for ropes and knots. Because the panniers are waterproof, we don't need to dig out tarps when we see rain clouds rolling in. 
Lead rope. For ponying your pack horse, use a one-inch-diameter cotton rope at least 10 feet long. A soft, thick rope is easier to grip than a small, tightly braided one. The length gives your pack horse room to maneuver in tight places, such as tough creek crossings and cornering. 
Other gear. Take one or two temporary hoof boots (and duct tape to secure the boot, if needed), in case your horse loses a shoe. Also take a halter and long lead rope for each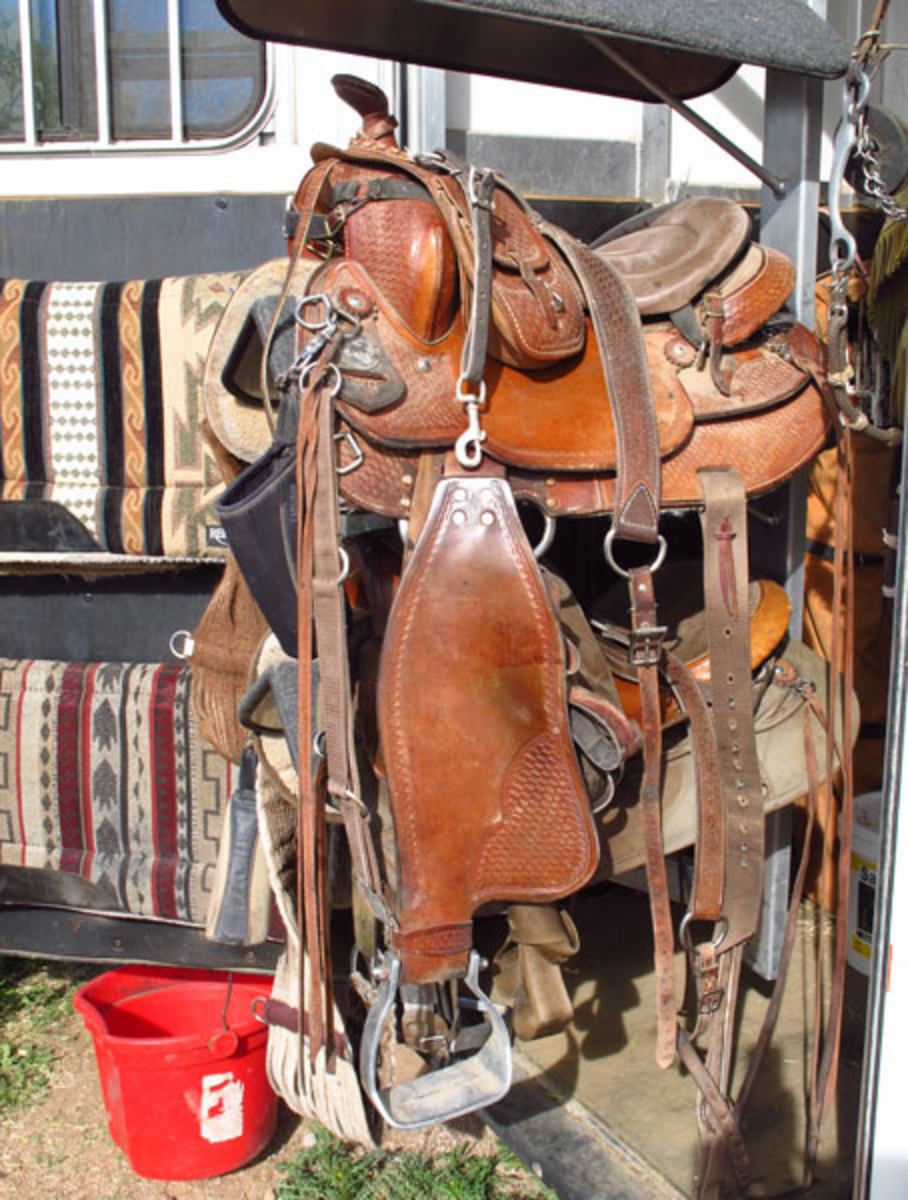 horse, plus an extra set, just in case. Take a small horse first-aid kit that includes antibacterial cream, the prescription drug phenylbutazone (brand name, Banamine), and Vetrap. Your horse will also appreciate insect repellent! If you're riding in grizzly country, carry cans of grizzly pepper spray on your belt.
Horse-Containment System 
Plan your horse-containment system well in advance of your trip, so you can accustom your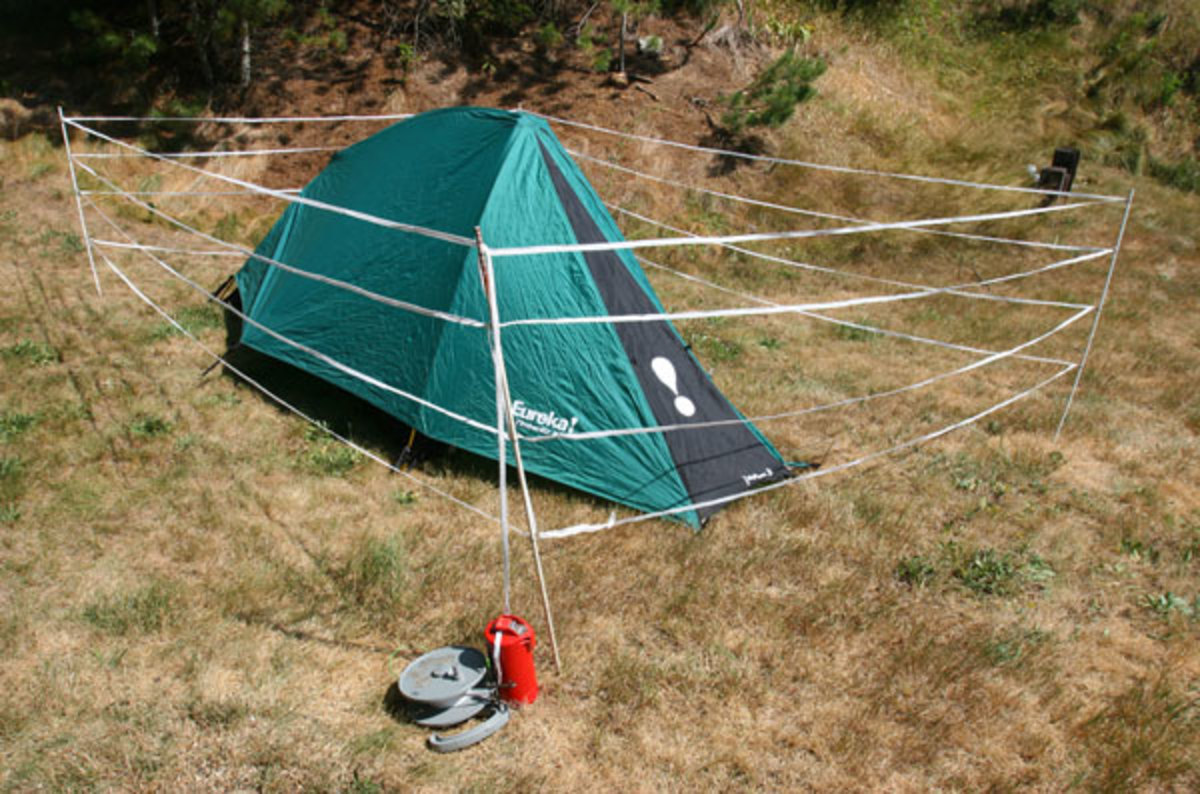 horse to your chosen containment method and discover any weak areas. 
With only one pack horse, we don't take hay or feed; our horses are used to green grass. Be aware of poisonous plants. A friend's horse ate a small amount of a poisonous plant, and died within 48 hours. A good resource is Horse Owners' Field Guide to Toxic Plants, by Sandra M. Burger. 
If you decide to use an electric corral, note that there are various types of poles. For packing, select small, lightweight poles about one-quarter-inch in diameter.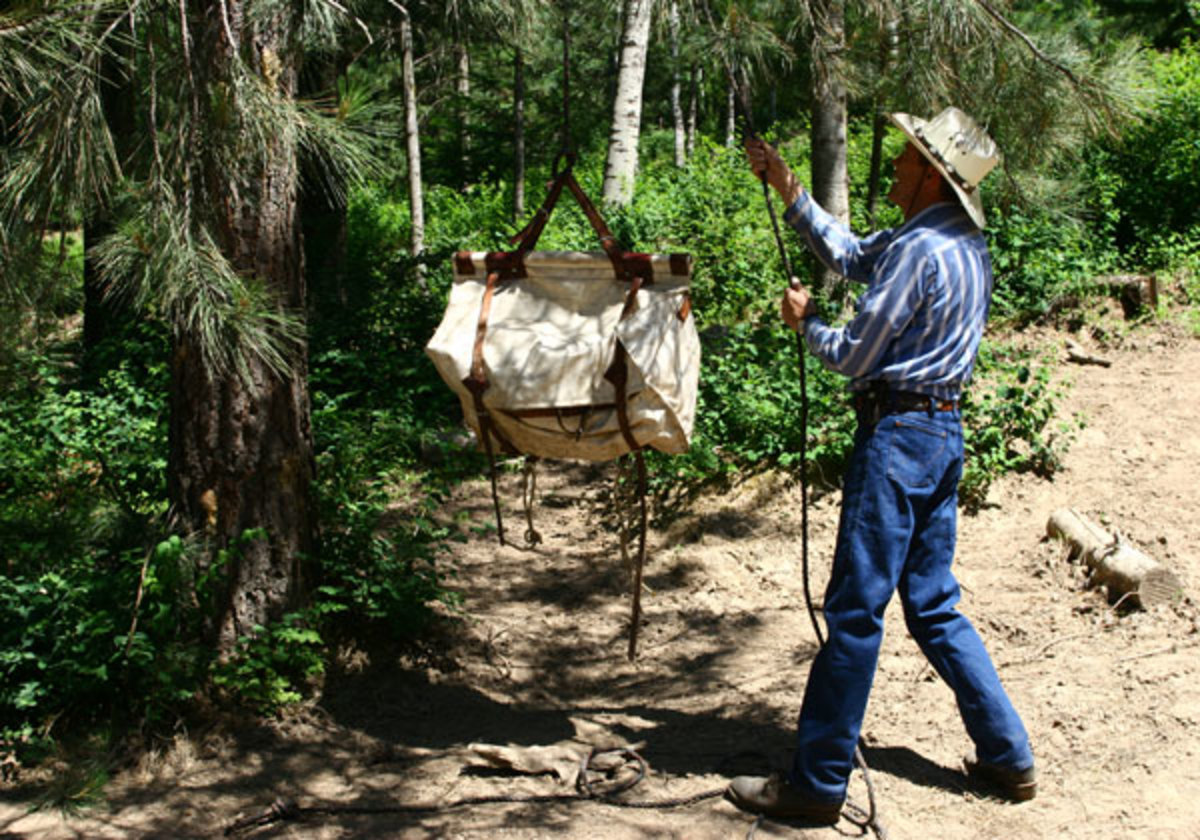 In grizzly country, we take a separate spool of electric tape and put a four-strand electric fence around our tent. With this setup, if grizzlies wander by at night, they get a sting from the tape, so they'll find more peaceful areas in search of food. 
We learned this tip from backcountry packers in the Canadian Rockies. 
Camping Gear 
For our one-pack-horse travel style, 
we searched out lightweight camping gear. You can find lightweight tents, sleeping bags, and insulated, rollup air mattresses (we use Therm-a-Rests) at REI and other outdoor-supply outlets. 
For cooking, we use a one-burner stove that connects to a small propane bottle. We use our propane stove to make coffee, and to cook breakfast and dinner. Three propane bottles are more than adequate for a 10-day trip. 
That crystal-clear river water may be contaminated with bacteria, so you'll need to purify the water you use for drinking, cooking, and washing up. Some folks use iodine tablets, and some boil their water, but we like to use a gravity water filter. 
To use a water filter, pour a bucket of water into the top container bag. Water slowly exits through a hose with a filter that's connected to a water-bladder bag hanging below. This is quick and easy.
A small tent, a rollup table, small foldup chairs, a restful view, horses nearby, and our camp is complete. 
Camp Food 
Tastiness, nutrition, and ease of preparation are three big factors when planning a pack-trip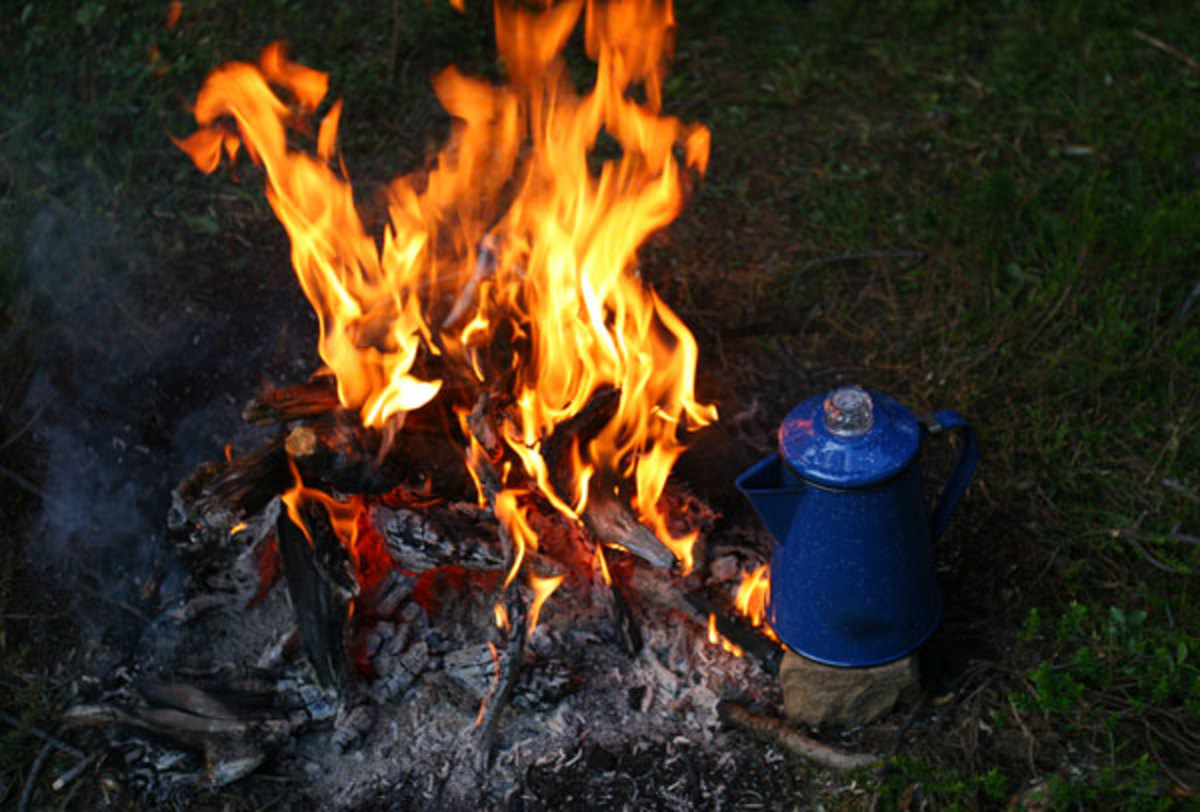 menu. A month or so before the pack trip, we begin planning a menu for all of our meals and snacks, including beverages. 
Meals are built around three main groups: carbohydrates; protein; and fruits/vegetables. With one pack horse, most everything is dehydrated to save weight. 
Dehydrated carbohydrates are easy to find. There are many varieties of packaged pastas, instant rice, dehydrated potatoes, and grains, such as couscous. Crackers and sourdough bread add variety. 
For protein, it's tough to beat commercially prepared dehydrated chicken breast and sausage patties. We also take jerky, powdered eggs, and soy granules. We dehydrate our favorite fruits and vegetables at home.
To organize your food, use three double-bagged paper grocery sacks. Label one "breakfast," one "lunch," and one "dinner." 
Place the entire fixings for each meal into a zip-close plastic bag, and label each bag by day and meal. For example, the Day 2 breakfast bag would have everything for that day's breakfast: oatmeal; powdered milk; and dried fruit. 
For a 10-day trip, you'd then have 9 breakfast bags (not counting the first morning), 10 lunch bags, and 9 dinner bags (not counting the last night). No search and rescue with this system!
Be sure to indulge yourself — in our case, this means lots of coffee and homemade chocolate-chunk cookies. 
Safety/Personal Items 
Rent or buy a satellite phone. In case of emergency, a satellite phone will enable you to reach help and provide your location. We got our sat phone from GlobalCom. (Cellphones generally don't work in the great outdoors.) 
We carry a Leatherman Multi-Tool, which is extremely handy. 
For your own personal items, think of things you use on a daily basis, but greatly minimize the amount. For example, put the needed amounts of your vitamins and medications into one small bottle. 
Leave at home perfume and any fragrant toiletries. These items attract bears. Better to smell like a horse!
Bring biodegradable soap, toilet paper, and other such items. We all need to be considerate in sharing the wilderness so that it may appear pristine to those following us. 
Kent and Charlene Krone combine their interest in photojournalism with a passion for horses. They've sold photographs to magazines, books, calendars, postcards, and video producers for more than 20 years. (For a sampling, visit www.superstock.com, and type "Kent and Charlene Krone" in the search box.) They enjoy sharing their horseback adventures in the United States and Western Canada. Reach them at 
kentandcharlene@gmail.com
Packing-Gear Resources 
Buckstitch Canvas Saddles and Tack
(800) 268-4426; www.buckstitchcanvas.com
Chris Tornow Saddles & Pack Equipment 
(800) 435-9744; www.horseandmulegear.com
Country Supply
(800) 637-6721; www.horse.com
Custom PackRigging, Ltd. 
(877) 772-5744; www.custompackrigging.com
Difanis Backcountry Mfg. Company
(866) 435-6853; www.difanisbackcountry.com
GlobalCom
(888) 636-0707; www.globalcomsatphone.com
High Country Supply
(866) 389-0018; www.highcountrysupply.com
Leatherman Tool Group, Inc.
(800) 847-8665; www.leatherman.com
National Bridle Shop, Inc.
(800) 251-3474; www.nationalbridle.com
Outfitters Supply, Inc.
(888) 467-2256; www.outfitterssupply.com
REI
(800) 426-4840; www.rei.com

Trailhead Supply
(406) 752-4437; www.trailheadsupply.com
Two Horse Enterprises
(510) 299-5215; www.twohorseenterprises.com

Further Reading (All books are available on Amazon.com)
Blue Creek Outfitting Trail Riding, Packing, and Training, by Stan Walchuk
Horse Camping, by George B. Hatley 
Horse Packing: A Manual of Pack Transportation, by Charles Johnson Post 
Horse Packing in Pictures, by Francis Davis
Horses, Hitches, and Rocky Trails, by Joe Back
The Packer's Field Manual, by Bob Hoverson
Packin' in on Mules and Horses, by Smoke Elser and Bill Brown