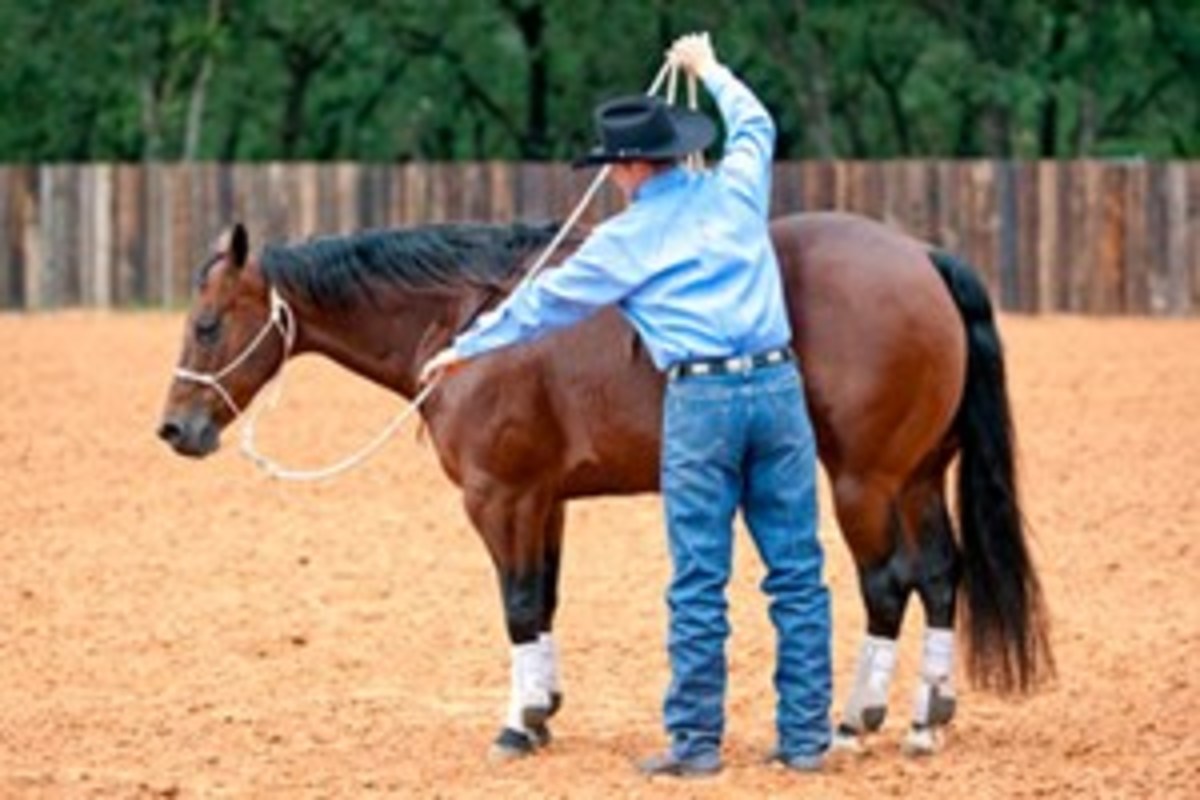 Your horse can never be too soft or too supple. By teaching him to flex his head and neck on cue on the ground, you'll lay the foundation for flexion and lightness under saddle. You'll also teach him to respect halter pressure in general, so he doesn't pull and lean on it during other ground-work exercises. 
As you perform this exercise, your goal is to get your horse to flex to both sides by picking up on the lead rope with only two fingers. He should be able to touch his nose to his belly in the same place the girth would normally be.
You'll need: A halter; a 14-foot lead rope; and an enclosed work area with good footing.

Before you begin: Double the lead rope, and lay it over your horse's back, so you won't trip over or get tangled up in it.

Step-by-Step Technique
Step 1. Get into position. Stand even with your horse's flank with your bellybutton facing him. Glue your bellybutton to his flank. The farther back you are and the closer your body is to him, the safer you are. If you're too far forward, he'll step on you with his inside front foot when he moves his feet. From this position, you'll hug your horse with your right arm. This will help you stay in position if he does move. 
Step 2. Position your hands. Hold both hands together on the lead rope, then separate your arms, sliding your left hand down the lead rope to about a foot from the snap. Your horse's neck length will have some bearing on how far you slide your hand down the rope, but as a general rule, this is a good starting point.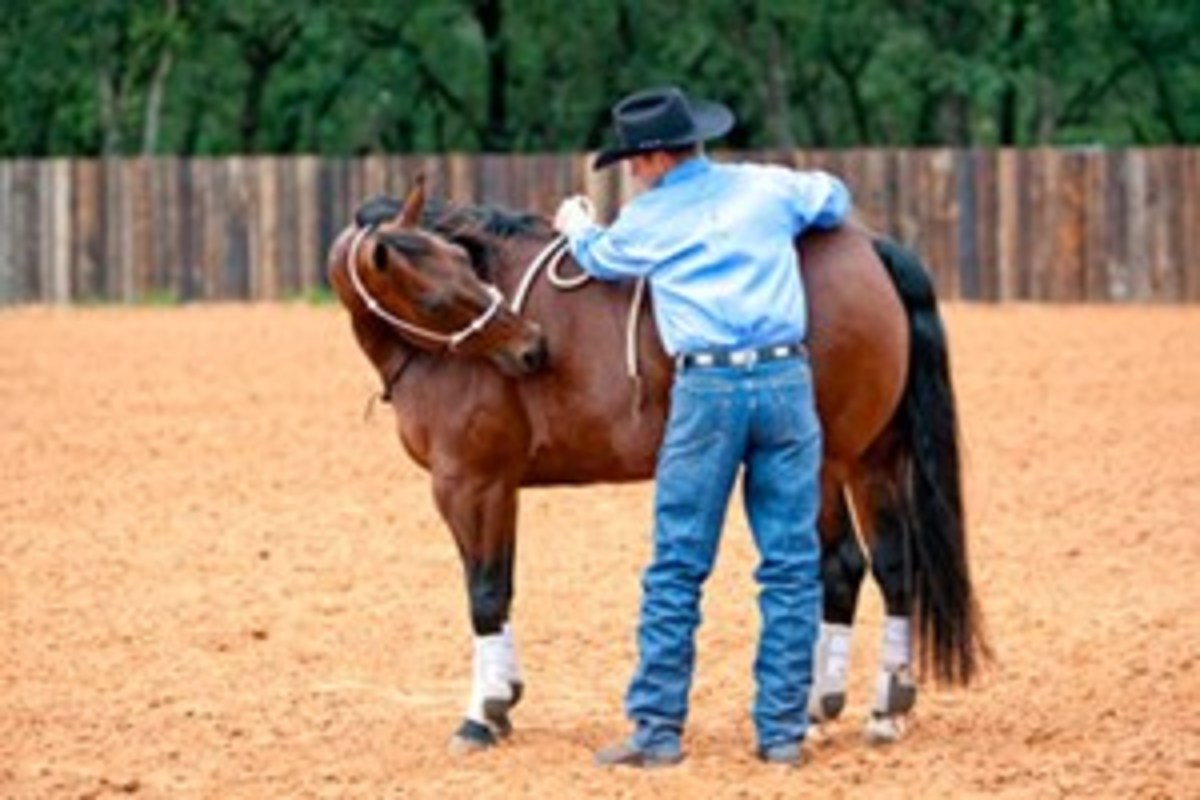 Step 3. Ask for flexion. With your left hand, pick up on the lead rope and pull it up to your horse's withers. Glue your hand to where his withers meet his back. When you first pick up on the lead rope, your horse might pull against the halter and start moving around in a circle. That's why it's important to keep your hand glued to his withers; it acts as a sort of anchor. 
If your horse does move around, stay in position, and follow him wherever he goes, continuing to hold the pressure. He might even back up or throw his head in the air. Even if he's so strong that he pulls your hand away from the withers, just keep holding the pressure until you can eventually put it back in position. Your horse doesn't win unless you actually release the pressure.
Step 4. Release the pressure. Wait for your horse's feet to stand still and for him to bend his head and neck toward his belly and soften, creating a little bit of lead-rope slack. As soon as he softens, instantly drop the lead rope out of your left hand.
At the same time, slide your right hand forward to your horse's neck to create a lot of lead-rope slack. This ensures that you're giving him a complete release.
Initially, look for even a tiny bit of give, and then gradually build on it. Your horse learns from the release of pressure, not the pressure itself. So the quicker you release the pressure, the quicker he'll understand he did the right thing.
Think about it like this: You're not trying to make your horse flex, you're just setting it up so that the easiest solution is for him to bend and soften by himself.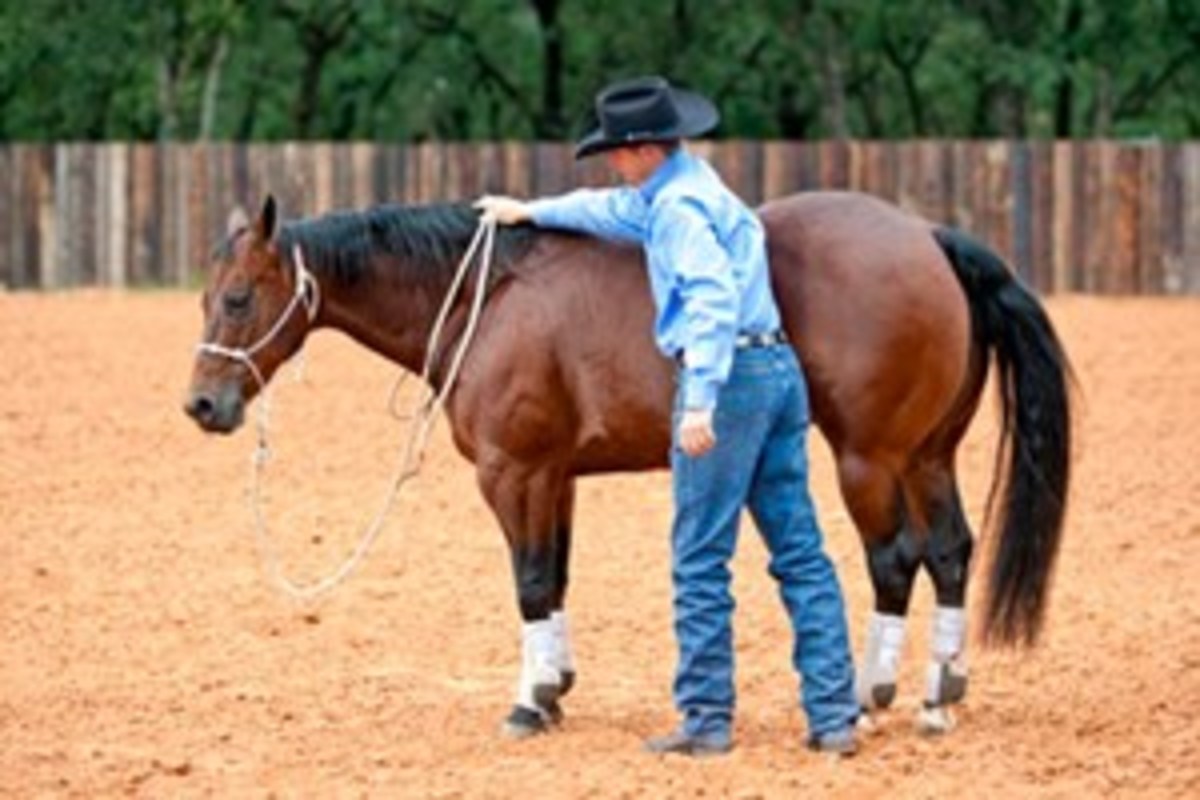 Step 5. Ask for flexion again. Let your horse rest for five or six seconds, then ask him to flex again. By letting him rest for a few seconds in between each flex, you're showing him that there's something in it for him, which will encourage him to put in more effort the next time.
Step 6. Ask for more give. Repeat Steps 1 through 5, asking your horse to give a little more each time. Eventually, you want his nose to touch his belly where the girth would lay.
It's okay if your horse isn't able to touch his belly the first day. Just find a starting point, then chip away at it every day. Every time he softens a little farther toward his belly, he creates a new standard for himself; he must now flex at least that good or better for the rest of his life in order to get the release.
Step 7. Switch sides. When your horse is flexing well to one side, switch sides, and follow Steps 1 through 6. He'll likely flex to one side better than the other. Once you've got both sides flexing well, spend two-thirds of your time flexing his stiffer side and one-third of your time flexing on his softer side. 
Clinton Anderson grew up in Queensland, Australia, learning to ride as a teenager and training with many of his country's top horsemen. In 1997, he relocated to the United States to perfect his Downunder Horsemanship program. Under Anderson's guidance, horses learn to respect and respond to their handlers, developing willing partnerships. To learn more about Downunder Horsemanship, Clinton Anderson Walkabout Tours, and more, visit www.downunderhorsemanship.com.