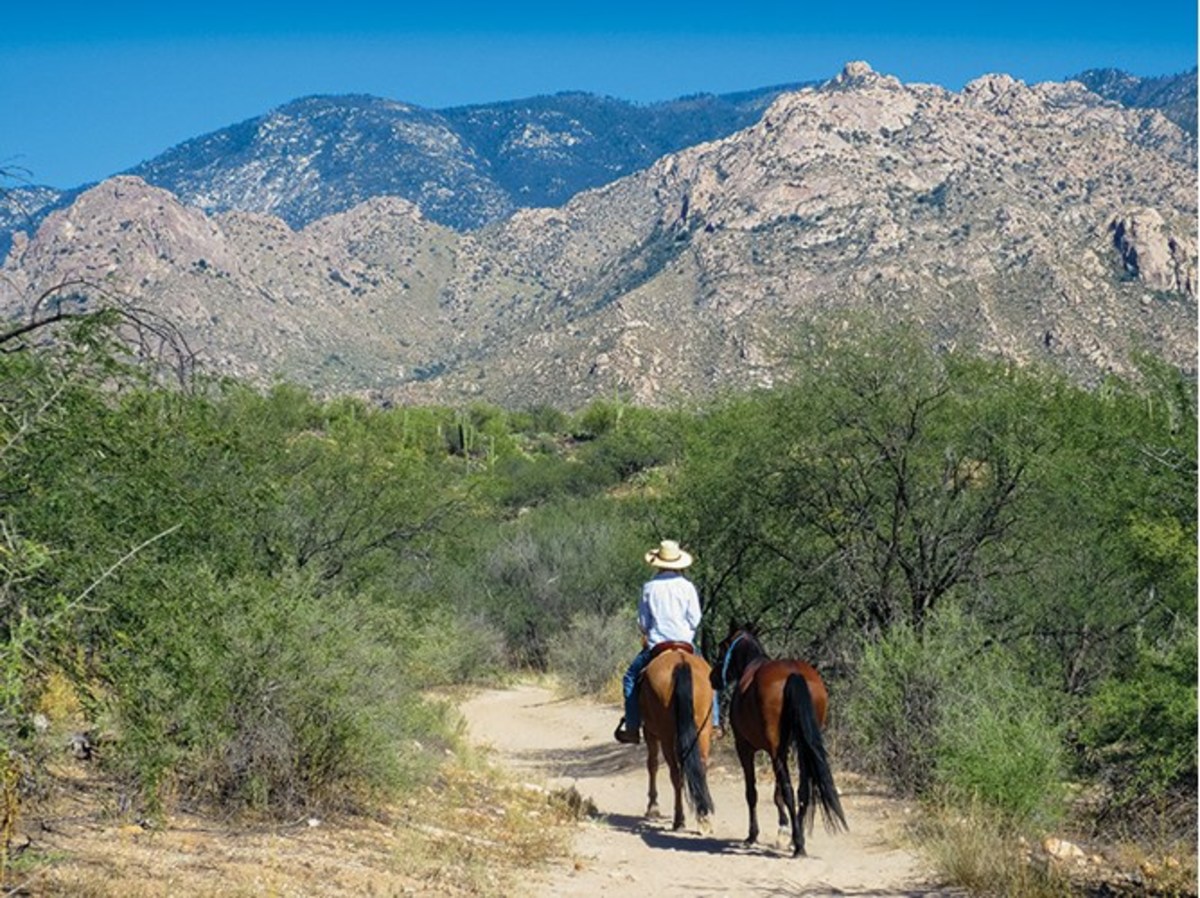 You're not a true desert dweller if you don't like Arizona's summer heat. In fact, you better like it warm even if you're just visiting Arizona in the winter. In February, it was more than 90 degrees for a couple of days in Tucson. Those of us who live here year-round thrive in the dry heat. We like it because nights cool down, even on hot days; our sore muscles and arthritis don't ache nearly
as much as when it turns cold; and we can always escape to the mountains to cool off. 
Also, in July and August, we get a reprieve —storms from Mexico bring moisture, so it stays hot, but turns humid for a little while. Those summer storms bring some rain to the desert, greening up the parched land. Here are a few things I've learned about keeping and riding horses in the Arizona desert. 
Ride When it's Cool
In May and June, the daytime temperatures start to soar. Riders tend to go out on the trail early in the morning or perhaps late afternoon, depending on preference and time flexibility. 
On the weekends, I rise at 4:00 a.m. to feed, then my friends meet me between 6:00 a.m. and 7:00 a.m. to groom, tack, and start our ride. 
If I just have enough time to get in a ride for an hour, I'll go to the nearby wash in Saguaro National Park even if it's late morning; the desert trees lining the wash provide some shade. 
Late afternoon or early evening can also be a good time to ride in the summer. Our worst heat in Tucson is in June and early July, when it can feel like you've opened an oven door as soon as you walk outside. Better to wait until about 6:00 p.m., when the heat isn't quite as bad. 
Your horse's nature also makes a difference. My spirited Paso Fino mare, Natalie, happily gaits around my arena at a quick pace in some of the worst summer afternoon heat. From the saddle, I enjoy the breeze her speed creates. 
Enjoy Monsoon Season
Sometime starting in July, Tucson enjoys its summer monsoon season, which lasts for several weeks. Humidity creeps up from Mexico, colliding with hot, rising air in southern Arizona to create storms.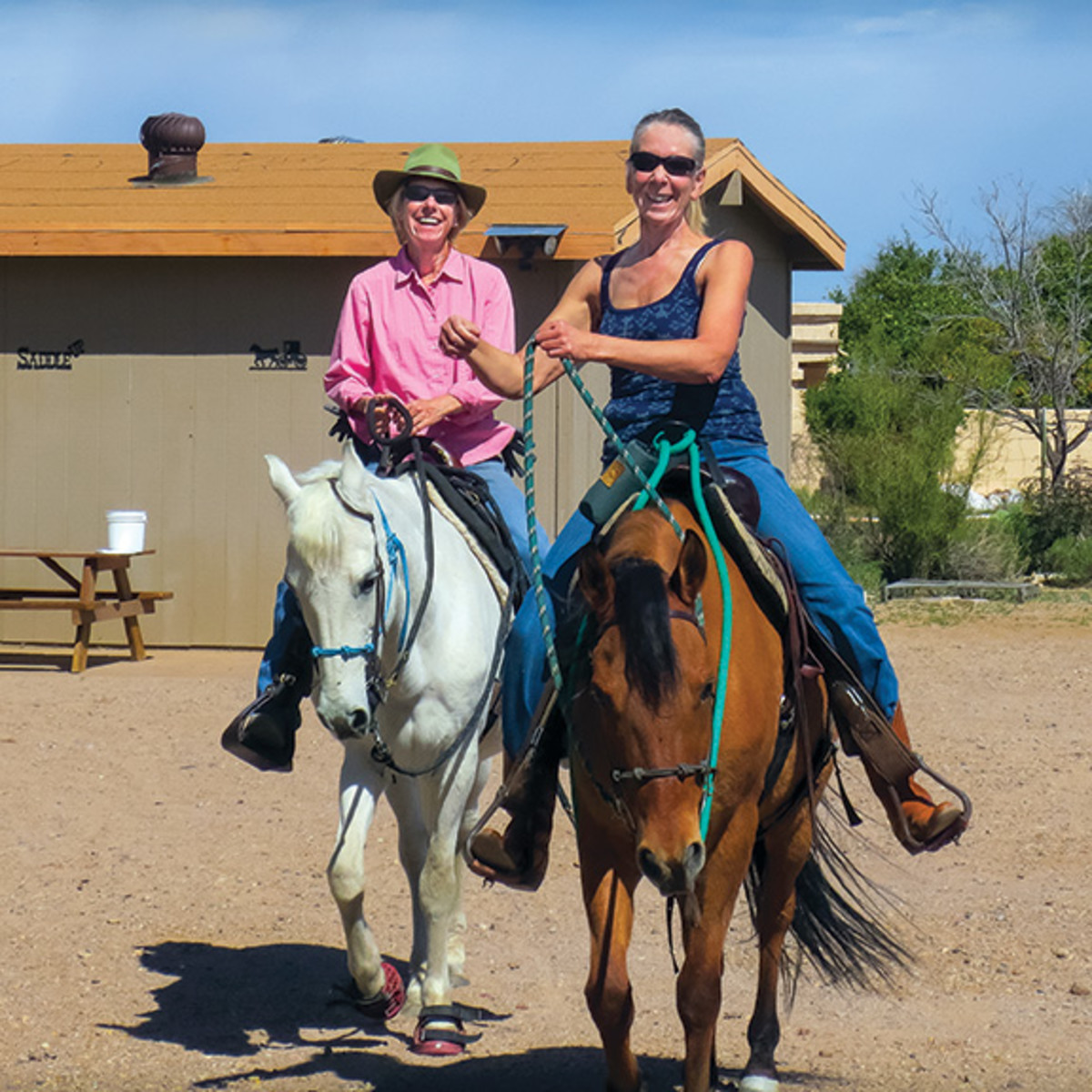 Although some days can still be unbelievably hot, we often have an afternoon cloud cover, which makes riding more comfortable. I do have to watch out for sudden lightning strikes, strong winds, and heavy downpours of rain. 
There's nothing like being caught unexpectedly in one of these monsoon storms. At first, your straw hat deflects the rain. As the storm picks up, the wind slings raindrops against you, stinging your face and soaking your clothes. Water trickles into your boots.
I also have to be alert for flash flooding when I ride in a wash. On this rare occurrence, I've had to quickly escape from a wave of water, guiding my horse around cactus and bushes heading uphill out of the wash.
More Hot-Weather Tips
Here are a few more hot-weather riding and equine-management tips. 
Drink plenty of water. For a summer trail ride, I take a tall bottle of ice water; some riders prefer to bring two. After a long ride on a hot morning, my husband has a jug of ice water waiting for me on the barn porch.
Dress right. I wear a wide-brimmed straw hat to keep the hot sun off my head and face. I also wear gloves on the trail year round to protect my hands from the dirt and sun. I wear white jeans on days when the sun bears down. My favorite summer riding shirts are loose and long-sleeved, made from Coolmax fabric.
Gauge your horse's water intake. I'v switched from automatic waterers, to large buckets or tanks, so we can determine just how much water is being consumed in the individual horse stalls. If a horse isn't drinking, that can be an indication of a looming problem, such as colic. 
Follow a post-ride routine. When I bring a horse back from a short summer ride at a walk, I usually just return him to his stall with fresh water. After a longer or more animated ride, I turn out a horse in our arena for a quick roll in the dirt and to get a deep drink of water. Then I rinse the sweat off with a hose in our shaded wash rack.
Provide shade. In Tucson's bright sunny months, from late March through November, the horses spend the day in their covered pipe corrals. Each corral has a large uncovered area so the horses can walk, stand, or lie in the sun if they choose. They spend the night in our open arena.
Repel summer flies. To repel flies and tiny, biting flies, I put a fly mask with ears on each horse during the day. Horse flies are more difficult. If I'm around when one lands on a horse, I swat them dead with a gloved hand or the end of a lead rope. 
Destroy red ants. Red ants are drawn to areas with water and food for their nests, such as stalls. They'll sting a horse that's eating or sleeping on the ground, so I kill them by mixing a little water with sugar and Borax detergent booster, and dropping this mixture near their nest. This is an easy way to poison the ants without hurting
your horse or other creatures. 
Beware of venomous fauna. On the edge of the desert, our three-acre property is home to many snakes (including rattlesnakes), scorpions, and other venomous
fauna. I always wear boots outside if plants may obscure my path. We tolerate the presence
of these native inhabitants and neither horse nor human has ever been bothered by them. 
Jule Drown is a Tucson, Arizona, healthcare manager. She can be reached at juledrown@juno.com.