Testimonial for Purina Animal Nutrition / A Home for Every Horse
Purina® Equine Senior® horse feed, along with Purina® Enrich Plus® ration balancing feed
Christine Griffin
Equine WellBeing Rescue, Inc.
Snowflake, Arizona
Horse: Lucky
About Equine WellBeing Rescue. We started in Ramona, California, doing horse adoptions on a small-scale. In 2007, there was a huge wildfire that started near Ramona, and a lot of people lost their homes, their barns, and all their hay. There were many horses in desperate need.
We had 17 horses that were evacuated to our house because we were in a safe spot. And some people couldn't take their horses back. Some went back home eventually, and we had to find homes for some of them.
We operated the rescue privately until 2011, when we formally made it a 501(c)(3) organization. Most of what we do is networking to find homes for horses, but we also provide nursing care and rehab to horses with very urgent health care needs on a limited basis. If a horse is at our rescue, we're try to do everything possible to be sure the horse gets everything they need. And unfortunately, we have to say no to a lot of horses. But we know that the ones we do have are well cared for. We're a small rescue, and we're at our capacity right now with 12 horses.
About Lucky. I found Lucky in a really horrendous situation. He was being kept in a barn that was three quarters full of odds and ends more resembling a storage unit versus a barn. Lucky was confined to an area about 12-by-12 feet. He was unkempt, visibly dirty and he had to share water with other animals.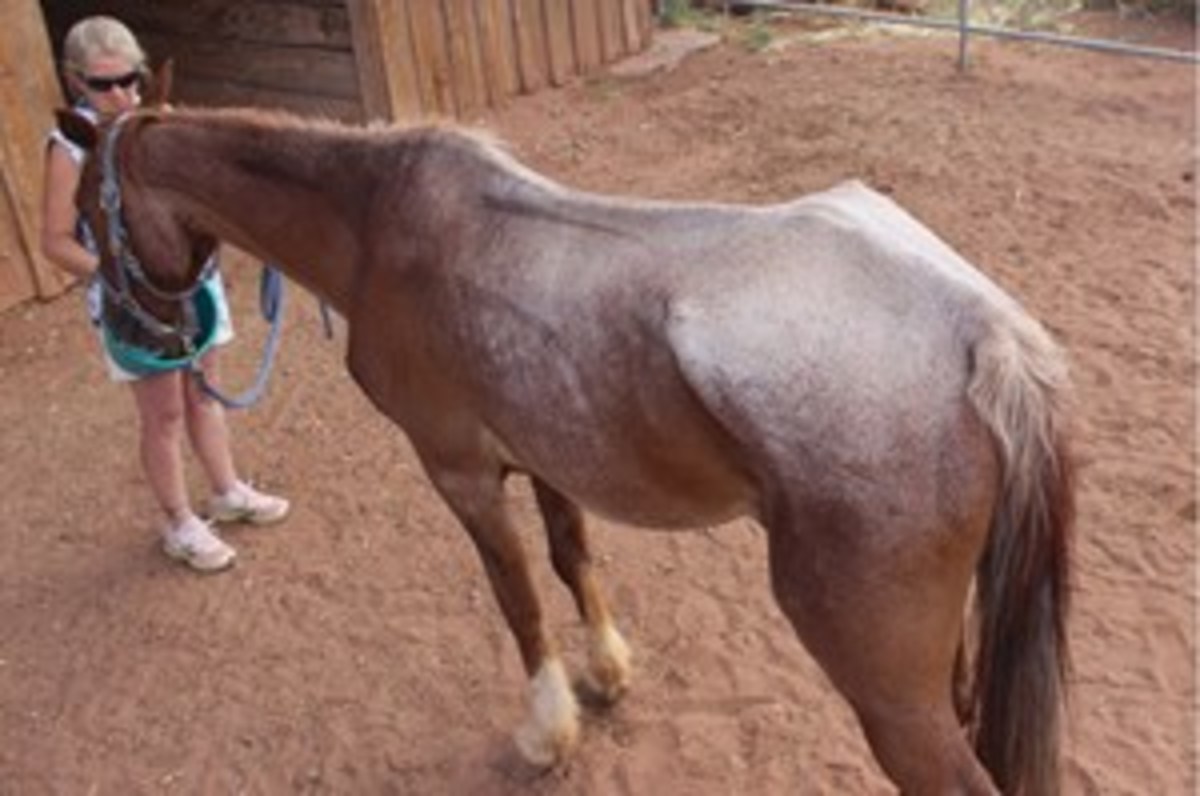 Lucky's body condition score was a 1 when we did his intake. He was 835 pounds, and his height was 15 hands. He was mildly dehydrated. We also discovered he was blind in his left eye. We estimated his age in the mid-20s.
About Lucky's nutrition. I started feeding Lucky Purina® Equine Senior® horse feed, along with Purina® Enrich Plus® ration balancing feed. He always had access to hay. I fed him small, frequent meals, until he got used to eating again.
Now, he gets a couple of pounds of soaked alfalfa pellets and Purina® Enrich Plus® ration balancing feed once a day, and he has access to grass hay all day long.
On average, Lucky put on about 25 pounds a week. It takes longer for horses to put the weight on over their hips and right along their spine. Lucky's spine has filled in now, but he's still a little bony on the hips, and that might not change.
About the difference good nutrition has made for Lucky. I started seeing a difference within just a couple of weeks. At first, he was very withdrawn. He didn't want to be very social; he was nervous. As soon as he started to feel better, his confidence increased. His coat became shiny.

After he started getting the nutrition he needed, he started to trot around and be more active and socialize with the other horses. Now, he's out most of the day — we just bring him in to feed him. Lucky knows he's going to be fed regularly; he knows he's not going to starve. He has a new home for life as one of our sanctuary horses.
About the value of Purina research. Once a year, Purina has a conference for veterinarians and veterinary technicians at its facility outside of St. Louis. Several years ago, I had the opportunity to attend. I learned about the extensive research Purina does, how they purchase ingredients, and the testing that goes into various ingredients. I also learned about the studies they do before they change a product.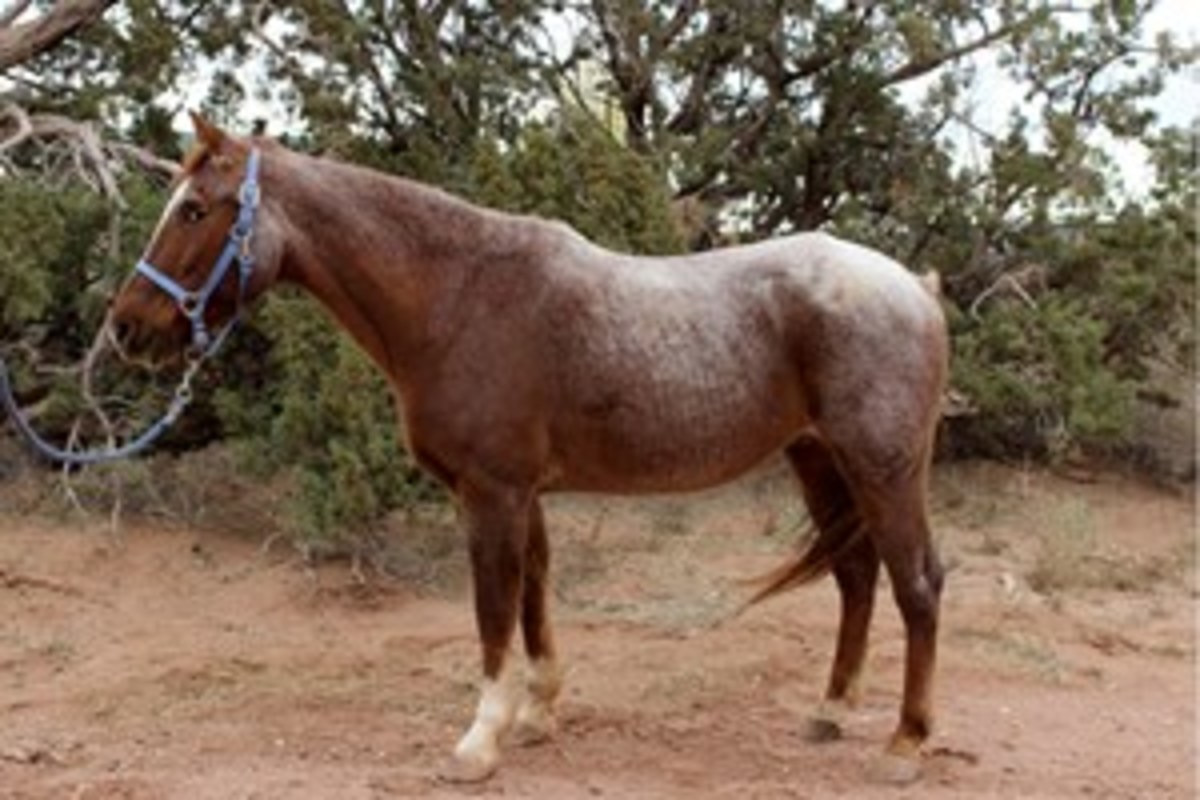 I was able to see how they test different products with the horses, and I was able to talk with the doctors and nutritionists on staff. I also learned about the amount of quality assurance that goes into anything related to Purina products. I started using Purina products after I attended that conference.
Benefits of Purina's support of A Home for Every Horse. The fact that Purina provides coupons so we can get free bags of feed is very beneficial. We received the coupons about the same time we got Lucky, so we were able to designate those bags of feed to Lucky and feed him Purina products and know that he was getting nutritious food. Having these types of programs available is another avenue to help horses in need. It's great that they're available, and it means a lot to our rescue.
Purina Equine Senior horse feed was one of many factors that helped these horses' recovery. Purina is proud to assist rescue shelters with one of many resources needed to bring troubled horses back to good health. 
Christine Griffin's story is provided as an individual's experience with Purina® horse products and is not a representation of actual results than can be guaranteed. Because of factors outside of Purina Animal Nutrition LLC's control, individual results to be obtained—including but not limited to financial performance, and animal condition, health, or performance—cannot be predicted or guaranteed by Purina Animal Nutrition LLC.