Renowned in the trail-horse world for innovation and high standards for 15 years running, the Great American Trail Horse Sale pioneered the concept of combining the fun of a trail-horse competition with an auction.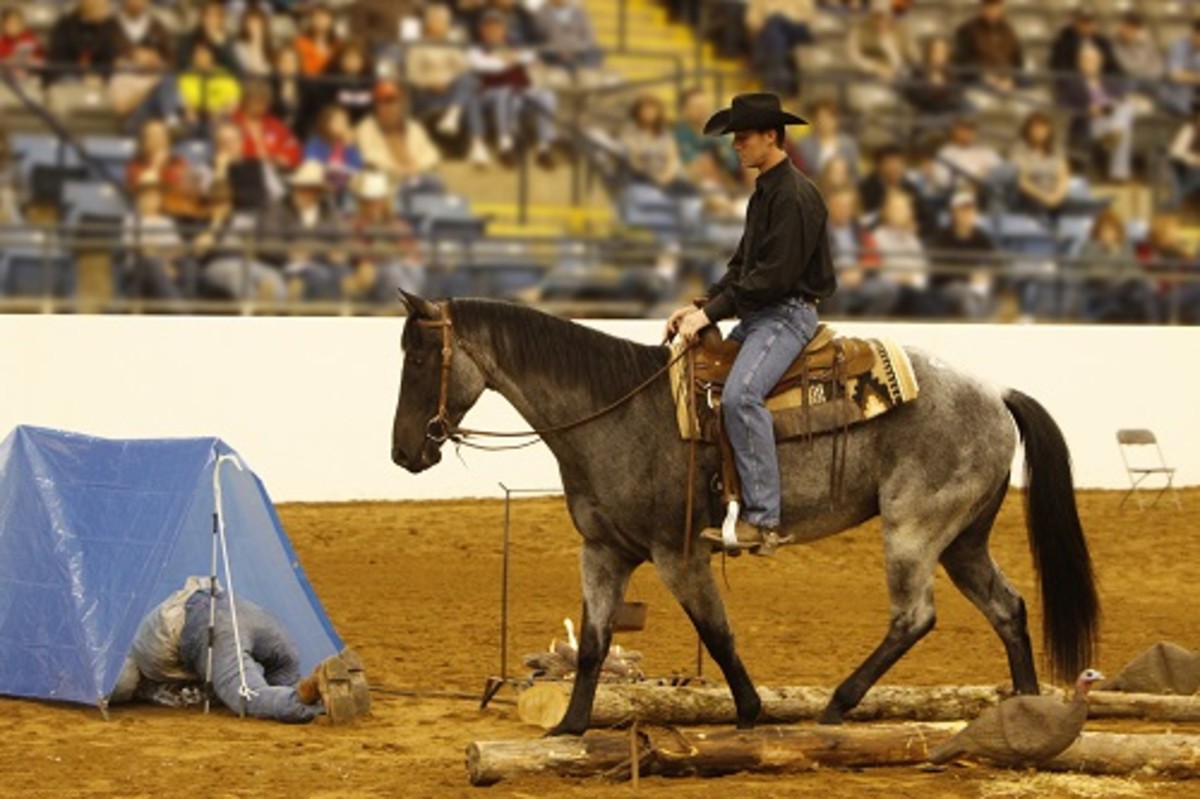 This sale is for you if you're looking for a trained, tried-and-true trail horse. It's held every April inside the spacious Anderson Coliseum at the Virginia Horse Center in Lexington, Virginia.
An Array of Breeds
The sale's unique setup allows prospective buyers to evaluate the sale horses in a trail-like environment. It draws sellers with top-quality, finished trail mounts. Trail horses and mules of all breeds are welcome.
The event's owner, Jackie Turnbull of Turnbull Equine Productions in Peachland, North Carolina, takes seriously the mission of ensuring only high-quality trail horses are in the sale. Additionally, she provides seminars to increase the chance prospective buyers will find horses that fit their skill level and needs. The two-day event is free to the public.
"To be eligible for consigning, all the horses must be at least 4 years old," Turnbull notes. "We just felt that any horse any younger really didn't have enough riding time to be a consistent, finished trail horse.
"We allow all breeds," Turnbull continues. "We have Rocky Mountain Horses, Tennessee Walkers, Quarter Horses, Paints, Appaloosas, mules — some mules will be gaited. We also have ponies.
"Buyers come from all over, Turnbull continues. "One year, we had buyers from 29 states and two Canadian provinces. This year we had 125 horses in the sale. We have horses priced for every budget, and a loyal following of people come every year."
Trail Trial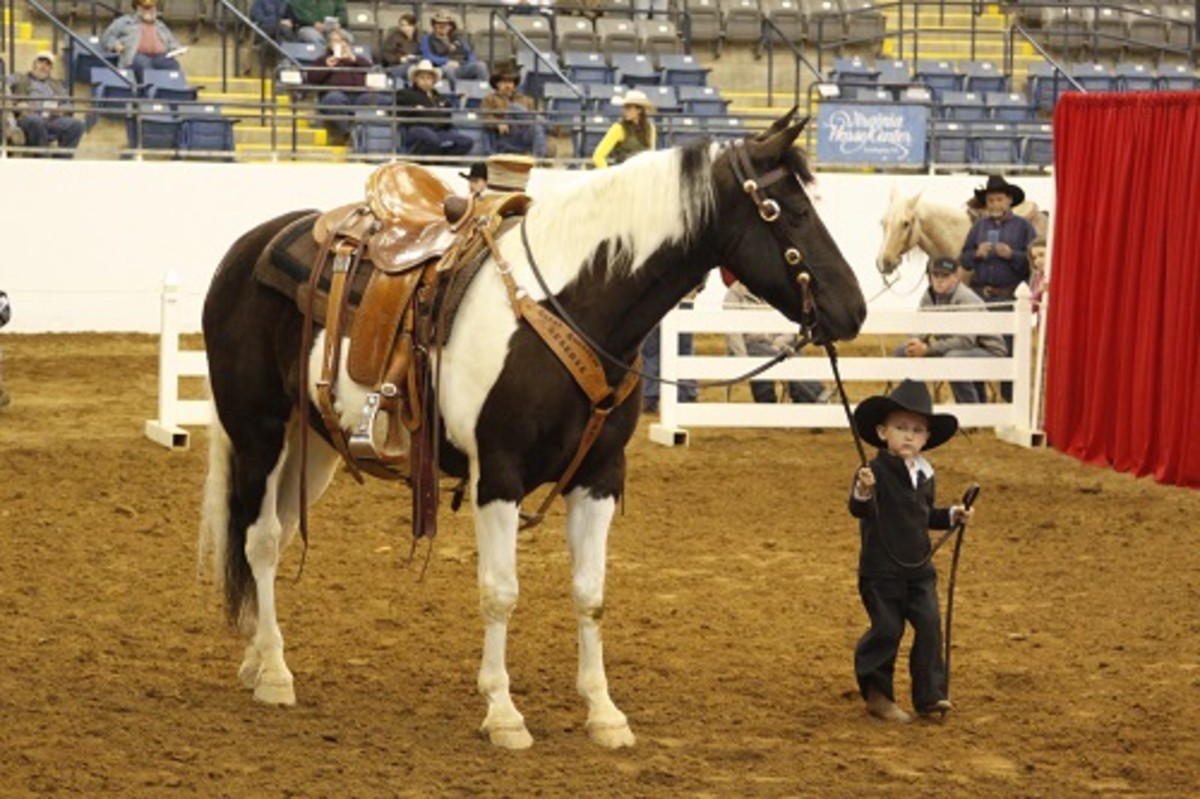 At this sale, you'll be able to go beyond the catalog information. Before the auction, consigned horses are put through a pretty tricky trail trial. Horses consigned to the sale can compete for cash and other prizes. This competition is optional, but a horse must be consigned to the sale to be eligible to compete. The consignment fee is $175; the competition is an additional $75.
A total of $2,000 cash prizes is presented: $1,000 goes to the first-place winner, along with a custom championship belt buckle. The additional $1,000 is divided into descending increments between second and sixth places. There's also a 12-and-under age division; all children who compete are placed and win prizes.
The extensive indoor trial covers an array of tough situations designed to allow the horses to demonstrate their abilities. "We have eight obstacles," Turnbull explains. "I list all of them in our sale catalog, except two — I keep those as a surprise. Often, one of the surprise obstacles will be some kind of animal. We've had pens of chickens, goats, donkeys."
"I reconfigure the course each year," Turnbull notes. "I always have logs and brush. I actually go out on the Virginia Horse Center, cut cedar trees, logs, brush, and shrubs, and use those for walk-overs, trot-overs, lope-overs, and sidepassing.
"For many years, we've had a live campfire," she adds. "I'll often have a gate to open and a bridge to walk over. We've even built an outhouse that has been real popular. You ride up, dismount, ground-tie your horse, walk into the outhouse, then turn around and come on out. We've had a good response with that."
Riders must complete the course in the designated pattern, which can also include such challenges as pushing through tight brush in a figure-8, traveling over unlevel terrain, and stepping onto a wooden platform. The top 10 horses return to compete in the finals on Saturday, which has a slightly different set of obstacles.
"In 2015, we saddled a pack mule," Turnbull recounts. "You had to ride up, take the pack mule, and pony it for the finals. After you work your finals course, you have two minutes to perform a freestyle. That's the crowd's favorite thing."
Placed in these conditions, a horse without solid training becomes obvious, while an excellent trail horse stands out. And performing well likely will result in a higher sale price.
"In 2015, the high seller went for $17,500 — Champs Leo Starlight, a Quarter Horse gelding," Turnbull notes. "We take phone bids, and last year, we had a woman from England buy one of the mules, Diamonds Are Forever, for $8,600."
Even with these impressive higher sellers, Turnbull stresses that every year the sale offers excellent trail horses for $1,000 and up.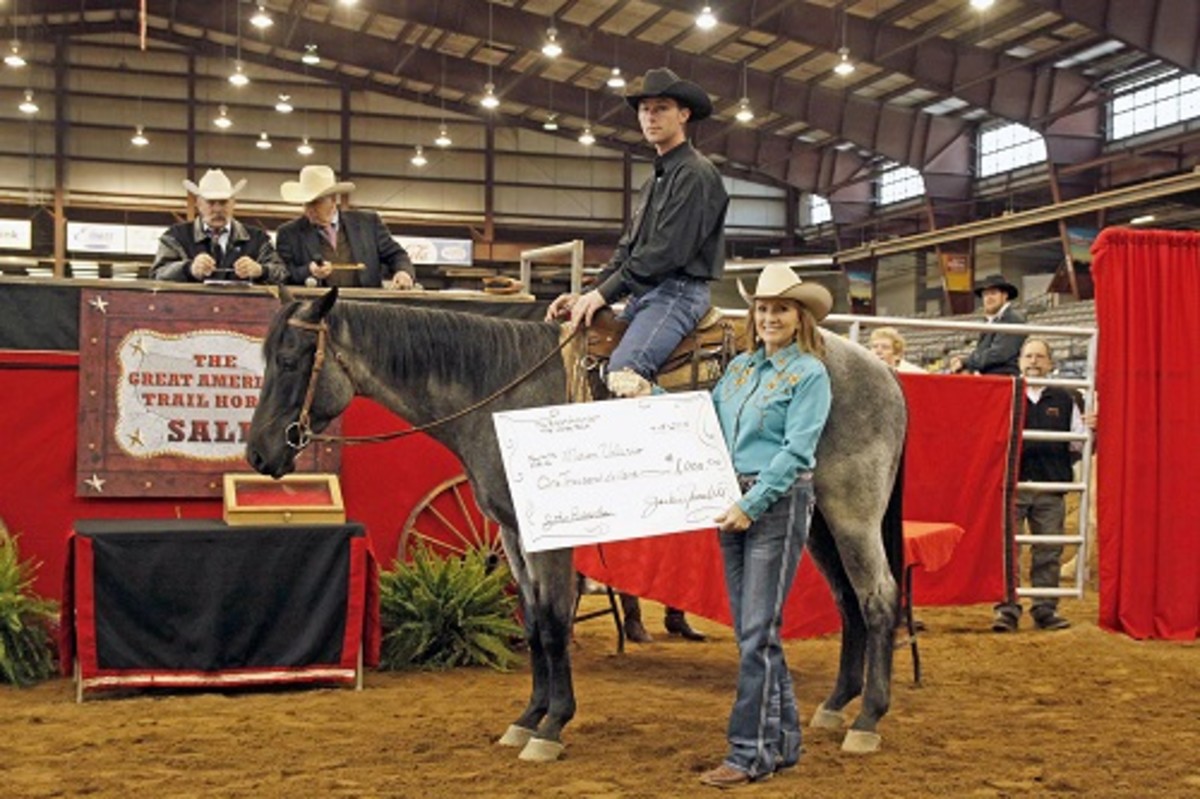 No one is allowed to practice on the course, which adds to the authentic trail experience the sale tries to simulate. But after the competition, the course is open to both sellers and buyers to ride through. "We also have a horse trailer to load into," Turnbull adds. "Trailer-loading is one of the most important things you need a horse to be able to do."
A Jam-Packed Event
The Great American Trail Horse Sale packs a lot into two days. The sale is preceded by a tack and Western home-decor auction and trail riding clinics.
On Friday evening, there's The Grand Entry of Sale Horses, during which sellers ride their consigned horses around the arena and can work obstacles. "Then we have our Gaited Horse Show Off," Turnbull explains. "All the gaited horses are ridden on the rail while an announcer calls the gaits. This gives the sellers an opportunity to show off their horses' gaits.
Friday night is the $2,000 trail competition. Finals are held on Saturday morning. Following the competition is the much-anticipated trail-horse auction, which concludes the event.
Buyers enjoy a five-day soundness guarantee. If a buyer notices any unsoundness within five days, he or she simply has a veterinarian verify that the horse is unsound. With this verification, the seller takes the horse back and gives the buyer a full refund. 
For more information on the Great American Trail Horse Sale, contact Jackie Turnbull, Turnbull Equine Productions, ga.trailhorse@gmail.com; www.greatamericantrailhorsesale.com

Tom Moates (www.tommoates.com) is a leading equestrian author and journalist. His latest book, Passing it On, recounts a special colt-starting clinic experience. Moates lives on a solar-powered farm with his wife, Carol, and a herd of horses in the Blue Ridge Mountains of Virginia.