When you travel with your horse, it's important to keep emergency supplies handy. Even if you have a roadside-assistance plan, such as USRider® Equestrian Motor Plan, or call for help elsewhere, it can take minutes, or even hours, for help to arrive. And most emergencies don't happen on sunny days on a flat portion of a road.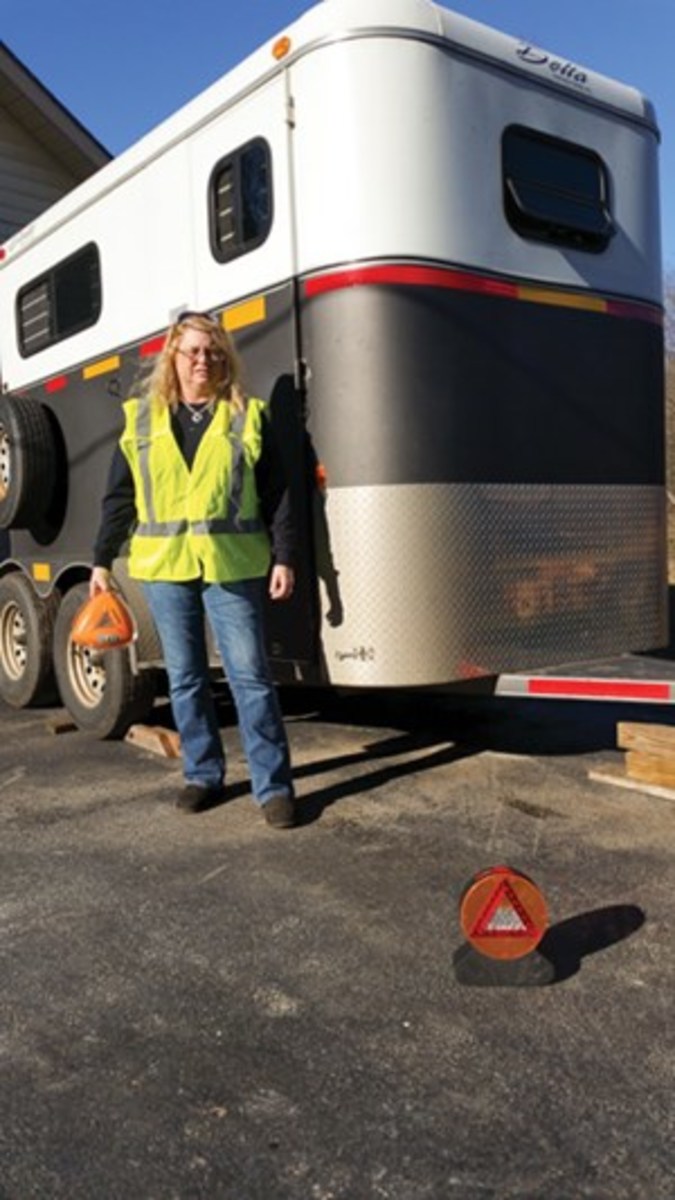 Knowing that you'll be able to respond safely and appropriately to a roadside emergency is a huge confidence builder as you haul your horse. Here are the emergency supplies I recommend.
• A driving buddy. The best emergency supply you can take with you on the road is a driving buddy. This person can help you drive, navigate, alert you to road hazards, keep an eye on the horse monitor, and make necessary calls.
• 8-10 emergency flares. Flares help others see your rig when you're stopped for an issue or accident. You must place flares far enough down the road so other drivers can see them in time to avoid accidentally hitting your stopped rig. Placing one directly behind your rig isn't enough, especially on interstates and high-speed roads, or if you end up in an area that's hard to see, such as a tight curve. Walk at least 100 steps (300 feet) down the road behind you to place one flare, then halfway back to place another one. Use a minimum of three flares to get attention and prevent further tragedy.
• 6-8 reflective triangles or cones. Like flares, reflective triangles and cones are designed to get the attention of other drivers so they won't accidentally hit your stopped rig. Place a minimum of three triangles or cones around your rig. Place one at least 100 steps (300 feet) behind your trailer, another one halfway between the first triangle or cone and your trailer, and another one very close to your stopped rig. 
• Reflective vests. Keep a reflective vest in your tow vehicle's side pockets — one on the driver-side door and one on the passenger-side door, for convenience in an emergency situation. Don a reflective vest any time you step out of your vehicle on the road, such as when you need to place emergency flares or triangles, change a tire, or check on a horse that's moving excessively in your trailer.
• Equine first-aid kit. For what to include in your trailer first-aid kit, see page 62.
• Human first-aid kit. Carry at the very least a small human first-aid kit. If you have an excellent equine first-aid kit, you might be able to combine the two and come up with a mobile kit for your trailer. Become certified in cardiopulmonary resuscitation (CPR) so you'll know how to respond to many kinds of human emergencies.
• Fire extinguishers. Your in-trailer fire extinguisher should be at least a 5-pound model; a 10-pound model is better, if you have space. Look for an ABC-rated extinguisher (Class A for trash, wood, and paper; Class B for liquids and gases; and Class C for energized electrical sources). Keep another fire extinguisher in your tow vehicle to put out any wheel or under-hood fires. To learn how to use a fire extinguisher, go to your local fire department.
• Extra halters and lead ropes (one per horse). Hang these neatly in your trailer for emergency use. Extra halters and leads also come in handy if something breaks or you find a loose horse. You can even use a lead rope as an emergency tourniquet.
• Toolkit. Keep a set of hand tools to solve small problems, such as a horse caught in a wire, a loose fender, or a trailer-gate jam. This kit should include screwdrivers, needle-nose pliers, socket wrenches, a hammer, a fence tool, and a crowbar. 
• Tire-changing kit. Keep a tire-changing kit handy and know how to use it. Know the correct order of progress to change both a truck and a trailer tire, as the process is different for each type.
• Hitch lock. Choose a hitch lock that fits your hitch to help prevent theft in case you have to leave your disabled rig roadside. A hitch lock is a cheap investment in the security of your assets. (Tip: If you ever have to leave your trailer unattended, take a photo before you drive away to prove that it was parked there. Then, in case it's stolen, the police and insurance company will know what they're looking for.)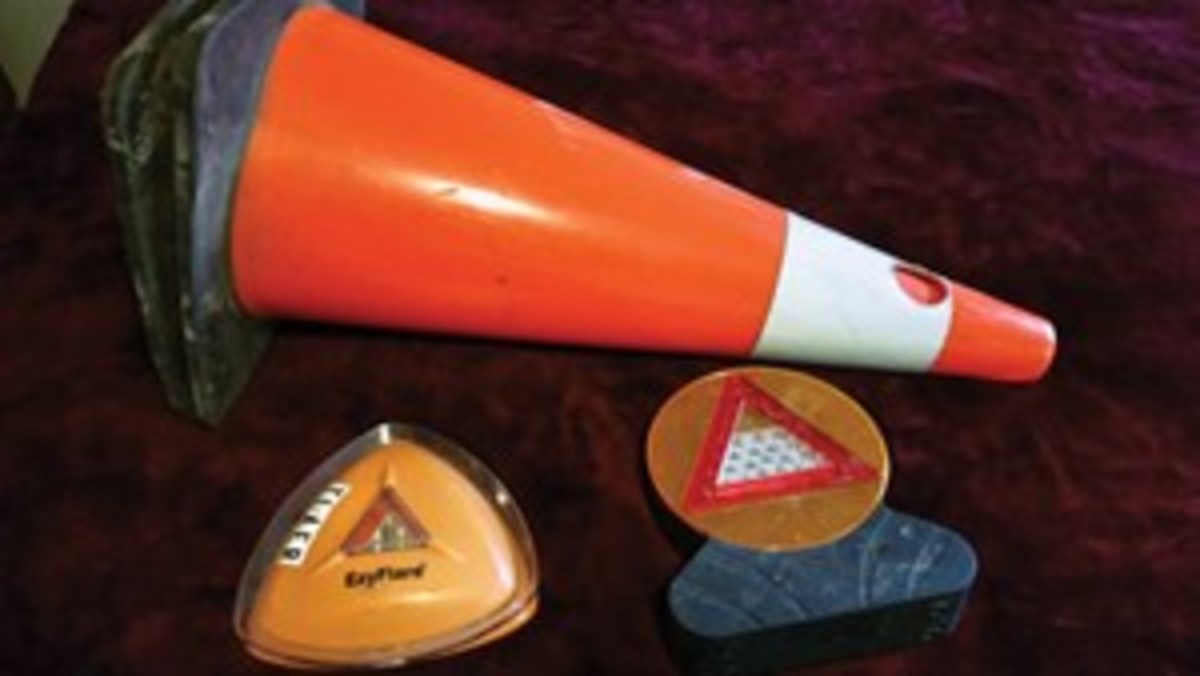 • Flashlights with extra batteries. In an emergency situation, a reliable light source can be lifesaving. Choose flashlights in the correct size for your equipment. Cell phone flashlights are rarely sufficient for equine-travel emergencies, and will run down your battery.
• Knife. Keep a sharp, good-quality knife on your person at all times when you're around your horse, so you can cut him free should he become entangled in a rope. Your knife doesn't have to be big, just sharp or it won't work when you need it to. A folding knife is safer if you fall or trip. 
• Duct tape. Use duct tape to cover sharp edges and to stabilize anything that moves, but shouldn't. Use bright colors for temporary fixes to remind you to perform a permanent fix when you get home.
• Cell phone. Charge your cell phone fully before you leave, and pack a charger. Consider setting up a mobile hotspot, so you can get service via the Internet even when you can't get cell-phone service. Check with your mobile-service provider for details.
Rebecca Gimenez, PhD (animal physiology), is president of and a primary instructor for Technical Large Animal Emergency Rescue (www.tlaer.org). A Major in the United States Army Reserve, she's a decorated Iraq War veteran and a past Logistics Officer for the American Veterinary Medical Association's Veterinary Medical Assistance Team, which serves as first responders to ensure high-quality care of animals during disasters and emergencies. She's an invited lecturer on animal-rescue topics around the world and is a noted equine journalist.