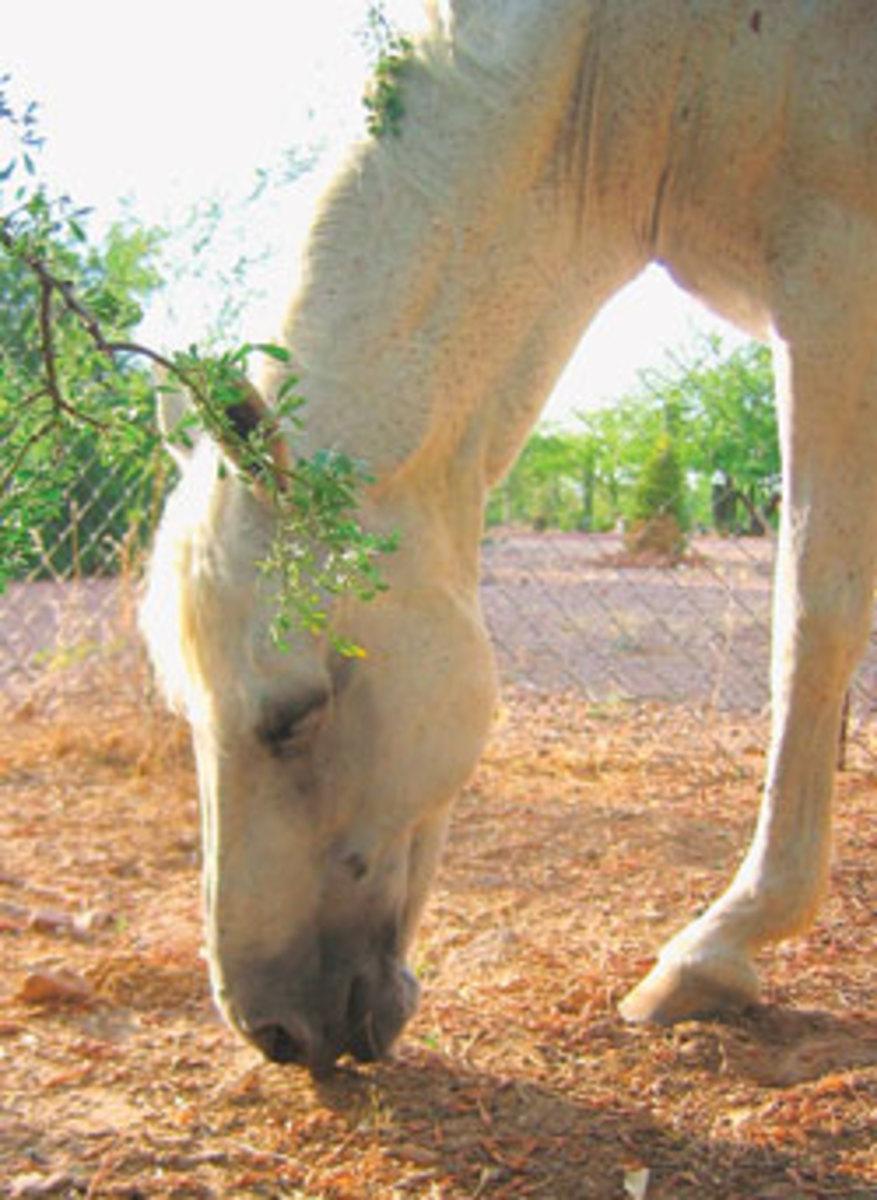 As trail riders, we enjoy an abundance of blessings. This is the perfect time of year to reflect on our good fortune. We're lucky we have the opportunity to ride our horses while experiencing the beauty, vastness, and peace of the great American outdoors.
Riding is the obvious highlight of horse ownership. But I like everything about horses, even the related chores: grooming, feeding, turnout, cleaning stalls. In many ways, I find horse responsibilities less burdensome than cleaning house or work tasks.
When the hectic, stressful, demanding workday world leaves me depleted or feeling a little crazy, I only have to visualize going home to my horses, or better yet, a weekend of riding, to feel calmer and reenergized.
Simple Pleasures
The simplest pleasures sometimes make me feel the very best, such as eating a slice of watermelon after a hot day of riding and horse chores.
My horses, too, savor special treats. When free to roam our fenced yard, they head directly for the shade of the thickest trees. Soon, I hear crunching and grinding as they contentedly graze on fallen mesquite and bean pods from our palo verde trees.
Throughout the year, my horses spend all day or all night in our arena, socializing, scratching each other, and playing with the tires and plastic barrels that serve as their toys.
When the wind knocks down a mesquite or palo verde tree branch, I drag it into the arena, and the horses contentedly chew on it or play tug-of-war. Just watching them interact and frolic brings me pleasure.
Raising and training my 3-year-old Paso Fino gelding, Clementino, who was born in our backyard, is a special joy. When I'm in the round pen with him, doing ground-work exercises, or teaching him to ground drive, I concentrate just on him.
I fill with pride when "my boy" makes progress. Sometimes he's a brat, but overall, he's a good student. He's liked to snuggle since he was a little colt, and still likes to start or end a training session by having me hold his head tightly in my arms and rubbing on his forehead.
A hug from a horse is indeed a blessing.
One of the finest blessings of all is the opportunity to ride out on the trail, inhaling the fresh air while admiring the natural scenery. Whether it's a new route or a familiar path, I never grow tired of admiring the seasonal vegetation and the wildlife I encounter.
Riding solo or with friends, I'm always grateful for the chance to relax and spend time on my horse.
Share the Wealth
In this holiday season, count your equine blessings. Thank family members who help make it possible for you to ride. Be grateful for your friends who join you for trail rides.
We all receive blessings, but we can also bestow them. Reach out. Share the joy of horses with a child through your local 4-H Club, Big Brothers Big Sisters, Boy Scouts, Girl Scouts, or another youth agency.
Donate to a horse-rescue organization. Adopt a mustang or a homeless equine. Volunteer to maintain a trail, or pick up trash along a local riding trail.
Keep America beautiful: Preserve areas for riding and nature before they're destroyed by urban growth or careless destruction. Call and visit your elected officials, and tell them you want more land set aside and protected for public equestrian trails.
Do something extra-nice for your horse, pony, or mule. Hug him, give him a treat, and thank him for being such a great friend and trail partner.