Picking the right trail horse is never a trivial consideration. Horsemanship clinicians travel the country and see a variety of horses, riders, problems, and achievements. Here, we ask two renowned clinicians, Harry Whitney of Salome, Arizona (www.harrywhitney.com), and Bryan Neubert of Alturas, California (www.bryan
neubert.com), for their best advice on how to find the right trail horse. Read on for their top tips and indispensable insights.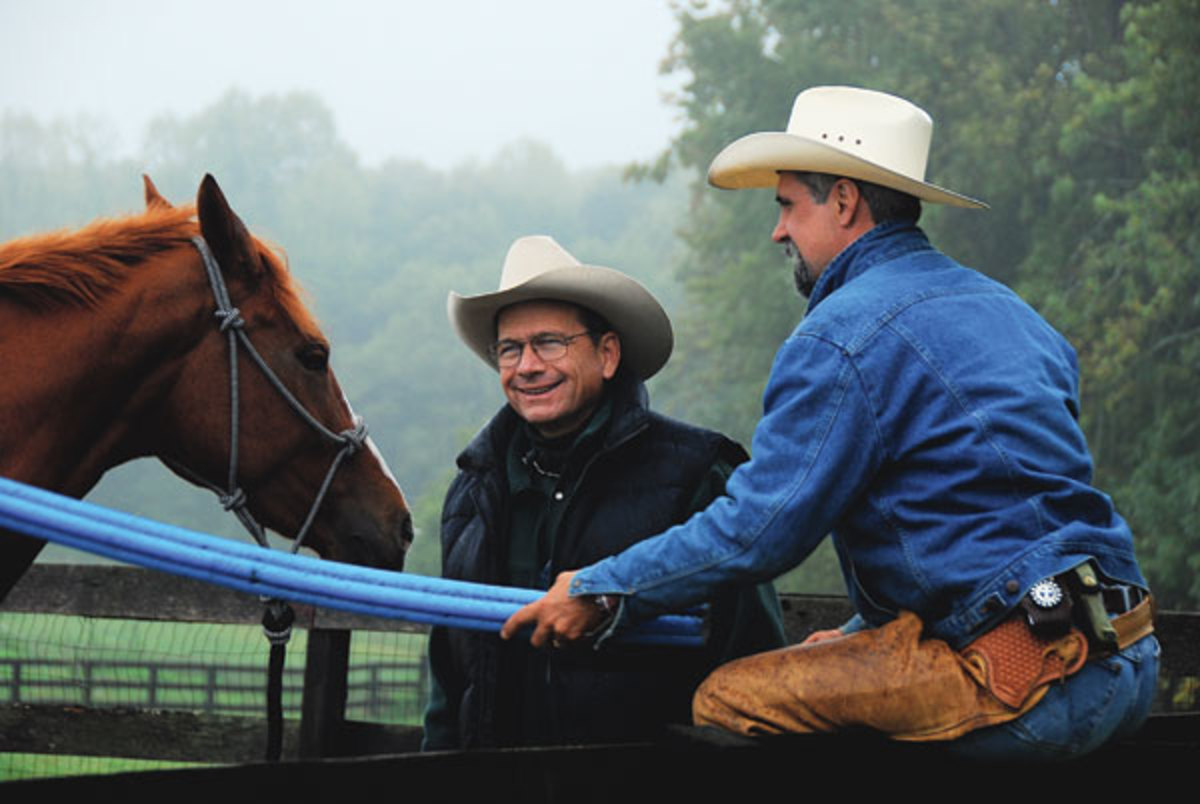 Clinician: Harry Whitney
Background:Harry Whitney is renowned for "seeing things from the horse's point of view." Whitney honed his horsemanship and animal-training talents on the rodeo circuit. These skills later became the basis for the clinic work he's conducted across America each year for two decades.
Top tip #1: Ride the horse in an unfamiliar spot."Try to figure out a way to meet the people in an unfamiliar spot to test the horse," Whitney says. "People always say, 'Well come by and look at him.' There's nothing wrong with going by and looking at the horse. But before you buy, meet the owners in an unfamiliar park or trailhead, where the horse has never been.
"At the very least, take the horse away from home, and by himself. See how he acts without another horse and in an environment other than his home. Then take him down the trail a little ways to test him out."
Whitney's advice provides the chance not only to see how the horse behaves on an actual trail ride, but also let's you see whether he's herd-bound. "If all goes well in this environment, and you're comfortable in the saddle, that's a good start toward finding the right horse for you," he says. "Likewise, if the horse isn't okay in this scenario, you ought to start seeing some trouble."
Even if the above situation goes well, Whitney cautions, "Stick around till the owners reload him. Tell them that you want to see him loaded."
Top tip #2: Look for a made horse."If the sellers say that a young horse will make a great trail horse, be careful," Whitney says. "Yeah, the horse could have the potential — but you'd have to put the time and work into him. I like to direct people toward a horse that is — not will be, or could be."
Top tip #3: Check the feet.What conformation should a buyer look for?"I would say feet would be the biggest issue," Whitney explains. "Talk to a good farrier or one of the natural-trim people, and learn how to evaluate a good foot. Avoid tiny feet, such as those you might find on a halter horse bred for the show arena. Small feet won't hold up when you're really riding in rough country."
Top tip #4: Get a vet check."Get a veterinary check for soundness," says Whitney. "Go to your vet, or a vet who's neutral, not the seller's vet."
Top tip: #5: Don't overlook a calm horse.Better to find a horse that's calmer and quieter than you might've thought you wanted than one that's too energetic for your skills, says Whitney. There's nothing wrong with a horse that coolly will go anywhere, do anything, and walk, trot, and lope on cue.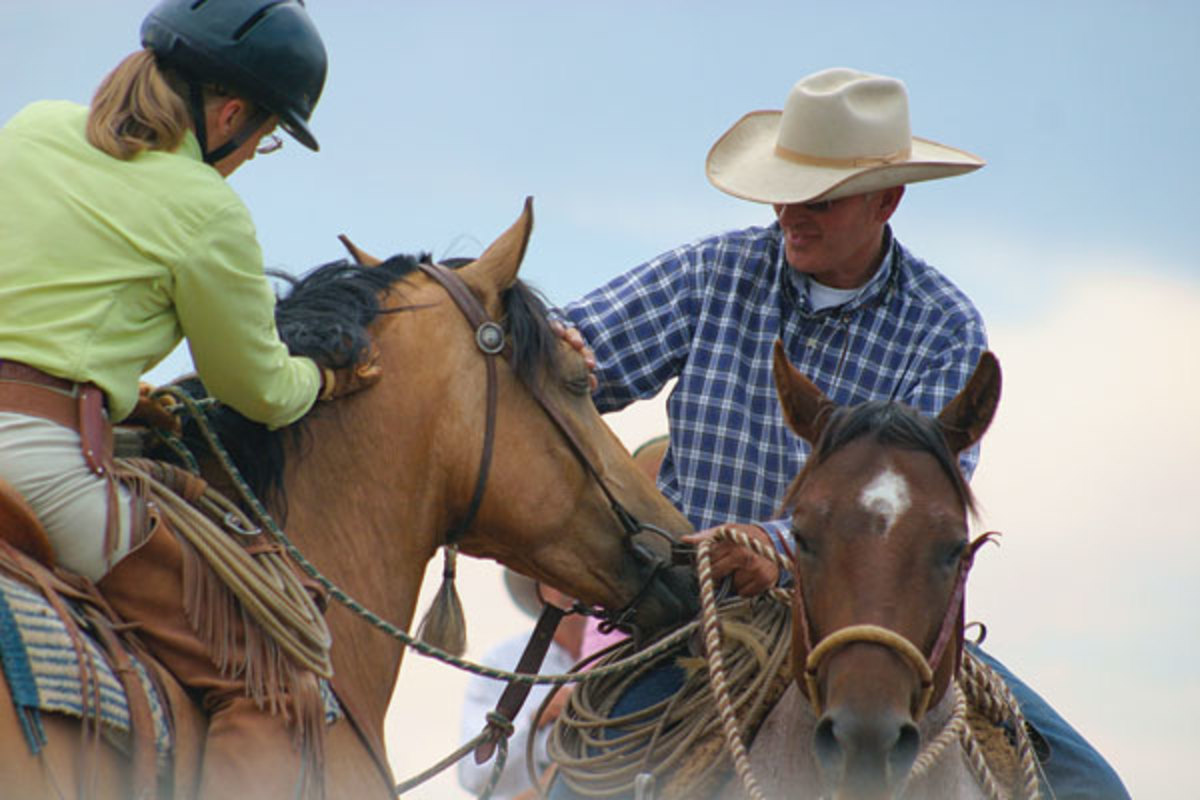 Clinician: Bryan Neubert
Top tip #1: Look for endurance."When choosing a trail horse, there are a few things that are just real important to me," Neubert says. "The first thing is endurance. I don't want to ride a horse I have to poke on to get him home.
"This is either something they're born with or they're not, as far as I know," he adds. "You can help a horse become more responsive, but if you have to peck on the horse all the time, it makes quite a lot of difference in how tired you are at the end of the day. The No. 1 thing I think about is having a horse that's got the guts, that's wanting to stay lively throughout the day without getting tired."
Top tip #2: Look for smooth gaits."The second thing that I look for is smoothness of gait," Neubert says, noting that
this attribute is mostly a function of conformation.
[PAGEBREAK]
To evaluate smoothness, watch how the horse travels at liberty. Look for a smooth back and spring in his step. "[Look for a horse] that's alive and sparky when he's just walking out without a rider — this quality usually carries over when you're on his back," Neubert notes.
On the other hand, he says, "If they hit the ground kind of hard — well they're going to be kind of hard to ride. You don't even have to put a halter on them to see that. You can do things to perk up a horse, but it's nice if they're born with that smoothness and energy. It makes such a difference if you've got very many miles to go. It's like night and day."
Top tip #3: Observe the pre-trail-ride routine.Watch as the seller catches, tacks, mounts, and warms up the horse, says Neubert. You'll get a much better idea of how the horse handles before setting out on a trail ride.
Top tip #4: Look for a trusting, "go-forward" manner.This attribute will aid everything from trailer-loading to negotiating trail obstacles, says Neubert. "The horse can't get in the trailer unless he goes forward when you ask him to, and he can't go forward unless he kind of trusts your judgment a little bit," he says. "You can't really have a trail horse unless he'll load. And this willingness to go forward relates to water and ditches and any kind of thing you might encounter on the trail."
Top tip #5: Introduce a variety of objects.Another bit of advice from Neubert comes from a rather surprising place. "I was watchingAmerica's Funniest Home Videosone time, and a woman in a wedding dress and big veil was mounting up on a black horse," he relates.
"The horse kept looking back at her with his ears back and was pretty nervous, but nobody noticed it. As soon as she untracked him, he whipped her back and took off toward the barn door."
How does this relate to trail riding? "When you trail ride, you might want to pack a camera or carry your lunch hanging off the saddle horn," he points out. "Find a way to check how the horse reacts to these things before you buy him."
For instance, he says, bring your camera along, and approach the horse holding it in your hand. Tie a rain slicker on the back of the saddle. Hang a water bottle off the horn on the test ride.
Go slow so you don't cause a wreck, he cautions. But do see whether such items bother the horse. Keep a close eye on the horse for clues to assess his comfort level. Look for even small things that make the horse nervous or unsettled.
Tom Moates (www.tommoates.com) is a widely published equestrian journalist and author. A new paperback edition of his latest book,A Horse's Thought, A Journey into Honest Horsemanship, has just been released.
Ready to look for the right horse for you? Go to Equine.com, the premier classifieds site of the Equine Network, to search for the perfect horse!